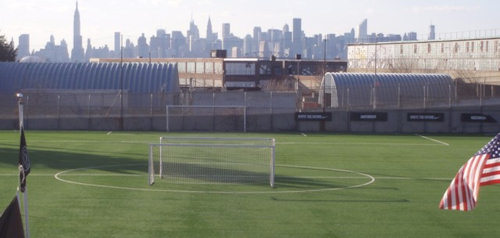 By Cesar Diaz – NEW YORK, NY (Apr 5, 2011) US Soccer Players — Though the recent history of youth development in American soccer tends to focus on large complexes built on the outskirts of major metropolitan areas, there remains a notable exception. Located in Maspeth, the western corner of Queens, east of Greenpoint and Williamsburg, Brooklyn, the Metropolitan Oval has been in existence since 1925. With a beautiful view of the Manhattan skyline, the 4.5 acres of land was purchased and turned into a soccer field by German and Hungarian immigrants. The Met Oval became the hot spot where players of all ethnicities went to play soccer in the biggest city in the country.
Players such as former US National Team members Tony Meola and Tab Ramos and former Captain of the New York Cosmos Werner Roth considered Met Oval to be their home. On a recent visit, it was business as usual at the Met Oval.
During the U-13 team's practice, I spoke with Director of Coaching Lenny Roitman about what brought him to the Met Oval. An experienced coach who spent time as an assistant with the US National Team from 1985-1990, Roitman was a recent hire by Metropolitan Oval president Jim Vogt.
"I came on board late last year in the Fall and Jim asked me to try help elevate the level of the coaches, the players and teams," Roitman said. True to the Met Oval's roots, Roitman's coaching experience took him from Europe to the US.
"Originally, I was born in the Soviet Union and immigrated to the United States in 1967," he said. "The last time I returned was in 1991 when Bora Miluntinovic coached the US National Team. The one thing I will always remember is that we left the day before the coup attempted to overthrow Mikhail Gorbachev."
As the practice proceeded, I observed how both Lenny and his assistant Len Peters were firm but nurturing towards their players. Firm in the sense their players knew they were going to work and had to focus on their training session. On the flip side, both coaches encouraged their players to take open shots or simply pass the ball without hesitation while complimenting the team's efforts. As a result, the players trained hard with confidence.
After Roitman divided his team up so they can practice on their dribbling and passing skills, he explained to me the importance of enhancing the soccer education of his coaches along with the on-going recruitment of players.
"We have to elevate the quality of our coaches and we have to bring in better players so they can help elevate the skills of our currently players. With the U-13 team, one thing I stress to the players and parents is that the players and team game development carries priority over wins and loses," he explained.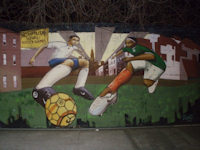 "The bigger picture is to develop better players while accepting the mistakes the players make. I have a belief that one learns more from their mistakes than their success. I believe parents should be more focused that their children are trying to become the best soccer players and human beings that they can instead of the win-loss columns."
A few days later, I met with Met Oval's President Jim Vogt. Throughout our conversation, I found Jim to be a forthright individual who's not only passionate about soccer but also committed to his community and the preservation of its history.
"Met Oval, the tradition of Met Oval as a soccer facility has evolved from when it was established in 1925 where today it's a state of the art facility," he said. "It's a location where players can come and have the amenities of a professional atmosphere to an extent. With the location, young players can have the opportunity to be taught by our coaches while fulfilling their soccer dream. I was a young kid who grew up in the neighborhood who played here at Met Oval when I was five years old. As an adult, I coached some youth teams for the German-Hungarian soccer clubs. Eventually, I became a Board of Directors member with the club."
As a member of the board, Vogt was faced with the reality of trying to run a soccer club in the middle of a major city. By 1995, the Metropolitan Oval was facing foreclosure over unpaid taxes. It was Vogt who stepped in, reorganizing the club as the Met Oval Foundation and ultimately saving it from becoming just a memory.
"We had to convince share holders that this was an important piece of history that their ancestors started. We were willing to absorb the debt if they would donate their shares to the newly-formed Met Oval Foundation. Everybody donated their shares so that part was pretty simple," he laughed.
"Once we gained control of the property, we paid off a tax-lien of $480,000. After we paid that debt off, we began brainstorming ideas for the field. Through numerous conversations with US Soccer, the U.S. Soccer Foundation, and Nike, we were able to assemble a group of individuals who had the same vision.  Today Met Oval is a privately held soccer facility in the city of New York sitting with over 4.5 acres of land that wasn't sold off to a property developer."
When asked to sum up the overall purpose for the preservation of Met Oval, Vogt pointed to what's always made this a special location for soccer in the area. "By having the spectacular opportunity to have Met Oval, children today still has a place to go where they can go to learn and play soccer," he said. "Instead of being in the streets and possibly getting into mischief, Met Oval is a great place to for kids to learn soccer and hopefully lead them in the direction of fulfilling their dreams."
Cesar Diaz covers Soccer for Latino Sports. You may follow him at Twitter at @CoveringSoccer. Please email your questions and comments to Cesar at cesar@latinosports.com.