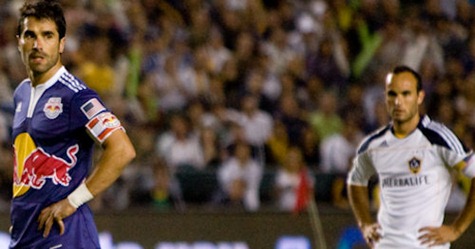 By Jason Davis – WASHINGTON, DC (May 20, 2011) US Soccer Players — That ominous shadow you see creeping into position over the 2011 Major League Soccer season is the biannual CONCACAF championship, the Gold Cup. As usual, a Summer tournament will impact MLS, temporarily removing some of the brightest lights the League has in its array.
There will be a month when club soccer in the US isn't quite all it should be as coaches scramble to shift their lineups, untested squad players will be forced into interim starter's duty, and clubs that did the natural thing and signed quality North American and Caribbean players are punished for doing so. Americans tapped to help in the United States National Team's quest to regain regional supremacy will be some of the most obvious absences. However, they won't make up anywhere near the total number of players missing due to Gold Cup commitments.
While American fans will have eyes on the American team vying for the Gold Cup on American soil, there are eleven other nations in the competition. Nearly all of them will call up at least one player from an MLS club. Even Mexico will have an MLS representative in their "A" team, with their captain (Rafa Marquez) now playing in New York.
Coaches, having known it would come to this when their campaigns started in March, will do their best to fill the holes created by a distasteful, but unavoidable, situation. Complaints will ring hollow. Excuses aren't going to fly. Everyone, to some degree, will have to deal with international call-ups.
It's a double-edged sword for any team with CONCACAF contributors. While hoping they play well enough to help the club during the opening months, they know a strong start will likely mean a call up for the regional championship in June.
For some of the players involved, the decision to stay or go isn't always easy. For the clubs facing their absences, there's an imperative to fight to get everything out of the players before they head off to play for someone else (where they might get hurt, remember).
Clubs can't stop players from going, but they are loathe to let them go before they absolutely have to. Club v. Country is a hot-button issue in world soccer, but no where is its impact felt as strongly as in MLS, because so many players exit the League stage just when races are heating up and clubs have settled into a semblance of their ultimate quality.
To wit: the situation of Andy Najar. After nearly a year of constant speculation over whether the DC United winger would declare his allegiance to his native Honduras or choose to wait for US citizenship and a shot with the USMNT, Najar – in a rather anti-climactic manner, opted for the former.
Now that the decision is made and Najar is available, Honduras wants to include him in their squad as soon as possible. Meaning before the Gold Cup starts, when United still has games in which he could play, because the Catrachos are anxious for their newly-acquired phenom to make a warm-up appearance against El Salvador in Houston on May 29th. Friendly that might help him get adjusted to the international game, or a crucial League match against LA?*
United can only express their displeasure with Najar missing "extra" time with his club and not much more. The tug of war over his services is an additional distraction for both player and club that neither need.
In New England, the fulcrum of Steve Nicol's team contemplates his own international obligations.  Their, the question centering around "if" and not just "when." Shalrie Joseph was called up by Grenada, with whom he has earned 30 caps. The St. John's University product isn't a young player with an ancillary role like Najar.  He is arguably the Revs most important player, a game-controlling midfielder with the versatility to slide up top and provide Nicol with a strong secondary option at forward.
Even if the Revolution coaching staff has prepared mentally for Joseph to go missing, the reality of him not being there to marshal their troops will hurt the club immensely. Joseph has yet to commit to the call-up, saying that he isn't sure of his own feelings on leaving New England for so long. For both his National Team and his club side, that creates uncertainty. Planning for both possibilities – a present Joseph or his absence – means wasting energy splitting focus.
Sporting Kansas City might be happy to trade places with the Revolution, possible loss of a midfielder stalwart or not. Among Sporting's expected Gold Cup losses are Steven Auvray of Guadeloupe, Craig Rocastle of Grenada, Roger Espinoza of Honduras, and Shavar Thomas of Jamaica.
While most of those nations are long shots to make noise at the Gold Cup, each of the players is no doubt honored to represent their homeland on the international stage and can't be expected to pass up the chance to play. Perhaps Sporting can find some solace in the knowledge that they're not alone. An improving MLS – with a greater number of CONCACAF's best moving to the States – means ever more players heading off to play in summer tournaments.
RSL could lose any or all of Will Johnson (Canada), Alvaro Saborio (Costa Rica) and Arturo Alvarez (El Salvador). Portland will be missing Steve Purdy (El Salvador). San Jose won't have Ryan Johnson (Jamaica). DC United's Dejan Jakovic will leave to play for Canada, as will the Dynamo's Andrew Hainault. Chicago's playmaker Marco Pappa will join Guatemala. Jamaica alone could take double digit MLS players, including star Colorado striker Omar Cummings.
Throughout the league – a player here, two or three there – clubs will have their rosters reduced by a tournament taking place in their own backyards.
Major League Soccer obviously hopes to become the region's premier club competition, something that will mean scores of CONCACAF's top talent plying their trade in the United States – much more than is in the League now. As long as it remains a competition that plays through the Summer and CONCACAF insists on hold the Gold Cup every two years, that ominous shadow will always loom.  Eventually, that could make a break to avoid the shadow altogether not a luxury, but a necessity.
Jason Davis is the founder of MatchFitUSA.com. Contact him: matchfitusa@gmail.com. Follow him on Twitter: http://twitter.com/davisjsn.
*Editor's Note: Najar was ultimately left off the roster Honduras submitted a few hours after the publication of this article.