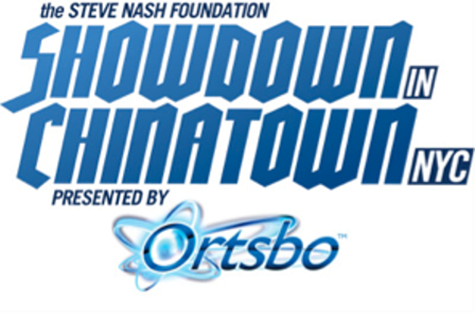 By Cesar Diaz – NEW YORK, NY (Jun 24, 2011) US Soccer Players — On Wednesday, June 22, 2011, the Steve Nash Foundation hosted their fourth Annual "Showdown in Chinatown" 8 v 8 soccer match at the Sarah D. Roosevelt Park located at Chrystie St. & Staton St in Manhattan.
This year's Showdown in Chinatown event featured an All-Star roster that raised funds for The Steve Nash Foundation and its work with underserved children. In addition, monies raised will benefit early education work with Educare and the Claudio Reyna Foundation, which supports underprivileged youth through education and sports.
Players from both the world of soccer and the National Basketball Association participated, including Demba Ba (Newcastle United), Giuseppe Rossi (Villareal CF), Leandro Barbosa (Phoenix Suns), Jared Dudley (Phoenix Suns), Marcin Gortat (Phoenix Suns), Grant Hill (Phoenix Suns), Brandon Jennings (Milwaukee Bucks), Tony Parker (San Antonio Spurs), Claudio Reyna (Retired-US Soccer) and Simone Sandri (NBA TV Analyst).
Both soccer and basketball fans crowded the four-sided chain-link fence where the competition took place. Children from the Claudio Reyna Foundation and the South Bronx United Soccer Club had the privilege of being inside the pitch. They definitely made the most of their experience as they scrimmaged amongst themselves. Even when the players made their presence, the majority of the children continued to play without a pause.
Talking to the fans, there were two topics on most minds: the Gold Cup and Giuseppe Rossi. 
Although they wished that Rossi would have made the decision to play for the USA, the fans seemed to respect his decision to play for the Italian National Team. Though most believe Rossi was honest with his intentions early on, some believe that then US coach Bruce Arena should have made a stronger effort to recruit Rossi. It's the great what of of American soccer, an elite forward born in the USA and currently linked with some of the biggest clubs in the world opting to play for one of the world's elite national teams. 
One fan in attendance was Giuseppe Rossi's former coach Evan Baumgarten who coached Rossi for three years when he was a player for the Wyckoff Torpedoes Soccer Club. Currently the training coordinator for the Torpedoes, Baumgarten is also Ramapo High School boys' soccer coach. During our brief conversation, Coach Baumgarten admitted that he never envisioned the success that Rossi would attain as a striker.
Another fan believed that Rossi would have been the difference for the United States had in been part of their squad in last year's World Cup. As more fans took part in this "what if?" conversation, the conclusion that was reached is as simple as it is frustrating.  Giuseppe Rossi is the best American-born player to never play for the United States.
Once the game started, Rossi conducted a soccer clinic that symbolized Bruce Lee's famous "be water, my friend." Watching him play freely was phenomenal. Even though he wasn't playing at half-capacity, it was easy to recognize his talents. Basically it was like watching Michael Jordan in his prime putting on a shooting clinic against a varsity high school team.
The match itself was entertaining itself as a total of 25 goals were scored. Watching NBA players Tony Parker, Grant Hill, Jared Dudley, Raja Bell, Brandon Jennings, Leandro Barbosa and Marcin Gortat being outclassed by Giuseppe Rossi, Demba Ba, and 1998 World Cup winners Youri Djorkaef and Patrick Vieira was surprisingly enjoyable.
While Claudio Reyna demonstrated that he's still capable of playing some quality minutes, Steve Nash provided the fans a glimpse of skill that suggested he was at least good enough to play in Major League Soccer. Newcastle United striker Demba Ba appeared to have had a good time as he scored a couple of goals for his team.
Despite the effort of Team Claudio's goalkeeper Phoenix Suns 6ft 11 in center Marcin Gortat, he was no match for Rossi who scorched him for 6-7 goals. Much to the delight of the Rossi Fan Club, the game ended Team Nash 15-10 over Team Reyna and their hero was awarded "Player of the Match."
I'm sure many of those same fans are looking at tomorrow's Gold Cup final and wondering what might have been.  Rossi vs Chicharito with a Confederation title on the line. Some things just weren't meant to be.
Cesar Diaz is a Columnist for USSoccerPlayers.com. In addition, he covers soccer for LatinoSports.com and 5 Points Press. Easily accessible, you may contact Cesar atcesar@latinosports.com and at Twitter @CoveringSoccer.