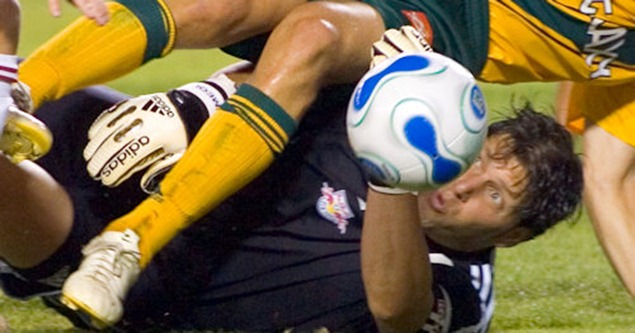 By Cesar Diaz – NEW YORK, NY (Jul 27, 2011) US Soccer Players – It's not often a soccer writer gets the opportunity to speak with two World Cup goalkeepers within days of each other.  A sponsor provided the opportunity, with Allstate making current United States goalkeeper Tim Howard and former US keeper Tony Meola available as part of their 'Protection Is Our Game' advertising campaign.*
Howard was in the United States on a post-Gold Cup vacation while his club team Everton played a series of friendlies in the States without their #1 keeper.  Meola, now working as a youth coach among other ventures, left Major League Soccer after winning just about every trophy and individual award on offer.  Though he has yet to officially retire, his time is now spent with his GK1 Sports and coaching his son's Under-15 and daughter's U-12 soccer teams.
To be honest, my interview with Howard was possibly the shortest I've ever conducted. Though he's an engaging interview, the 20 minute time limit and the street noise of New York City at 7:30am didn't cooperate.  Never underestimate this city's ability to raise the volume level when an important person is on the other end of the line.
From my brief exchange with Howard, it was clear that he valued his time playing for the Metrostars and how much he appreciated the Tri-State support from the fans. He told me he regularly follows the Red Bulls, and complimented the club for giving the fans Red Bull Arena and bringing in players.  That's the type of person Howard is, grounded and grateful for his opportunities.  Yet short of a lengthy exposition on his history that any US fan already knows, it wasn't enough for a feature.
Once the interview concluded, I simply wondered how I am going to complete this article. However, a few hours later, I received a phone call asking if I was interested in interesting Tony Meola. The best part of this opportunity is that I had the option of either talking to Tony either through phone or in person. Without hesitation, I scheduled a meeting with Meola for the day before the All-Star Game.
On Tuesday morning, I met Tony at the Soho Grand and the first thing he did was thank for taking the time to meet in person. He also mentioned that the majority of his interviews have been over the phone, so it was refreshing to talk to a reporter in person. This is the modern world, where anything that can be done without actually sitting across from the other person usually is.
Meola remains a competitor, still willing to stand in goal if an opportunity presented itself. "I may not have been the nicest guy when I played," he said early on in the conversation, "but my teammates, coaches, and fans knew I wanted to win."
Like most players of his generation, Meola's crucial moment came early.  That World Cup Qualifier against Trinidad & Tobago in 1989 when the US advanced.  For Meola, that match is the key to the last two decades of American soccer.  Without it, the US might not have hosted the '94 World Cup and we certainly wouldn't have seen the growth of American professional club soccer or the US National Team.
Throughout our conversation he fondly reminisced about playing for the Metrostars and the Kansas City Wizards before concluding his MLS career back in North Jersey with the renamed Red Bulls.
"Both places were good to me," Meola said. "The fans from both teams were fantastic and I will never forget that experience. At the time I was traded to Kansas City, the team was considered the dumping grounds for many of us who were traded.  But the fact that we were able to win an MLS Cup and the US Open Cup proved otherwise."
When asked about his relationship with then owner of the Wizards, Lamar Hunt, Tony had nothing but kind things to say about him. "Mr. Hunt wasn't the kind of owner that George Steinbrenner was known as," he laughed.
"He was the greatest owner I've ever known. After a match, Mr. Hunt would come into the locker room and ask each of us how are families were by their names. He was a man who loved the sport and I remember seeing him sweeping the entranceway at the new indoor pavilion. The culture at Kansas City was that we respected everyone in the organization and always took the time to acknowledge."
Meola also stressed the importance of the Lamar Hunt U.S. Open Cup. "Considering that this is the oldest Cup in the United States, we should take it serious. I hate it when teams don't send in their first teams because it takes away the value of the tournament."
"When I played I took it seriously and it ticked me off when coaches would send in their second team instead of the first team. While the experience may be good for players who rarely play, the reality is that this tournament needs to be respected…. If I learned one thing from Lamar Hunt it's about the importance of respect."
When asked about his experience of trying out for the National Football League's New York Jets, Meola said that while it was memorable and still shows up in his bios, being a gridiron kicker is the most boring position a soccer player could play. However, he noted that many soccer players have the capacity to become an NFL kicker.
Before concluding the interview, I asked Tony about his role as a coach. He believes the youth game has had to replace the passion for wins. Now that he's a coach himself, he stresses the importance of developing players over wins. He admitted that many parents have a tough time accepting that, but his goal as a coach is for his players to be able to make their own decisions while learning the importance of time management themselves.
What's clear about Meola is that even in semi-retirement, on hiatus, or however you want to describe his situation, his competitive fire still burns strong. I sincerely believe if he was offered a few minutes to play in Wednesday's All-Star match, he may well jump at the opportunity.
Cesar Diaz is a Columnist for USSoccerPlayers.com. In addition, he covers soccer for LatinoSports.com and 5 Points Press. Easily accessible, you may contact Cesar at cesar@latinosports.com and at Twitter @CoveringSoccer.
*If you're in the NY/NJ area, Tony Meola is conducting an autograph session at the Allstate Soccer Celebration on Riverbend Drive from 4pm – 8pm on Wednesday, July 27th.