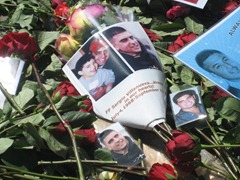 By Clemente Lisi – HEMPSTEAD, NY (Sept 9, 2011) US Soccer Players — Ten years after nearly 3,000 people where killed at the World Trade Center and Pentagon in the worst terror attack on American soil, Americans will spend Sunday commemorating the bravery of those who died on September 11th, 2001.  Among those who will be remembered is Sergio Villanueva, a New York City firefighter who died while rescuing people from the burning towers that day.
"Every anniversary has become a time of introspection for myself.  It obviously is one of the defining moments in my life," said Jonathan Kanovsky, a friend of Villanueva's and former New York City police detective who helped sift through the pile of rubble during the recovery efforts at Ground Zero.  "I can remember almost every single second of that day along with the days following 9/11.  Images of that time are seared in my memory and I can only imagine the grief and pain of those who lost loved ones on that day go through each and every year."
Born on the Fourth of July in 1968 in Argentina, Villanueva moved to the United States when he was just a toddler.  Villanueva may have left his homeland at a young age, but he brought a love of soccer to his adopted country. A Boca Juniors fan, Villanueva played on the fire department's soccer team and was often hoarse after watching the Argentine club play on television.
"He was passionate about soccer and enjoyed being part of the FDNY Soccer Club," Kanovsky recalled.  "He made friends worldwide traveling with the club and to this day people will come up to the club when we are traveling and tell us about they remember Sergio and his love of life and soccer."    
Villanueva, who was only 33 when he died and engaged to be married, became a member of the FDNY after spending eight years as a police officer, and later promoted to detective, for the New York City Police Department.  Just two days before 9/11, Villanueva, wearing the number 10 on his back, scored the winning goal with two minutes left in the game to give the FDNY a 1-0 victory.  It would be Villanueva's last game in an FDNY jersey.
Out of tragedy, however, has came hope and charity.  Villanueva's friends, teammates, and colleagues created a foundation to honor his memory.  The organization – named the Firefighter Sergio Villanueva Soccer Foundation –  promotes community service through the game of soccer.  The foundation organizes clinics around the world and gives out college scholarships each year to deserving young players.  One of those scholarship recipients was defender Richard Martinez, who went on to play for the USL's Puerto Rico Islanders.
Kanovsky said his friendship with Joe Brosi, who knew Villanueva and is now coach of the FDNY's soccer team, was what led to the creation of the foundation.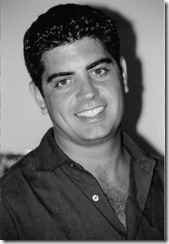 "I decided to honor his memory by endowing what I thought would be a small soccer scholarship (in 2003) at Hofstra University," Kanovsky recalled.  "After this endowment was funded, I met with Joe Brosi and we joined together to form the Sergio Villanueva Soccer Foundation.  Our mission statement is to promote international goodwill through the sport of soccer."
Over the past 10 years, the foundation has endowed scholarships at Hofstra University and Holy Cross High School in Queens, NY, where Villanueva played soccer – awarding over $150,000 in academic scholarships.
"Joe and I are continually looking for new opportunities to expand the reach of the foundation and to ensure that Sergio's memory is kept alive," Kanovsky said.
The foundation and members of the FDNY's soccer team have traveled the globe as goodwill ambassadors since the September 11th attacks.  Kanovsky said his proudest moment was a visit to the Landshtul Army Hospital in Germany, a place where wounded American soldiers are transported after enduring injuries in the Afghan and Iraq wars.
"To hear the stories of the brave soldiers and the difficult lives they must lead makes you realize how fortunate we are to live in this country," said Kanovsky.  "To know that we are keeping Sergio's memory alive with each person we touch brings me some comfort knowing that he and the others that died that day did not die in vain."  
There are still many other places Kanovsky and his friends would like to visit.
"We would love to travel to Argentina and conduct a clinic with Boca Juniors and tell Sergio's story to the citizens of Argentina," said Kanovsky.
Villanueva will also be remembered on September 24th when the Fire Department of New York takes on the NYPD at Red Bull Arena after New York takes on the Portland Timbers.  First contested two years ago, the game was won in 2009 by the FDNY. The NYPD won last year's game.
"For 90 minutes it is a heated rivalry," Brosi said.  "Prior to the game and after the game we are very good friends.  More importantly though, it is about the good we are able to do, the money we are able to raise, and the message we are allowed to share through the sport of soccer."
In the meantime, Villanueva's friends and former teammates continue to mourn his death and remember his heroism in many ways.  Kanovsky said the Firefighter Sergio Villanueva Memorial Garden at the Hofstra University Soccer Stadium "is a peaceful place that I return to frequently."  The memorial is located some 30 miles east of the World Trade Center on New York's Long Island.
"Each year, I talk to both the men and women's Hofstra University soccer teams and tell them of the heroic actions of Sergio and his fellow firefighters and our experiences during 9/11," he added.  "It is my hope that these talks touch at least two or three of these student-athletes and makes a difference in their lives."
Firefighter Sergio Villanueva Soccer Foundation
Clemente Lisi is a New York-based writer. Contact him at: CAL4477@yahoo.com. Follow him on Twitter at: http://twitter.com/ClementeLisi
More from Clemente Lisi: