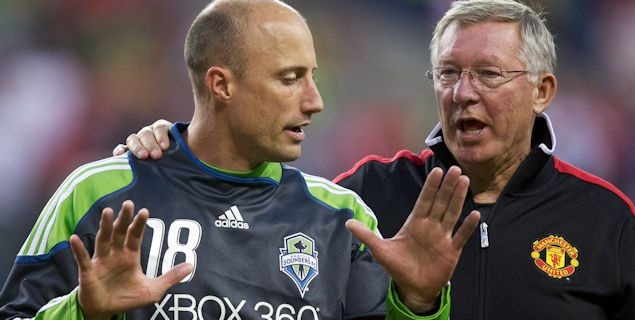 By Clemente Lisi – NEW YORK, NY (Oct 19, 2011) US Soccer Players — What would soccer be like today without the back-pass rule? Though we'll never really know, in all likelihood there would feature fewer goals and a lot more goalkeeper possession.  Since 1992, the back-pass rule forbids goalkeepers from handling the ball when a teammate intentionally kicks it to him or puts it in his direction from a throw-in. In both cases, the keeper is only allowed to use his feet.
The rule was introduced to discourage time wasting after the 1990 World Cup in Italy when the tournament averaged a pathetic 2.2 goals per game. The rule change showed results at the subsequent World Cup two years later when USA '94 averaged 2.7 goals.
Before the 1990 World Cup, deliberately passing the ball back to the goalie was once an effective tool, especially for defensive-minded teams who trying to preserve a result.  Italia '90 was rightly seen as the end of an era.  With overt time wasting becoming the norm, something had to give.
Unlike most FIFA initiatives, this one was widely embraced by pundits, fans and the International Football Association Board, which amends the rules. The only opponents were goalkeepers, many of whom argued scoring was down because strikers had failed to do their jobs and not because they'd been doing theirs. The argument coming from that side was that goalkeepers would essentially be transformed into sweepers – a prediction that never came true.  The change at the start of the 1992-93 European season marked the dawn of a new era aimed at pushing aside defense tactics in favor of a more attractive brand of soccer. 
"The rule has changed goalkeepers in so many ways. Keepers now are field players who can use their hands," said Tim Mulqueen, author of the book The Complete Soccer Goalkeeper. "They have to play balls with both feet for possession, over distance and for safety. In the past, the main form of distribution was with your hands.  Now, it is more than 50 percent with your feet.
"Keepers have to function as outlets for their team by playing with their feet and allowing players to pass the ball back to them. This has added a new dimension to training. Keepers need the same technical work as field players and need to incorporate that into their weekly plan. Keepers are now actively involved with their feet in the buildup out of the back and in starting counter attacks. The role of the keeper has now become that of a total player not just a shot stopper."
Nearly 20 years later, it's hard to imagine the game without the back-pass rule. Nowadays, goalkeepers like Barcelona's Victor Valdes use their feet as well as their hands, a far cry from the old days. Major League Soccer is also the better for it – nurturing a generation of present-day goalkeepers, many of whom were children when the rule change was made.
For the first time, goalies had to perfect their technical abilities in addition to their physical ones. The result has been great all-around goalkeeping, highlighted by Seattle's Kasey Keller, Columbus' Will Hesmer, RSL's Nick Rimando, the Portland Timbers' Troy Perkins and the Philadelphia Union's Zach MacMath.
Of these five, the 41-year-old Keller is the only one to have played professionally before the rule change. Keller had been playing for three years – including a stint with England's Millwall – before the rule changed. In an interview with the Seattle Sounders website in 2008, Keller admitted that adapting to the change was challenging.
"I don't think there are too many sports or positions on the field where you have to go through such a drastic change once you've already turned pro," he said. "Now I see games of way back when, and I find myself going, 'Whoa, what's going on? Why's he picking it up?' But it's definitely a good rule. It just would've been nice, for me, if it had been implemented 10 years sooner."
Former National Team goalkeeper Tony Meola, who started all three games for the USA at the 1990 World Cup, was the first in MLS to successfully combine the game's physical and technical abilities. Meola was named League MVP in 2000 with the Kansas City Wizards – the only goalkeeper thus far to win that honor.
"He could play any type of ball you wanted with either foot," recalled Mulqueen, who was on the Wizards coaching staff the year the team won the MLS Cup in 2000. "He could do it all. He was an offensive weapon as a keeper. The best I have seen with his feet."
MLS, and the sport as a whole, is better off with the rule.  As a result, Mulqueen said defenders, not only goalkeepers, have had to improve their game.
"The game would be much easier for defenders (without the rule change). They wouldn't have to be as skillful as they need to be now. I say that because if the keeper could use his hands they could always play it back when in danger thus eliminating pressure. Now, they need to be able to hold balls under pressure, make decisions as to if they want to play their keeper."
Clemente Lisi is a New York-based writer. Contact him at: CAL4477@yahoo.com. Follow him on Twitter at: http://twitter.com/ClementeLisi