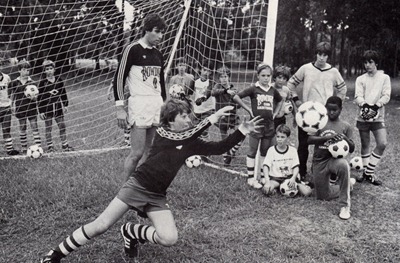 What Ever Happened To . . . is a new monthly feature on US Soccer Players that attempts to update readers on what has happened to players. coaches and officials of the past who helped shape the game in this country. In our first installment, we catch up with NASL legend and former National Team goalkeeper Arnie Mausser.
By Clemente Lisi – NEW YORK, NY (Jan 9, 2012) US Soccer Players — Before there was Tim Howard, Brad Friedel, Kasey Keller and even Tony Meola, the US produced a world-class goalkeeper.  The keeper in questions was Arnie Mausser.  A National Team regular throughout the 1980s, Mausser earned 35 caps for the USA – a number that irks him to this day.
"Probably would have played many more times, but we did not play as many internationals as the team does now," he explained.  "I would say that I would have had at least one hundred appearances or caps considering today's National Team schedule.  Unfortunately, I never had the chance to participate in the World Cup, which I always dreamed of doing since I was a kid playing soccer."
Despite that absence in his resume, Mausser, who was inducted in the National Soccer Hall of Fame in 2003, remains a legend.  Now 57, Mausser was an imposing figure in net.  His 6'5'' frame gave him the look of a NBA player.  His outstretched arms were able to scoop balls with ease and his powerful left foot got the attack going in an instant.
Mausser played in the North American Soccer League for 10 seasons from 1975 to 1984 with eight different teams.  In 1976, Mausser was named the NASL's Player of the Year while a member of the Tampa Bay Rowdies.  Some of Mausser's greatest memories date back to his time with the Rowdies and Fort Lauderdale Strikers.
"Both franchises were models for the NASL at the time," he recalled.  "Tampa did a tremendous job of marketing the team to a city that knew very little about the game. The team was embraced by the media and the city due to their on field success.  Not to mention the 40,000-plus crowds that witnessed the major games the Rowdies played in. On the other hand, the Strikers did a similar marketing campaign and drew crowds of 17,000 people considering they played in a smaller arena not unlike today's MLS soccer stadiums."
These days, Mausser has been as an assistant coach for Florida Atlantic University men's team since 2010.  No surprise, he's responsible for coaching goalkeepers. 
"It was not a decision that was hard for me to make," he said.  "I also was on staff with Nova-Southeastern University as well as Lynn University.  I also have coached at Piper High School.  I have a 14- year-old son named Andrew who also plays soccer and was a coach for his team as well.  Teaching goalkeepers was a natural for me.  Playing a total of eighteen years in the professional ranks for teams in the NASL, ASL and MISL makes me uniquely qualified to coach goalkeepers.  I joined FAU because it is my ambition at this time to be a college head soccer coach.  I am pursuing that idea very vigorously at this time."
For a goalkeeper who played in four of this country's leagues before the formation of Major League Soccer, Mausser has a unique perspective on American players and their development.  He said the biggest difference between the original NASL and MLS is the improved quality of American players.
"The majority of players have come from the college ranks and the coaching there has improved tremendously. The coaching at the youth level has also been improved greatly as well," he said.  "Having good coaching early in one's soccer career definitely improves the level of play throughout the country.  Another difference is that there is much more television exposure of MLS games and international games now.  That was not happening when the NASL was in existence."
Mausser, who grew up in Brooklyn, NY, decided on a soccer career after excelling as a youth player.  
"I was very successful in soccer winning many championships in the league and state tournaments," he recalled.  "I was very agile for my size and that was a significant reason for my success in future years.  I usually played against much older opponents as I grew up enhancing my level of play and finally was offered the professional for a team in Rhode Island in the American Soccer League in 1975. The team was called the Rhode Island Oceaneers.  We drew crowds from a large Portuguese population of probably in excess of 10,000 fans.  We won a championship in our first season going undefeated."
Mausser had such a great season in 1974 that Chelsea came knocking on his door, although he never ended up playing in England.
"At the time, no or very few foreign players were allowed to play on English clubs," he said.
Mausser's fondest memories are with the National Team.
"My fondest memories of playing for the US is that I never lost a home match against arch rival Mexico," he said.  "Playing against Mexico was always a tough task, especially in Mexico.  Many teams that travel to Mexico find this to be true.  I think that the fondest memory that I have was the match in 1976 US versus Mexico in the LA Coliseum with a highly partisan Mexican crowd of about 35,000.  We drew 0-0 and I received rave reviews from the media, saying that I might have given the best performance by a goalkeeper ever."
Regrets?  Mausser has a few.
"Probably against Costa Rica [in 1985], in which we lost 1-0 in Los Angeles and did not advance to the next round of the 1986 World Cup qualifier.  I came out of my goal to punch the ball away, but did not clear the ball very well and Costa Rica scored," he said.  "We had chances to score during the normal play of the game, but came away empty.  I believe that was the last appearance for me with the US National Team.  To leave on such a sour note always bothers me even to this day."
Clemente Lisi is a New York-based writer. Contact him at: CAL4477@yahoo.com. Follow him on Twitter at: http://twitter.com/ClementeLisi