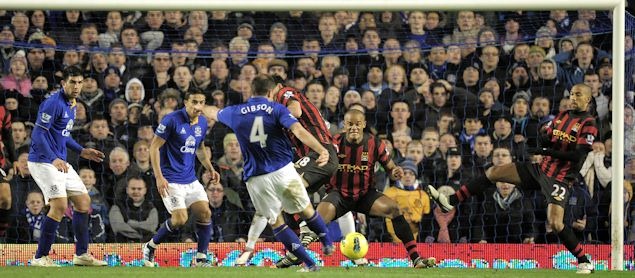 By J Hutcherson – WASHINGTON, DC (Feb 3, 2012) US Soccer Players — Manchester City enter the weekend schedule still top of England's Premier League.  Unfortunately for the next super club, that lead is only through a superior goal differential to Manchester United.  City are coming of a loss to an Everton team that was going through the disruption of the transfer window closing, and once again it's City facing nagging questions about value for money. 
Though they're hardly the first team to end up in this situation, anything but winning opens Manchester City up to even tougher criticism than the ongoing complaint that they're the product of a benefactor model that isn't good for professional soccer.  Again, hardly the first English team to have to shoulder that criticism.  As the Everton loss reminds us, they still have to use their funds to put together a team capable of winning consistently. 
City have been here before, early in February when they lost to Sunderland on New Year's Day.  That brought with it the expected media coverage, openly questioning whether or not this team had it in them to win the Premier League title.  They'd already slipped in the Champions League, and faced a crowded January with the domestic cup competitions. 
Fast forward to the 1st of February, and it's a similar story.  City exited both Cup competitions, to England's historic powers Manchester United in the FA Cup and Liverpool in the Carling Cup.  Domestic Cup wins were never going to gloss over the disappointment of the Champions League or losing out in the Premier League, but it was how City went out that's added to that Premier League loss to Everton. 
In the Carling Cup, City looked competitive against a team they should've been expected to dominate.  This version of Liverpool needs serious help to be a legit top-five club, something City demonstrated by beating them 3-0 in the Premier League the week before meeting them in the first leg of the Carling semifinals.  That was City as expected, rolling over lesser clubs that quite simply shouldn't be able to compete.  Even great teams can get caught out on bad days, but the point of clubs like Manchester city is to do and spend what's required to limit those bad days. 
Playing against Liverpool in the Cup, City seemed unable to impress their game.  Without the ability to control the flow, they chased Liverpool and eventually opted for a late surge that hasn't been as impactful as one might expect.  The loss to United in the FA Cup had a 10-man City scrounging for chances against United playing like United.  Both contained moments where City should've felt hard done by, but that's the game at this level.
January could've been worse.  City needed a penalty to beat a Spurs team that decided to play in the second-half and erased a two-goal lead.  Again, this was City in scramble mode – a far cry from the kind of dominance they were putting on display regularly over the opening months of the season.  Part of that is simply the drag of the Premier League season and the other competitions.  We've seen it before, the lopsided results happening early and those same teams posing a problem for title contenders late in the season. 
Part of the appeal of the Premier League is that you can take almost any team and chart a path to success over a couple of months.  The schedule lends itself to that kind of fantasy football, but it works in both directions.  Very quickly, what appears to be an easily navigated run of games turns into a series of traps.  That's where City currently resides, wondering what happened against Everton while preparing to face Fulham. 
With the quick turnaround, City could be facing what they couldn't beat earlier this week. A team with a few moves that work, capable of shutting down higher priced offenses. That's how a smaller Premier League team doesn't lose against Chelsea, takes four out of six points from Arsenal, and beats Newcastle.  In fairness, it's also how Manchester United shut them out 5-0 at Craven Cottage when those same moves weren't working and there was no stopping United's usual suspects.
It's not just that an American is firing Fulham's offense. On paper, Fulham is still in the adjustment phase after selling Bobby Zamora to Queens Park Rangers and is in no position to be altering the top of the Premier League table. They've only won away once this season, against Wigan in late October.  Trouble on the road is not likely to be solved away to Manchester City. 
Then again, the fortress that's been the Etihad Stadium has already taken a very noticeable knock.  That United loss in the FA Cup ended City's overall home undefeated streak.  Their Premier League home undefeated streak is still in place.  Given what we've seen from City in recent weeks, there has to be the feeling that it will be a team like Fulham who makes things decidedly more difficult for them. 
More from J Hutcherson: