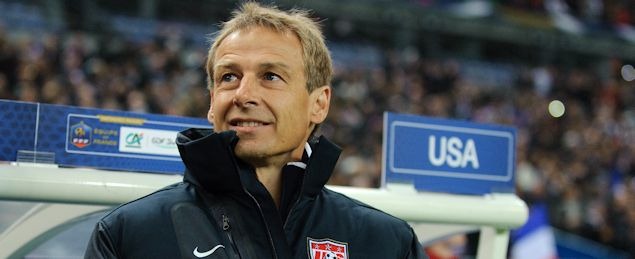 By Clemente Lisi – ROME, Italy (Feb 22, 2012) US Soccer Players – When the USA travels to Italy at the end of this month for a friendly in Genoa, it will be a homecoming of sorts for coach Jurgen Klinsmann.  The former Germany striker spent two separate stints playing in Serie A (for Inter Milan and Sampdoria) during the 1990s. To this day, Klinsmann is remembered as one of the greatest stranieri – foreign players – ever to play in Italy.  Klinsmann also won a World Cup on Italian soil with West Germany in 1990.
For Klinsmann, this had been the first time he had ever spent any real time away from Germany, the first glimpses of a player open to new opportunities with an ability to win over the local fans.  Most Italians remember him as a man who embraced his new home. He learned Italian and spoke it well, always obliged when a reporter wanted to ask a question, and didn't mind indulging in a bowl of pasta at lunch with his teammates. 
"Klinsmann was a great player," said former Italy striker Luca Toni, who played for the former German international when he coached Bayern Munich. "He always did a great job using his experience as a player and implemented that on the field. He always understood the players, especially strikers, because he had been one himself."
To really get the Italian influence on Klinsmann's career, it's necessary to retrace his steps playing in Italy for club and country. 
Inter
After succeeding in his native Germany, a 24-year-old Klinsmann followed other great players of his day and signed with an Italian club.  He joined Inter when they were defending Serie A champions in the summer of 1989 to play alongside countryman Lothar Matthaus and Andreas Brehme.  That completed Inter owner Ernesto Pellegrini's  Il trio tedesco – the German trio.  In the pre-Bosman era of Italian soccer, clubs were only allowed three foreign players. 
Matthaus, Brehme, and Klinsmann were intended to be answer to city rivals AC Milan's Dutch trio of Ruud Gullit, Marco van Basten and Frank Rijkaard at a time when Serie A was considered the best domestic league in the world.  Milan got the better of those battles during Klinsmann's time with the club, finishing 2nd to Inter's 3rd in 1990 and '91 and winning the first of three consecutive title in '92.  Milan's dominance during Klinsmann's time at Inter also included successfully defending their European Cup title in 1989. 
Klinsmann found success, scoring 13 goals in 89-90 and 14 in 90-91 and was part of a UEFA Cup winning squad.  But Inter couldn't get past their city and stadium rivals.  A change in coaches and strategy ended up with Inter's chances at overcoming Milan stalling in 1991-92 and Klinsmann's goal total dropping to seven that season.  While Milan lifted the title, Inter fell to 8th place and Klinsmann was on his way to Monaco.  As far as the Il trio tedesco, getting past Milan was the only real measure of success. 
Italia
Italia 90 setup what to many fans felt like an extension of the Milan – Inter rivalry.  Fortunately, the schedule cooperated with West German and Holland meeting in Milan for their Round of 16 game.  The game quickly became dubbed the "Battle of San Siro" and it was Klinsmann taking a starring role. 
With former New York Cosmos great Franz Beckenbauer on the bench, the West Germans defeated the Netherlands 2-1. Klinsmann put his side up 1-0 and his Inter teammate Brehme scored the game-winner six minutes from the end. Klinsmann would score three goals at the tournament, with West Germany eventually lifting the Jules Rimet trophy in Rome. 
"I have never seen Jürgen Klinsmann run so much, play so well and take on such responsibility," West Germany coach Franz Beckenbauer told reporters afterwards.
Sampdoria
In May 1997, Klinsmann agreed to return to Italy after signing with Sampdoria from Bayern Munich.  The ill-fated transfer lasted only eight games, with Klinsmann scoring just twice after being sidelined for seven weeks with an ankle injury. Demoted to the bench, a dejected Klinsmann returned to Tottenham on loan in December 1997, where Spurs fans enthusiasm welcomed him back.  He would never play for an Italian club again. Supporters carrying a banner with the message, "Welcome home Jurgen" met his arrival in London and later hundreds of German-flag waving fans gathered at White Hart Lane to greet him.
"At that point we did everything so that Klinsmann could sign with a team that he would be happy with," Sampdoria's general manger Domenico Arnuzzo said at the time. "We didn't want him to be unhappy."  
In a twist of irony, Klinsmann will return to Sampdoria's Stadio Luigi Ferraris on February 29th for the USA's game versus Italy. Fifteen years later, he will be sitting on the bench in Genoa again – only this time as US coach.
Clemente Lisi is a New York-based writer. Contact him at: CAL4477@yahoo.com. Follow him on Twitter at: http://twitter.com/ClementeLisi
More from Clemente Lisi: