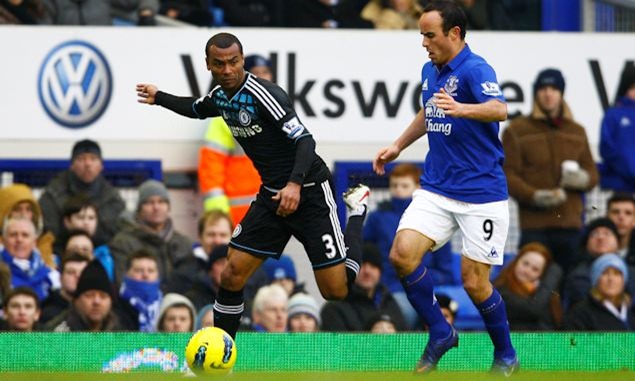 Once again, Everton knocked off a Premier League contender.  This time it was Chelsea, falling 2-0 to Everton at Goodison Park.  And once again, it was Americans in the Everton eleven making the difference.  Tim Howard needed four saves for the shutout and Landon Donovan setup the second goal.   Steven Pienaar opened the scoring in the 5th minute with Denis Stracqualursi doubling the lead in the 71st.  Everton are 10th in the Premier League standings.
"It was a great result for us and there were good parts of the performance as well," Everton manager David Moyes said. "The strange thing is I think we can play much better. I think we'll play better once we hopefully get a bit of confidence and the wins take us along.""
Clint Dempsey created the second goal in Fulham's 2-1 defeat of Stoke at Craven Cottage, even if it ended up credited to Stoke goalkeeper Thomas Sorensen.  In the 28th minute, Dempsey launched a strong shot from distance that hit the crossbar and then deflected into the goal off of Sorensen.  That gave Fulham a 2-0 lead, with Pavel Pogrebnyak opening the scoring in the 16th minute.  Wigan pulled a goal back in the 78th. 
"It's always tense when you have a two goal lead and then concede one," Dempsey said. "With 10 minutes left they tried to go for it but we did a good job holding them off."
Also in the Premier League, Brad Friedel was in goal for Spurs' 5-0 shutout of Newcastle.  A league down, Robbie Findley subbed on in the 75th minute for Nottingham Forest in a 1-1 draw with Watford.
In the Scottish Premier League, Carlos Bocanegra and Maurice Edu started and picked up assists for Rangers in a 4-1 win over Dunfermline.  Rangers needed a comeback, with Dunfermline opening the scoring 16 minutes in.  David Healy had Gers level in the 24th from Edu's assist, with Lee McCulloch scoring in the 39th with an assist from Bocanegra.  Sone Aluko made it 3-1 in the 71st and Salim Kerkar scored in the 85th. 
"There's a lot of stuff Mo does that goes unnoticed in terms of getting the ball back and closing people down," Rangers manager Ally McCoist said of Edu.  "For our first goal today he did brilliantly to break into the box before Healy scored.  If you ask any of the players or indeed the coaching staff we are all delighted with him as we know all about the hard work he puts in."
Charlie Davies subbed on in the 78th minute for Sochaux, losing 1-0 to Rennes.  Davies returned to the club after his loan to DC United.  In Portugal, Oguchi Onyewu was in the starting lineup for Sporting's 2-0 loss to Maritimo.  Sporting fell behind in the 21st minute at the Estadio dos Barreiros and gave up another goal in the 60th.  Onyewu was yellow carded in the 19th minute.  Sacha Kljestan took his regular place in Anderlecht's starting eleven, beating Standard Liege 2-1.  Jozy Altidore subbed on in the  75th minute for AZ's 2-0 shutout of Excelsior in the Eredivisie.  Maarten Martens scored both of AZ's goals. 
Bundesliga, and Danny Williams and Fabian Johnson were both in the starting eleven for Hoffenheim, drawing 1-1- with Werder Bremen. Steve Cherundolo got the start for Hannover, drawing 1-1 with Mainz.  Timmy Chandler got the start for Nurnberg in a scoreless draw with Augsburg. Nurnberg put four of their 12 shots on frame to one from nine for Augsburg.
Clausura, and Michael Orozco went the distance for San Luis, losing 2-0 to Tigres.  Jose Francisco Torres got the start for Pachuca, beating U.A.G. 2-0.  Pachuca opened the scoring in the 29th and doubled their lead in the 42nd minute.  Torres was yellow carded in the 61st minute.  U.A.G.'s Rubens Sambueza was red carded in stoppage time.  Edgar Castillo started for Tijuana in a scoreless draw with Cruz Azul.  DaMarcus Beasley subbed on in the 65th minute for Puebla, beating UNAM Pumas 2-0.  Luis Landin scored five minutes in with Luis Garcia picking up the second goal in the 67th minute, four minutes after Pumas lost Marco Palacios to a red card. 
Did Not Play: Marcus Hahnemann (Everton 2 - Chelsea 0), Eric Lichaj (Bolton 1 - Wigan 2), Brad Guzan and Eric Lichaj (Aston Villa 0 - Manchester City 1), Jonathan Spector (Birmingham - Barnsley postponed due to weather), George John (West Ham - Peterborough postponed due to weather), Robbie Rogers (Leeds 1 - Brighton 2), Frank Simek (Carlisle - Stevenage postponed due to weather), Dominic Cervi (Celtic 1 - Inverness 0), Mix Diskerud (Gent 1 - Club Brugge 3), Jermaine Jones (Schalke 0 - 'Gladbach 3), David Yelldell (Bayer Leverkusen 0 - Borussia Dortmund 1), Luis Robles (Karlsruher 0 - Eintracht Braunschweig 0), Joe Gyau (Hoffenheim 1 - Werder Bremen 1), Herculez Gomez (Santos Laguna 1 - Morelia 3), Jonathan Bornstein (Tigres 2 - San Luis 0)
Injured: Stuart Holden (Bolton 1 - Wigan 2), Zak Whitbread (Norwich 3 - Swansea 2), Alejandro Bedoya (Rangers 4 - Dunfermline 1)