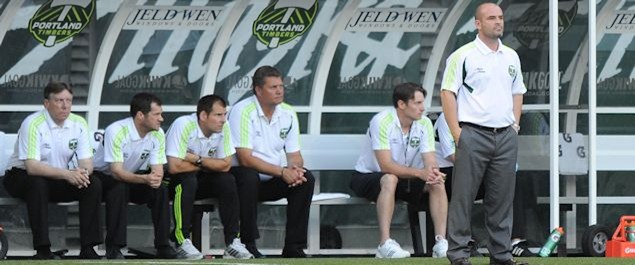 By Jason Davis – WASHINGTON, DC (Feb 1, 2012) US Soccer Players — Kris Boyd, born August 18th, 1983 in Irvine, Scotland, late of Eskişehirspor of the Turkish Süper Lig, formerly of Nottingham Forest, Middlesbrough FC, and – most famously – Glasgow Rangers, current record-holder for most goals scored in the Scottish Premier League and a name well known in international soccer circles, is Major League Soccer's newest Designated Player.
More specifically, Boyd is the Portland Timbers' newest Designated Player, his acquisition announced by the club on Monday afternoon. Boyd arrives to help fill the void left by the departed Kenny Cooper, who was traded by the Timbers to New York earlier this month, and becomes the Timbers' third DP.
Boyd is big money, big talent, but hits MLS with a reputation for inconsistency among all of his scoring prowess. Of course, Timbers fans won't mind if he drifts in and out of games as long as he pops up for a goal every now and then. Whatever the prevailing wisdom on Boyd, the Timbers have a proven goal scorer, who is just 28, in the mix for 2012.
The story of Boyd's signing with the Timbers also involves the Houston Dynamo. It was the Dynamo who were the first American club to discuss a move Stateside with Boyd, going so far as to bring him to Houston to take a look around his potential new home.
One version of that story goes like this: when confronted with the idea of spending the summer in hot and sticky Houston, Boyd demurred. Whether Portland jumped in at that moment or worked surreptitiously to push Boyd to the Pacific Northwest prior to his turning down Houston isn't clear.
What is clear is that Boyd passed up big money – perhaps bigger money – from one MLS club to sign with another. The Dynamo were left at the altar, their DP target gone and attached before they even had a chance to understand what happened.
Yes, this is still MLS.  A league designed under single-entity that prevents clubs from competing with each other for a player can't allow the scenario I just described to occur.  What to do?  Well, Houston doesn't walk away from Boyd's rejection empty handed. The Dynamo received a 2013 first round draft pick from the Timbers as compensation. That's right, Houston gets a draft pick from the Timbers for doing nothing.
It's another of Major League Soccer's arcane rules that requires the Timbers to "pay" Houston for the right to sign Boyd. Essentially, the Dynamo called "dibs" on the Scottish striker through the discovery claim process, and when the player and the Timbers decided to consummate a soccer relationship, the Dynamo were due something in return under League rules. Discovery claims, folded in among SuperDrafts, re-entry drafts, salary caps, and the rest of the League's myriad regulations might not get as much attention, but it ranks among the more mystifying.
By design, it's meant to maintain the single-entity concept, even if it's at the limits of what that system should allow.  As with all MLS constructs surrounding the player acquisition process, the discovery claim mechanism is in place to keep down internal competition for players. Competition means bidding wars, and bidding wars mean higher salaries. The League is giving teams an incentive NOT to go in against one another for the same player by creating a penalty for doing so.
Portland may or may not have had an eye on Boyd throughout his dalliance with Houston, but because the Dynamo already had a discovery claim on the striker, the Timbers jumped into the fray knowing they'd have to give something up should they sign him.
The most disappointing part of the discovery claims list (each team can have claims on ten players at any given time) is that it creates an environment where preemptive claims are rewarded. In Boyd's case, Houston had every intention of signing the player.  Fair enough, but that doesn't mean clubs will refrain from gaming their list by adding likely targets for other teams.
By establishing a claim at the start of the year (claims expire September 1st) on a player they know might be in demand, they've effective scooped up his MLS rights. In Major League Soccer, "rights" might matter more in terms of player movement than contracts. It's all about control. How much players make, since that too is regulated in most cases, is almost secondary. Even draped in legalize ("right of first refusal"), the ceding of non-MLS signings to one team simply by a matter of submitting a list to the League office is strange.
How many players have MLS clubs chosen not to chase because someone else already had a discovery claim? Never mind the inanity of a rule involving the word "discovery" when it comes to known quantities like Boyd (perhaps there's a lesser-used definition of the word that fits), the nature of the process is perhaps the most secretive and murky that MLS – an organization known for valuing obfuscation when it comes to player acquisition – has in place.
Discussions about the ramifications of the process with people who know the League at least somewhat intimately results in more questions than answers, more confusion than clarity. The list themselves are kept secret by the League. The only way to know a discovery claim has been made is if the team that made it lets that information slip, or a player from outside of MLS is signed, and even then only by way of deduction.
Portland's shipping of a 2013 draft pick to the Dynamo for the rights to sign the Scottish Premier League's greatest scorer did that maddening thing so many MLS transactions do… it reminded us how complicated the system actually is. The number of people on the planet who understand the ins and outs of MLS and its rules for controlling the player market and keeping down costs can be counted on two hands.
But, in the end, Portland gets the player they wanted, Boyd goes to a city he likes, Houston gets something despite the player's rejection, and everyone goes home happy. Except for those trying to keep track of the rules. Someone should give them an aspirin.
Jason Davis is the founder of MatchFitUSA.com. Contact him: matchfitusa@gmail.com. Follow him on Twitter: http://twitter.com/davisjsn.
More From Jason Davis: