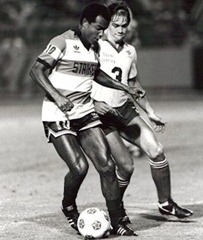 By Clemente Lisi – NEW YORK, NY (Feb 14, 2012) US Soccer Players — Before Designated Players began flocking to our shores in an effort to bolster Major League Soccer's star power, there was a time when it was common – even stylish – for international players to move to the United States.  One of those players was Peru's Teofilo Cubillas. 
"Who wouldn't want to come play with all the greats such as Pele, Franz Beckenbauer and George Best?  I thought Fort Lauderdale was a very interesting market, not to mention a great opportunity for me," Cubillas said about his decision to move to the US in 1979.
Cubillas, who earned the nickname "Nene" – the Spanish word for baby – because of his boyish looks, still looks like a young man at the age of 62.  In a career that spanned some 20 years, Cubillas is remembered most by American fans as a former member of the Strikers during the days of the North American Soccer League.
Asked what stood out most for him at the time, Cubillas replied, "The atmosphere, the crowd that supported us.  Also, the Robbie Family (who owned the Strikers).  I want to send a special thank you to all the old 'Striker Liker' fans.  They made me feel right at home."
Home is exactly what South Florida became for Cubillas, who was nominated last month for entry into the National Soccer Hall of Fame on the veteran ballot.  After retiring in 1989, Cubillas settled in this country.
"I was of the idea where my kids start school they will finish," he said.  "My family and I have made great friends along the way that I still keep in touch with today from the old Striker days."
The former midfielder has run summer soccer camps for children over the past 27 years.   
"We always did summer camps under Nene Cubillas Camp Futbol and that has been going on since 1985," he said.  "We will be starting an academy this year to teach the youth of tomorrow.  I feel that when a child begins to play soccer, he needs to learn the basics and fundamentals.  With time, practice and dedication, he or she will make it to the next level, as there are so many talented youth players in this country. They just need the opportunity."
Cubillas also works for FIFA and as an ambassador for the Special Olympics.  At the 2010 World Cup, Cubillas was part of the 16-man team that headed the FIFA Technical Study Group.  As part of his report, Cubillas observed, "I really admire how the United States have done in South Africa.  They have shown incredible spirit, huge enthusiasm and the will to battle back after conceding first in nearly all their games."
Cubillas dreamed of a pro career as a child and got his chance at 16 in 1966 with Alianza Lima.  In 1972, Cubillas had his best year at the club level, finishing top scorer in the Copa Libertadores Cup and taking South American Player of the Year honors.  His goals got him attention in Europe and Cubillas went on to play with Swiss club FC Basel and Portuguese side Porto.
Cubillas signed with the Strikers at a time when soccer was king in South Florida.  Over five seasons, Cubillas scored 65 goals in 141 games for the Strikers and created a potent attack after teaming up with Gerd Muller and George Best.  In a 1981 game against the Los Angeles Aztecs, Cubillas scored a hat trick in seven minutes.  Cubillas wore the number 10 jersey and played like it.  He was the one spearheading the attack.  What fans saw was a gifted player who possessed a potent shot and was brilliant on dead ball situations.
For all his exploits on US soil, Cubillas remains one of the best players ever to emerge from South America to play at the World Cup level.  His 10 World Cup goals put him on the list of all-time leading scorers.  Remarkably, he scored five goals at the 1978 World Cup and another five eight years later at the 1982 edition. Cubillas also played at the 1970 World Cup for Peru when he was just 20.
"I would have to say that there are two of them," he said when asked about his favorite World Cup goals.  "The first is when we were losing 2-0 to Bulgaria in the 1970 World Cup and we came back and tied the game 2-2.  I then scored to put us up 3-2 and it turned out to be the winning goal of the match. This goal gave back hope to our country as two days before an earthquake hit Peru, killing 50,000 people.
"The second would have to be the free kick I scored in 1978 World Cup against Scotland.  The final score was 3-1 and I scored the second and third goal, but it was the final one where I set up for a free kick and bent it around the wall with the outside of my foot."  
To this day, Cubillas said fans still recognize him.  
"It's a great feeling when people recognize me on the streets, especially in Peru," he said.  "But since I have stayed involved in the soccer world over the years, even the youth of today that didn't even see me play know who I am thanks to their parents and videos or Internet clips of goals.  People will always ask to take a picture and I will always take the time to sign an autograph because these are and will be forever my fans and I am grateful for the opportunity I was given." 
Clemente Lisi is a New York-based writer. Contact him at: CAL4477@yahoo.com. Follow him on Twitter at: http://twitter.com/ClementeLisi
More from Clemente Lisi's What Ever Happened To… series: