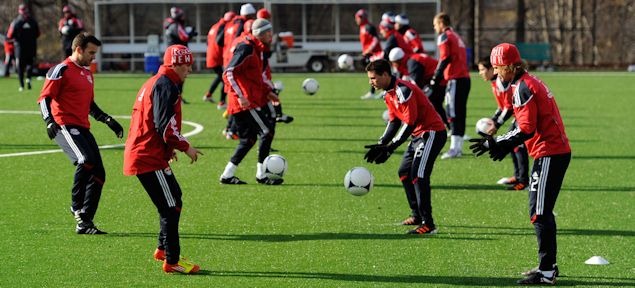 By Clemente Lisi – NEW YORK, NY (Feb 7, 2012) US Soccer Players — The MetroStars/Red Bulls are the most futile Major League Soccer club since the League's inception in 1996.  There is little argument to the contrary.  Nevertheless, the franchise has had a staggering track record when it comes to producing talented players who have gone on to succeed at other clubs and the US National Team.  Some of those players include goalkeeper Tim Howard, defender Tim Ream, midfielder Michael Bradley, and strikers Jozy Altidore and Juan Agudelo.
When Ream recently secured a transfer to English club Bolton, it was the latest big move by a New York player.  It isn't that the franchise has a special elixir when it comes to nurturing such talent.  However, the question of why so many Americans who come up through the system in New York and later excelling with other teams is a curious one. 
Here are four theories for why the MetroStars/Red Bulls have been so important to the growth of the American game since 1996:
Inability To Win
As hard as it can be to keep a winning team together following a season of success, New York has shown it can be just as difficult not to create situations that lead to good players exiting early.  Last season gave us the latest in a long list of examples.  The Red Bulls had a player that should've been part of a title push.  Instead, management decisions had Dwayne De Rosario leaving for DC United after just 83 days.  He went onto win the League MVP award with a conference rival.
For a club with so many disappointing seasons, New York has been a notable shop window for Europe.  With Ream joining Howard, Bradley, and Altidore overseas, the feeling is that it's only a matter of time before Agudelo also departs for greener pastures.  Agudelo is a wonderful talent and at age 19 still a raw one.  The team's solution under coach Hans Backe has been to bench him, only playing him sparingly or in the waning minutes of a game.  Instead, Backe should play him more and help him gain the experience and confidence that comes with getting minutes.  US coach Jurgen Klinsmann has understood that better than Backe, playing Agudelo as often as possible in friendlies.
Agudelo will ultimately play more games and succeed – just not in New York.  The League may want New York to be its flagship franchise, but if history is a guide, the more the team loses the better it is for the players who ultimately leave. 
The NY Spotlight
Much has been made of professional teams with New York names that don't even train in the city, and MLS has done their existing New York team no favors by playing up a potential expansion within the five boroughs, the Red Bulls are treated as a New York team.  That puts them in the biggest sports market in the country, something that's been good and bad for the Red Bulls.  What happens in New York is magnified to the point that it gets attention all over the world.  If a Red Bull player has a breakout season (Ream in 2010) or gets hot during the playoffs (Altidore in 2006), New York is place to grab the attention of scouts and coaches from Europe.
Many of New York's games are televised nationally – often on the belief that the team will have a great season – and that gives their players plenty of exposure.  Never underestimate playing in the media capital of the country, if not the planet, and that helps create a perfect recipe for attention – both good and bad.  Most people tend to remember the good players, not the bad ones.  The MetroStars/Red Bulls have had their share of flops.  They have also had many solid players. 
Put on a great personal performance in Denver with the Colorado Rapids or Boston with the New England Revolution and it may take time before you get noticed.  Do it in a Red Bulls uniform and that's a different matter.  It's not that other teams don't produce talent. They do.  It's that they don't get the same recognition.
The NJ Connection
Call them the USA's  "Jersey Boys."  With the exception of Ream, the aforementioned quintet of players were either born in New Jersey, grew up playing there or both.  Given its proximity to New York City, the suburbs of New Jersey attracted just enough immigrants to make soccer a big deal there.  Texas may have its Friday night football games, but New Jersey has its weekend soccer matches. Whether recreational, high school or college, the northern half of Jersey is loaded with soccer fields.
European immigrants who came here starting in the last century helped make soccer popular.  Newer immigrants from South America and Africa have kept that interest and passion for the game growing.  Tony Meola's family is from Italy.  Claudio Reyna's is from Argentina. Tab Ramos was born in Uruguay.  Agudelo was born in Colombia.  All made their mark as youth players in New Jersey.  You can add Altidore to that list as well, playing his youth soccer in Florida but born in Livingston, NJ. 
The Jersey-born Bradley credits his friendships with boys from all over the world in the shadows of the New York skyline and watching games on Italian-language TV as helping shape him as a young player.  It is no coincidence that he has gone on to achieve unprecedented success over the past few months with Chievo Verona in Serie A.
Foreign Invasion
The MetroStars/Red Bulls, because of where they play, have always attracted some of the best foreign-born stars.  Be it Roberto Donadoni in 1996 or Thierry Henry in 2010, the franchise has been known to spend on foreign players.  That in turn helps the younger players on the team, who use these superstars as mentors.  The superstars have not brought them championships, but they have helped shape the careers of the younger players on the roster.
The mentoring process has worked for several former Metro/Red Bull players.  Altidore took advantage of Juan Pablo Angel's time in New York just as Agudelo has used Henry as his mentor. Whichever star player decides to come to Harrison next, part of the deal is what it means for mentoring a future star.
This legacy of foreign players helping shape young American players dates back to the Cosmos and the NASL days.  Pele, Giorgio Chinaglia, and Franz Beckenbauer helped the likes of a Ricky Davis when there weren't too many American players in the league.  These days, New York is still in the business of nurturing elite players.  They just don't do what it takes to keep them in a lineup that turns those future stars into MLS champions.
Clemente Lisi is a New York-based writer. Contact him at: CAL4477@yahoo.com. Follow him on Twitter at: http://twitter.com/ClementeLisi