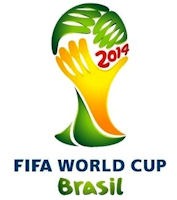 By Justin Shaffer - SEATTLE, WA (Mar 5, 2012) US Soccer Players -- Over the weekend, FIFA Secretary General Jerome Valcke triggered a very public back and forth with Brazil over the current state of readiness for the 2014 World Cup, going so far as to say that Brazil needed a "kick up the backside". Valcke's statements touched on the slow pace of Brazil's infrastructure improvements, stadium construction delays, and FIFA's demands for changes in Brazilian laws.
"I don't understand why things are not moving," Valcke told reporters. "The stadiums are not on schedule any longer... and why are a lot of things late? The concern is nothing is made or prepared to receive so many people. I am sorry to say but things are not working in Brazil."
Brazil's sports minister, Aldo Rabelo, called Valcke's comments "inappropriate, offensive, and unacceptable." The ministry went on to say that a letter will be delivered on Monday to FIFA president Sepp Blatter informing him they will no longer deal with Valcke and asking that FIFA appoint a new representative.
Valcke hit back, calling Rabelo's comments "juvenile" and accusing Rebelo of ignoring the issues at hand. Valcke apologized on Tuesday, sending a letter to Brazil's organizing committee.  Needless to say, this is not where FIFA expected to find itself in March of 2012. 
Infrastructure
No one is arguing that infrastructure isn't a problem.  Brazil's airports are outdated and strained to accommodate the 180 million passengers that visited in 2011. Without significant upgrades, the country's ability to handle the hundreds of thousands of additional World Cup visitors is questionable. Compounding the seriousness of the issue is the sheer geographic span of Brazil.  Some teams will have to travel 2,000 miles or more between venues. A lack of long-distance rail and lackluster roads leaves air travel as the only realistic option for travel between the many host cities.
"We will be embarrassed with our airports here in Brazil if the necessary work doesn't start quickly," said former World Cup champion Romario, now a Brazilian congressman. Romario has been very outspoken in his criticisms of FIFA and his country's readiness to host the World Cup. "To tell you the truth, I'm trying to stay positive and I'm hoping that it won't happen."
Despite a strong resistance to doing so, Brazil's government recently sold off controlling stakes in three of its busiest airports. The government hopes that privatizing the airport operations will boost efficiency though some critics say it may be too little, too late.
Stadiums
Brazil was granted an exemption to use 12 host cities, two more than the normal maximum for a World Cup.  Two of those cities (Recife and Sao Paulo) are building new stadiums on new sites.  Five (Brasilia, Cuiaba, Manaus, Natal, and Salvador) are knocking down old stadiums and building new ones on the existing sites.  The other five are undergoing less invasive remodeling to meet FIFA's stadium requirements.  In other words, there is no existing venue in Brazil that can host a World Cup game without work. 
At least five venues have already seen local labor strikes bring a halt to progress. A court in Recife stepped in and judged one strike illegal, ruling that the offer made by the employers was fair and should've been accepted by the workers. The unions have recently begun to centralize their efforts in hopes of bringing a nationwide strike that would stop construction in all 12 host cities. The unions' primary goal is aligning salaries and benefits for workers across the country. Renovations to Beira-Rio stadium have been on hold for eight months now due to financial issues, putting the city of Porto Allegre in serious danger of being dropped as a host city.
Law Changes
While Valcke does make many valid points regarding the pace of construction on stadiums and infrastructure, there's also a FIFA problem in play.  As part of the World Cup bidding process, prospective host countries must commit to granting the World Cup special status under domestic law.  This covers a wide range of legal areas such as travel visas, work permits, tax exemptions, labor laws, legal immunities, security arrangements, trademark protections, and banking operations.
FIFA is also insisting that Brazil change laws which bar beer sales in soccer stadiums and remove guarantees of half-price tickets to students and senior citizens.  Brazil introduced the alcohol ban in 2003 in an effort to reduce violence at soccer games. With one of FIFA's largest corporate sponsors a beer company, FIFA is insisting that beer be sold at World Cup venues.
Although the Brazilian government indicated support for the law changes during the bid process, there's been a vocal backlash amongst citizens, consumer protection groups, and members of Brazil's congress over FIFA's violation of their nation's sovereignty.
"FIFA wants to have powers in Brazil which it is not entitled to, as a private company," said Romario. In posts on his Twitter account, Romario also said, "Brazil needs to stop this business of becoming a slave of FIFA. The sovereignty of the country must be respected."
With the Confederations Cup serving as a test run next summer, Brazil and FIFA are both short on time to get what they want.  Having those wants differ significantly leaves both in an uncomfortable position, especially when the rhetoric goes public.  At this late stage, the Brazilian government could set a precedent by ignoring FIFA's ultimatums on the law changes.
In the meantime, expect FIFA to continue applying pressure by reminding all involved that hosting the World Cup is a privilege, not a right.  More to the point, it's an agreement - one Brazil entered into knowing what previous hosts have faced making the tournament work under FIFA's guidelines. 
Justin Shaffer joins USSoccerPlayers after regularly contributing to the site's comments section.  Look for his byline every other week.