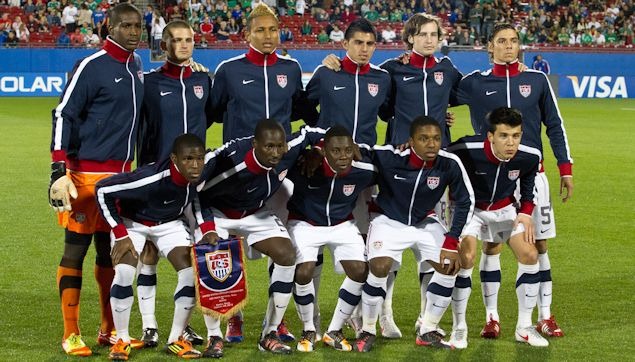 By Jason Davis – WASHINGTON, DC (Mar 22, 2012) US Soccer Players — Why is the CONCACAF Olympic qualifying tournament so important to Major League Soccer that they buck the trend seen elsewhere in the world and make sure that the best age-appropriate MLS players are made available?  Simple, for a league founded in part to improve the player pool for the United States National Team, MLS realizes that providing the bulk of the players for Olympic qualifying tournament proves their commitment to player development. 
This is no small thing for the MLS clubs involved.  A number of Olympic qualifying calls-up will take important contributors out of MLS teams for multiple matches. In a few cases, the U-23s leaving away for Olympic qualifying are central components to their squads, leaving gaping holes behind them as they go.
It makes sense.  If they're good enough to make a U-23 roster, they're probably good enough to be MLS starters.  There are fourteen MLS names on Caleb Porter's roster for the qualifiers. Nearly all are starters, and the ones that aren't are semi-regulars and therefore important parts of their teams' makeup.
When it comes to the American call-ups, Brek Shea is the first MLS name that jumps out. Already in his fifth season with FC Dallas, Shea's role in Schellas Hyndman's offense as a creator and crosser is essential to the team's chances of going far this year. Losing Shea is more than just a nuisance.  Hyndman doesn't have the depth to replace his young winger without some loss in effectiveness.
The U-23's left for training camp before the start of last weekend's games.  Hyndman managed to massage his lineup to a 1-1 draw with Portland over the weekend, pushing Panamanian Carlos Rodriguez into Shea's spot on the left side of midfield. The rub is that Rodriguez is in Panama's U-23 team for the Olympic qualifiers, forcing Hyndman to find yet another stand-in. After all, it would send an odd message if MLS were more than willing to part with domestic players but wasn't as accommodating for players representing other CONCACAF countries. 
With that standard in place, it was unlikely clubs like FC Dallas (with Carlos Rodriguez) or DC (with Andy Najar) would put up a fight. League campaigns matter, but so does the profile of MLS. The more League talent called into U-23 teams for this tournament, the better MLS looks.
Beyond Shea, the importance of the American U-23 players to their MLS sides is all over the map. Perry Kitchen and Bill Hamid are already heavily depended upon in DC, where Ben Olsen is in rebuilding mode. Kitchen is playing in central midfield after a year as a defender in 2011, where the club expects him to thrive. Hamid is one of the league's most promising goalkeepers.  He gives United stability at a position they've struggled with in recent seasons.
Without Kitchen and Hamid, United were torched for three goals for the Galaxy on Sunday. United travels to Vancouver and hosts Dallas before the pair is likely to return. United's problems are further exasperated by the loss of Najar to the Honduran U-23 team starting this weekend.
Chicago's out their starting keeper as well, with Sean Johnson a part of the US team. Because Chicago did not play on the first weekend of the season, that means Johnson will have missed the Fire's first three matches by the time he rejoins the club.
Philly is, like DC, among the hardest hit by Olympic call-ups. Showing what normally happens with tournaments where player releases aren't mandatory, the U-23 roster got a late shakeup when Josh Gatt was recalled by his Norwegian club Molde.  Sheanon Williams replaced him, with the Union now missing three young Americans along with Freddy Adu and Amobi Okugo.
The list goes on.  Ike Opara, getting over injury issues and expected to be a key to San Jose's first choice lineup in 2012.  Juan Agudelo no longer a 'will he or won't he use him' option for New York coach Hans Backe.  Teal Bunbury, an emerging star in Kansas City.  Several players who are on the cusp of making significant contributions. 
Yet that's part of the point. Once again, MLS is making a major commitment with their Olympic enthusiasm.  For a couple weeks of qualifying, we get to see what this league is like minus its young stars.  Not just Americans, but throughout CONCACAF.  Nobody expects that to be easy, certainly not the players involved who realize the importance of the Olympic dream might offers no guarantees that their clubs will have an easy time in their absence. 
Olympic head coach Caleb Porter dealt with a few selection issues putting together his 20-man team for the qualifiers, but none of them were MLS-related. The symbiotic relationship between the League and US Soccer, especially with the tournament happening in the United States, ensured that if Porter wanted an MLS player, that player would be released. That's good for the strength of his team that was never likely to be able to rely on age-eligible players getting minutes with their European clubs. 
That's the old fight between the clubs and the Olympic soccer tournament.  Clubs would rather not release players, something we saw in 2008 when Barcelona went to the Court of Arbitration for Sport over Lionel Messi's inclusion in the Argentina squad.  They had a Champions League qualifier they felt was more important. 
For the players, there's no doubt that the Olympics retain that same childhood magic.  It's why we've seen so many senior US National Team players in recent weeks enthusiastically link themselves to the three overage choices teams are allowed.  It says something about soccer in the United States that the League has joined in.  Sure, it might leave a few MLS coaches shaking their heads.  Hopefully, they'll be shaking them again when the team begins preparations for the London Games. 
Jason Davis is the founder of MatchFitUSA.com. Contact him: matchfitusa@gmail.com. Follow him on Twitter: http://twitter.com/davisjsn.
More From Jason Davis: