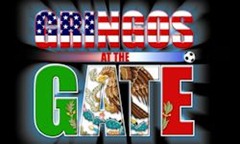 By Cesar Diaz - NEW YORK, NY (Dec 9, 2011) US Soccer Players -- With the CONCACAF World Cup Qualifiers taking place later this year, it is expected that the United States and Mexico will resume their border rivalry. After 60 head-to-head matches, Mexico leads the rivalry with a 33-15-12 (W-L-T) advantage.
However since 1999, the United States has clearly dominated Mexico on US soil with an impressive 9-3-2 record. In less than twenty years, the United States has leveled the playing field with Mexico.  Games at Mexico's fabled Azteca Stadium have become 'when will they' moments, with the expectation that the US will eventually record a win in Mexico City. 
Shared history makes this rivalry one of the strongest in world soccer.  The creators of the documentary Gringos at the Gate attempt to trace its history from both sides.
The trio behind the documentary, Pablo Miralles, Michael Whalen, and Roberto Donati, began their work with the 2010 FIFA World Cup Qualifier which the United States won 2-0 at Columbus Crew Stadium, concluding with the 2011 CONCACAF Gold Cup final which Mexico won 4-2 at the Rose Bowl.
I was able to interview both Pablo and Michael about Gringos at the Gate and ask them what was the message they hope the audience will gain from watching their film. One thing both filmmakers made clear is that if it wasn't for Roberto Donati's connection in Mexico City, they would have not been able to gain the footage and interviews in order to make this documentary possible.
Along with interviewing fans from both the United States and Mexico, they  spoke with current and former players such as Herculez Gomez, Jose Francisco Torres, Eric Wynalda, Steve Sampson, Alberto Garcia Aspe, Leonardo Cuellar, Ricardo Pelaez, Cobi Jones, Rick Davis, Claudio Suarez, Paul Caligiuri, and Al Zerhusen. In addition, they interviewed writers Gustavo Arellano, Hector Tobar, and Mike Woitalla of Soccer America.
For Miralles, soccer is one of the cultural languages that's universal. "The purpose behind Gringos at the Gate is to use soccer as a platform to explain the relationship between the United States and Mexico," he said. "Soccer is the national sport in Mexico. With that being said, Mexicans have made soccer part of their culture….  While many soccer fans worldwide may believe that England – Germany and Italy – Spain is an intensive rivalry, I believe the United States – Mexico may even be fiercer because of all the social and political agendas between both cultures."
"For many in Mexico, the United States has always been viewed as the country with the wealth and political power," Miralles continued. "The only advantage that Mexico had for a long time was soccer. For many decades, Mexico had the superior national team against the United States. In less than 20 years, the United States has elevated their soccer program to point that they may indeed win their first match in Mexico within the next few years.  For many Mexicans, it's tough to accept because many believe that Mexico should be playing a level of soccer that's equivalent their other Latin American counterparts, Argentina, Brazil and Uruguay. When it comes to underachieving national teams in the World Cup, Mexico is definitely one of the most underachieving."
From the footage the filmmakers sent me, regardless of who you support, the audience will learn and ultimately have a better understanding of their counterparts. For the Mexican fan base, there's an acknowledgement that the threat of being surpassed by the United States has pushed Mexico's developmental program in the right direction. Many in Mexico credit this competition with revamping the youth system in Mexico as well as the National Team overall.
Along with the political conflict between both countries, there's a clash of cultural identities - something Whalen stressed.
"Here in the United States, the Mexican-American is the largest Latino population in the United States. When it comes to soccer, many are really forced to pick a side," Whalen said. "If one chooses to support the United States, then he or she may be viewed as a sellout or an individual who's ashamed of their culture by their peers and relatives. Now should they choose to support Mexico, they're being unpatriotic to the United States by their peers and others. Why can't some of us accept that if a Mexican-American chooses to support either country, it's because they're proud?"
To learn more about the film: www.gringosatthegate.com
Cesar Diaz is a freelance writer for several online soccer publications. If there's a soccer topic you believe needs to be written about, please feel free to contact him. Easily approachable, you may contact him at CoveringSoccer@gmail.com and @CoveringSoccer.