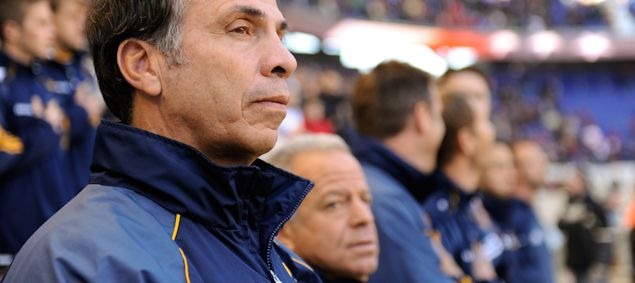 By Jason Davis – WASHINGTON, DC (Mar 7, 2012) US Soccer Players — The truth is that every new Major League Soccer season is more uniquely MLS than the last one. Things change for this League quicker than most.  It's a League of moving parts, playing a game that is as much cultural movement as it is just another professional sports product.  With that in mind, MLS in 2012 will undoubtedly be the most MLS-tastic ever.
In 2012, we have an extended calendar, another go at revising the playoff format, a flood of new players, and, as of yesterday, changes to how the officiating will be managed.  MLS isn't much for prolonged adjustment phases. 
There's a new team, of course, because there's always a new team. Montreal's debut makes three Canadian clubs in MLS, with the Impact joining Vancouver and TFC in Major League Soccer's north of the border contingent. Keep in mind that just six years ago MLS had zero Canadian clubs, and there was some natural consternation over opening up America's soccer league to our friends in the Great White North.
With the Impact on board, MLS adds another province.  Canada now has one team for every 11 million people while the United States remains at one team for every 22 million people.  Though Alberta, Saskatchewan, and Manitoba might feel left out, MLS has Canada's three major population centers covered. It took a FIFA exemption, but the ties the U.S. and Canada share in soccer, like they do in many other sports, makes MLS a stronger league.
It would be wrong to say that MLS is outstripping demand for teams. Until the League faces obvious signs that the expansion track they are on is an over-expansion track, there's no reason to get off. We can't even reasonably expect 2012 to go by without an announcement about team 20, despite the fact that no clear front-runner exists. The conversation will go on side-by-side with the competition on the field.
Alongside the excitement over a new team runs the wider discussion on increasing the player pool for a League with a low salary cap.  MLS has potential answers.  There are the designated player exemptions of course, the new focus on homegrown players and the academy initiatives, and another season where rookie college players should factor.  Eventually, there will be long-term answers to these questions that might change the way MLS does business.  In 2012, it's another year of a League at odds with itself over just how much it's willing to spend on everything from youth programs to median salaries.  Expansion adds to the pressure, especially when there seems to be resistance to dramatically increasing the salary cap.
MLS talks of progressing toward an elite level, but that either requires MLS to start spending or other leagues around the world to stop.  As it stands, we have MLS teams spending less than second-tier English clubs along with the old insistence that it's always better to get players on a free transfer rather than pay a fee.  Still, in the League's own version of parity the club that spends the most is the preseason favorite. 
Los Angeles is the clear choice to take home almost every trophy they care to treat seriously. Mixing star power and big contracts with MLS veterans, a spate of clever loans, and enough new talent to fill in a few rather shallow holes, the Galaxy have expectations that are almost unseemly in this League. This is still MLS, a League with tiny team budgets and a wide-ranging pay scale.  But what LA is up to seems to predict an era where teams with money to spend on DPs and the ability to carefully manipulation the allocation rules can step out of the pack.
Make that two packs.  The new/old format means the East and West are close to being two self-contained regular season leagues.  Is that the future of MLS, a baseball-style dual league system that throws the geographically segregated clubs together only during the homestretch of the MLS Cup playoffs? Or will 2012 be yet another aimless throw at the moving target of a workable regular season setup?
Give MLS credit for this: every year since the resumption of expansion and the liberalization of the spending rules has been more anticipated than the year before. 2012 is no different, and as we wait for the season to begin and the drama to play itself out, there's a very real sense that the League is turning a corner.
For all the quirks MLS possesses and all the strange ways it goes about its business, it's hard to argue with the results. Yes, that means the MLS continues to be a League where happenings off the field (TV, attendance, national relevance, etc.) are as much as part of the new season as is the games.
That's part of what makes Major League Soccer an intriguing league to follow despite its handicaps. It's not just another league playing one of the many sports about which American care. It's a living, breathing, growing, organism of a league that is much more than the sum of its parts. In other words, it's not boring. On or off the field.
Jason Davis is the founder of MatchFitUSA.com. Contact him: matchfitusa@gmail.com. Follow him on Twitter: http://twitter.com/davisjsn.
More From Jason Davis: