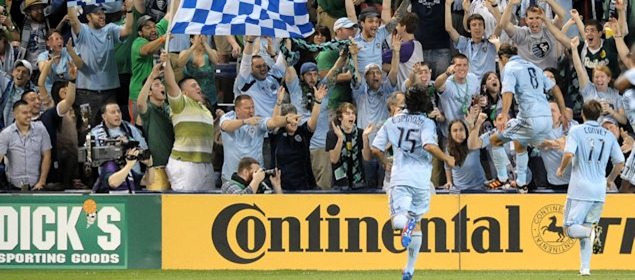 With Toronto the last club standing from Major League Soccer after the midweek CONCACAF Champions League games, it was Canada's newest team taking the stage for their first home game.  As expected, the Montreal Impact all but filled Olympic Stadium, drawing 58,912 and got to see a first home goal in the MLS era from Davy Arnaud in the 56th minute.  Chicago equalized in the 71st through Dominic Oduro for the 1-1 draw. 
Also on Saturday, San Jose tried an alternative venue for their opening home game against Houston.  Moving proceedings north to San Francisco's AT&T Park as part of a doubleheader with Mexico's U-23 team meant an announced attendance of 21,816 – over twice what Buck Shaw Stadium can hold.  Unfortunately for the home side, it was Houston's Brad Davis scoring in the 14th minute in the 1-0 result.  In Frisco, Dallas and Portland drew 1-1 with Blas Perez putting Dallas in the lead 22 minutes in.  Darlington Nagbe equalized for the Timbers in the 51st. 
Sporting KC started their home schedule with a three goal shutout of New England.  The Revs played a man down from the 14th minute when Stephen McCarthy was sent off.  Graham Zusi opened the scoring for KC in the 28th minute, with Kei Kamara (39th) and C.J. Sapong (47th) following.  Kamara assisted on Zusi's goal, with Zusi picking up an assist on Sapong's.  It was a home shutout for Real Salt Lake as well, beating New York 2-0 with goals from Fabian Espindola (39th) and Luis Gil (58th).  David Estrada was the hero in front of 38,709 in Seattle, scoring all three goals in a 3-1 win over Toronto.  Jay DeMerit's goal in the 68th minute means Vancouver has finally won a road game, beating Chivas USA 1-0 in front of 7,723 at the Home Depot Center. 
On Sunday, Colorado ruined Philadelphia's home debut with a 2-1 win at PPL Park.  Jaime Castrillon put Colorado up in the 56th minute and they were a man down two minutes later when Jeff Larentowicz was sent off.  Four minutes after that, Tony Casci made it 2-0 Rapids, with Philadelphia picking up the consolation goal through Lionard Pajoy in the 67th.  DC United got to make the cross-coast trip for Sunday night's game against Los Angeles, and they trailed by two Robbie Keane goals by the 69th minute.  Marcelo Sarvas made it 3-0 Galaxy in the 86th, with DC getting on the board a minute later when Nick DeLeon scored. 
Week 2: What Did We Learn?
1. Montreal likes showing up in numbers when the home crowd decides a game matters.  That was the big picture message from Olympic Stadium, letting the rest of the league know that they remain a soccer town when the event counts.  That's the problem with big event attendances across the league.  What happens when it isn't new?
2. Chivas USA have done a lot of talking, but they're going to need more to draw fans to the Home Depot Center.  Sub-10,000 crowds in this era of MLS are inexcusable, and we already know that Chivas USA doesn't do significantly better when they have a team capable of winning games.  In fairness, even the National Football League has troubled markets, but Chivas USA and a few other teams need to be the response whenever the League talks about further expansion. 
3. Nobody likes playing a man down, and New England coach Jay Heaps has a point about another mixed message the League sends. "All these cards aren't good for the league," Heaps said. "It's disappointing because we want to make it as competitive as we can. You come in and you want to have a competitive game." 
Top Five
1. Real Salt Lake: Still winning, still top of our imaginary table. 
2. Vancouver: Why a team that hasn't won both of their games in 2nd-place?  Because more than any other team in this League, Vancouver is showing us something different than what we saw last season.
3. Houston: Left out last week, but six points has them in the conversation. 
4. Sporting Kansas City: Probably already surprising nobody by taking the top spot in the Eastern Conference. That said, last week's debut still has a lot of question yet to be answered and beating a 10-man team doesn't tell us very much.
5. Colorado: Winning means knocking Dallas and San Jose out of the top five, with Colorado another team with six points from two games.