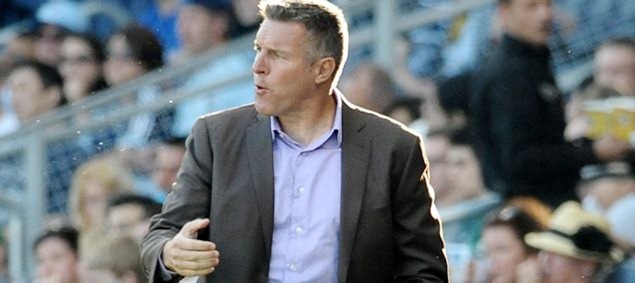 By Jason Davis – WASHINGTON, DC (Mar 28, 2012) US Soccer Players — Let's pretend you run a Major League Soccer team. Let's pretend that the Major League Soccer team you run inhabits a niche in a market that town that also has a Major League Baseball team and National Football League franchise (like so many of them). Your club's existence, over the course of the last fifteen years, has been fraught with peril. On more than one occasion, serious talk swirled that your club might be relocated for more fertile soccer ground. There were legitimate doubts that your team could ever make enough of a mark to survive, much less thrive.
Now, let's pretend there's a stadium deal, something that will get your club out of the tiny minor league baseball stadium used as a temporary solution after years in a cavernous NFL stadium.  The one that made game day akin to hosting an intimate dinner party in an otherwise empty airplane hanger.  Suddenly, there you are in your own building, purpose-built for your team and the sport it plays, capable of putting your team on display the way it was meant to be displayed. Properly.
What do you do? More specifically, how do you maximize the impact of your new stadium, something that represents a fresh start? New digs and a new backdrop gives you a chance to reboot the community's thinking about your club. That's not something most MLS teams will every get. It behooves you to try, even if you're not positive you'll get it right.
If the club in question is Sporting Kansas City (it is, but you already knew that), the steps for a reboot go like this:
Rename the club. Just shrug of all the old images tied to the team.  That identity was created in a much less-savvy soccer environment, when potential fans were thought to be overtly naive about the game and needed something that looked and felt, for lack of a better word, American. Give the club a name that harkens to something more worldly. Trade on traditional soccer club ideals established for over a century in Europe.
Leverage the new identity and new stadium into a more interactive experience with your fan base. Promote and encourage ultra-style support that fits with the new-ish image of MLS in cities like Seattle, Portland, and Philadelphia. Create a new dynamic for season ticket holders that foregoes that phrase altogether and provides fans with a direct sense of ownership. In that spirit, call them "members".
Put a team on the field that is exciting to watch, using fast, athletic play to attract fans to a sport many Americans consider "boring". Give fans a reason to be excited about coming to the stadium, whether the team ultimately wins a championship or not. MLS enforces parity, but that doesn't mean intelligent player selection can't give your rebooted team a distinctive feel. Tie your new identity directly to the product you send out to compete.
The first two items relate directly to marketing, the type of thing typically assigned to non-soccer people. The third is the purview of the soccer guys, whether they be coaches, GMs, or technical directors. Rarely, at least in the past, have MLS teams chosen to apply an overarching philosophy to both. Marketing is done wholly independent of the soccer operations. You do what you can to sell the team to the public, working within the necessary budget constraints, promoting whichever stars happen to be on the roster at the time.
That approach is hit and miss at best, as proven by the struggles of other clubs in Sporting's previous situation. Marketing soccer is hard. Finding the proper tone, even when there's a dedicated soccer stadium to hold it all together, is more art than science.
The fruits of Peter Vermes' labor is the run run run team he's put together achieving lift off in concert with the opening of the new stadium and the club's overhaul of its identity. Since taking over the coaching duties in 2009, Peter Vermes has gone about building a team unique in Major League Soccer for its philosophy of unadulterated speed of attack. The Wizards/Sporting's acquisitions over that period reveal an organization committed to pushing the envelop on their specific concept of exciting soccer.
Perhaps it's happy coincidence that Vermes put together this type of team while the club was undergoing a metamorphosis. We don't know how far back Sporting began planning for the shift from marginal MLS franchise to reborn phenomenon. Vermes, as mentioned, took over coaching duties in 2009. Wyandotte County approved the stadium deal that eventually resulted in Livestrong Sporting Park in the summer of 2010. OnGoal, Sporting's ownership group, announced plans to rebrand the club shortly thereafter.
Was there a cogent plan in place as far back as '09 to build a team that would match the excitement surrounding the new stadium and the new name? Did OnGoal specifically and intentionally dictate that the roster and soccer philosophy match their image of a club reborn? Did Sporting do something radically different than anything done in MLS before, or is that overrating the "club philosophy" concept?
In the end, it probably doesn't matter. Happy coincidence or carefully laid strategy, Kansas City has a young, athletic, incredibly exciting team playing a fast, attacking brand of soccer in a beautiful new stadium with enthusiastic fans attracted by the total package.
Let's pretend you run a Major League Soccer team. Let's pretend you have a chance to start fresh, to revamp everything about your club just in time for the opening of a state-of-the-art venue.
Wouldn't you want your team to play like Sporting?
Jason Davis is the founder of MatchFitUSA.com. Contact him: matchfitusa@gmail.com. Follow him on Twitter: http://twitter.com/davisjsn.
More From Jason Davis: