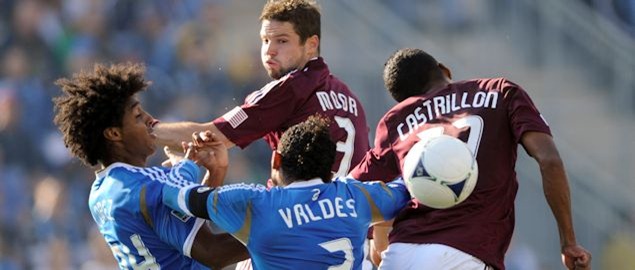 US Soccer Players columnists Dario Camacho, Justin Shaffer, and Tony Edwards talk about what we've learned so far from the 2012 Major League Soccer.  We start with a simple question: what's been the biggest surprise so far?
Justin Shaffer: It's really too early to pick any surprise teams. The Colorado Rapids came into the season with a ton of questions given the new coaching staff and roster, but they won their first two games against a couple of sub-par teams (Columbus and Philadelphia). They played a man down for about 30 minutes against Philadelphia after Jeff Larentowicz was sent off, but we need to see them against some tougher opponents before we know whether they're for real this year.
Tony Edwards: I thought Colorado would struggle initially, but as you mention, their early season schedule turned out to be less  difficult than projected. Then again, I don't think Vancouver has played as well as I expected, but a soft early schedule has them 2-0. Obviously the Galaxy bounced back, half-a-week too late, but it was nice of DC to help them out of their slump.
Shaffer: On the player front, there are a number of guys who've been impressive early on. After the draft, the buzz was all around Real Salt Lake nabbing Enzo Martinez so late, but it's been rookie Sebastian Velasquez opening some eyes with starts in their first two games. DC United's Nick DeLeon is up for goal of the week netting his first goal on a very nice curling shot to the far post.
Edwards: You have to be there to appreciate Sam Cronin, whose distribution and positioning is very good. He doesn't get enough attention for his play, but that's the life of a defensive midfielder.
Shaffer: And who had David Estrada as the pick for this season's first hat trick? All three goals were finished well, with the first reminding me a little bit of that nightmare goal that Gio Dos Santos hit against the US in the Gold Cup after dribbling the ball out of Tim Howard's grasp. Estrada's emergence effectively made it possible for Seattle to deal Mike Fucito in the Eddie Johnson deal and he's already scored as many MLS goals as Fucito did in his 23 MLS appearances for the Sounders.
In that same game, Toronto's Ryan Johnson hit a beautiful curling shot that he banked off the far post and into the back of the net. Johnson nearly had a goal earlier in the game with his shot deflecting off the crossbar and back into the box. He's looked very good in all three of his games thus far.
What has caught your eye during these games?
Shaffer: With the exception of Seattle, LA, and Real Salt Lake, there seems to be a real lack of creativity in movement and runs off the ball throughout the League. Philadelphia, in particular, were atrocious in that regard. Playing Colorado at home and up a man late, their deeper lying players pushed forward in possession but the players ahead of them were stagnant in the final third. The results were predictable balls over the top which tended to end up as goal kicks or in the keeper's hands, making it fairly simple for Colorado to play bunker and counter the rest of the way.
Conversely, Seattle moved very well off the ball in their opener, constantly beating the Toronto offside trap. That 343/433 hybrid that Toronto runs with a high back line became especially vulnerable when Torsten Frings went out injured. He's clearly the key to making that defense work successfully, though even with him in the lineup Toronto got beat a number of times over the top. Frings' anticipation and positioning allows him to recover fairly well when that happens, however he actually hurt himself chasing down Estrada after being beat.
Edwards: I see Montreal toned it down to 'only' 17 fouls, after 26 the week before, so that's something. Having Davy Arnaud in the middle of the field seems like a good idea also.
Dario Camacho: After two weeks, I'm impressed by RSL's ball movement. This early in the season and they seem to be clicking on all cylinders, even by interchanging the working parts between games. Two games don't make a contender, but this is RSL, and they have to be considered as one. What remains to be seems is consistency throughout the whole year. Last season, at times they looked unstoppable, only to produce a lackluster performance the very next game. So far, they have avoided that.
Edwards: But isn't that why Kreis and Lagerway brought back all the veterans to Salt Lake City? Salt Lake (and Seattle) should be playing better than many of the other teams in the League.
I was in San Francisco for the Earthquakes game, and the Quakes' ball movement, after Tressor Moreno came in, was very good. It's not an exaggeration to say that none of the recent Quakes teams have exactly reminded people of the 2001-2005 Quakes, so this is a positive development. The other side of that is that their ball movement was awful during the 63 minutes Khari Stephenson played central midfield.
Houston, on the other hand, created very little throughout the game. I don't believe they have scored a goal in the run of play this season and I'm not seeing where the movement and creativity are going to come from. By now, teams understand not to foul Houston in a place where Brad Davis can hurt you. I'm a big Dominic Kinnear fan, but creatively, this team still hasn't recovered from losing Ricardo Clark and Stuart Holden.
More discussions: