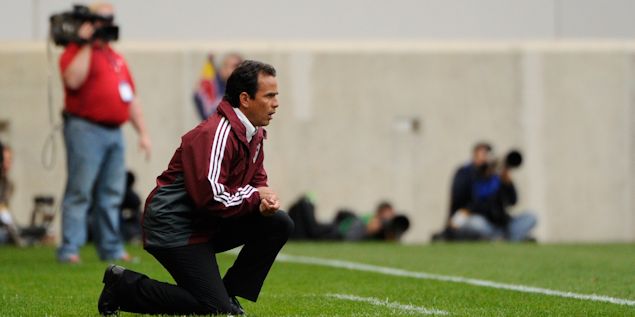 By Dario Camacho – MIAMI, FL (Mar 23, 2012) US Soccer Players — It wasn't a total revelation that Colorado went out of New York with a 4-1 loss to the Red Bulls.  We can debate if New York, having designated player Rafa Marquez back in the starting line-up, played a better game than Colorado, or if the Rapids were just playing underwhelming soccer.  It might be a combination of the two, or it could just be an anomaly that isn't to be expected to replicate itself if these two were to meet up once again this year. 
What we can take from the encounter is a microcosm of the age old problem of contrasting styles (more of that later) and depth in Major League Soccer.  Where New York regained one of its stars, Colorado was missing three important ones and had no replacements available to fill the void.  That also displayed the fragility of a team like the Rapids.  The absence of just one regular contributor requires the kind of quick reshuffle that usually doesn't end up increasing the number in the wins column. 
This isn't new for Colorado.  The final third of last season was a true demolition of an MLS Cup champion team.  The systematic dismantling of its core group of players due to injury was enough to snuff out any hope of a repeat title.  Losing Connor Casey in the summer at Seattle was the first strike to that equilibrium.  Then came the playoffs, when five regulars were out at some point during the two series between Columbus and Kansas City. 
With that in mind, Sunday's game in New Jersey was no surprise.  The Rapids were without Pablo Mastroeni and Connor Casey (injured), and Jeff Larentowicz (red card suspension).  With the Rapids midfield gutted and Omar Cummings's strike partner sidelined, New York scored twice within the first ten minutes of the game.  The Rapids never recovered. 
Confined by the MLS salary cap, there's the constant struggle to maintain quality throughout the squad.  Even with the large strides MLS has achieved with on-field quality, it still falls short after the starting eleven.  For some teams, that transition is more distinct than others, a compliment to the players that matter but a problem for a coach trying to make do in their absence.
Yet, we can also approach this loss as a bump in the road for a team in transition.   It's not so much that Colorado lost because of a depletion in quality (even though some of it can be attributed to that), but because Colorado is also in the mists of a transformation under new head coach Oscar Pareja. 
Flowing soccer, the likes that could be attributed to Real Salt Lake and Seattle, is a new goal for Pareja's Rapids.  It's a transition from the gritty, hardnosed style under previous Colorado coach Gary Smith to a concentrated effort to add some of that silky, smooth soccer. 
Completing that transition successfully isn't a given.  If Pareja has his way, technically skilled players will become part of his repertoire.  However, it's rather taxing to have a  vertically aligned  philosophy with every player on the field. 
This is a Colorado team just one offseason removed from Gary Smith's vision of how a soccer team should operate.  The reason Colorado won the 2010 MLS Cup was due to that tenacity in play, the rough physicality, carving out a path to victory.  It's difficult to turn one into the other.  
It's a complicated mix Pareja is working with.  There is no question that this is still a very physically inclined team, but with a few sprinkles of technically able players.  Added in the off season were Colombians Jaime Castrillon and Luis Zapata, plus new rookie Tony Cascio.  The flair they add is part of that transition Pareja talks so much about, yet they are only a part of a very entrenched team built around grit rather than glitter. 
Right now, it's a melting pot of styles.  The first two games of the season showed that the two could co-exist.  One style, the steel, propping up the other, the silk.  The brawn making enough room for the brain to flourish and be effective.  When part of that muscle went missing against New York, it was enough to show that one can't do without the other. 
Dario Camacho made the move from regular commentator as Pesmerga7 to columnist.  He writes weekly for US Soccer Players. Follow him on twitter at DarCam7.
More from Dario Camacho: