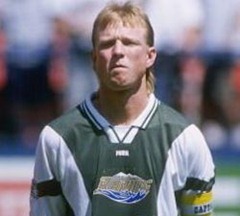 By Clemente Lisi – NEW YORK, NY (Mar 20, 2012) US Soccer Players — There aren't too many Americans who have competed in the UEFA Champions League, and the first player on that list might surprise you.  Former US defender Steve Trittschuh holds that distinction when in 1990 he signed with Czechoslovakian club Sparta Prague that participated in the European Cup, the precursor to the current Champions League.
"I was the first foreign player to play for Sparta Prague in 40 years," Trittschuh recalled. "When I arrived there I was treated very well. After I had success on the field they were even more appreciative. On top of that, I became the first American to play in the European Cup, which was fantastic. I still keep in contact with a few players from that team and hope to go back to Prague one of these days."
Trittschuh drew Sparta Prague's interest during the 5-1 loss to Czechoslovakia at the 1990 World Cup in Italy. Despite the lopsided score, Czechoslovakian assistant coach Vaclav Jezek, who also served as Sparta's manager, reached out to US Soccer and said he was interested in signing the American.
"After we returned home after the World Cup, I received a call from Sunil Gulati informing me that Sparta Prague was interested in having me come on a contract," he said.  Trittschuh said after the call, he "did a little research on the team and found out they would be playing in the European Cup and the history behind the team. I jumped at the chance hoping to improve my game because I always wanted to play in Europe," he added. "It was a great experience and I learned a great deal about being a professional."
Trittschuh said it wasn't easy for an American to play in Europe – just don't call him a trailblazer.
"At the time I when I went to Europe there had been only a few players that had played there," he said.  "After the 1990 World Cup, a few more players were on teams in Europe and other European teams started taking notice. I am not sure the players can be called trailblazers, but since then look how many players have had careers there. It was not easy going (to Europe) back then because a lot of players did not think American players were good enough, but how times have changed."
Prague was just one stop for Trittschuh. A career that spanned 14 seasons saw him play both indoor and outdoors. Trittschuh retired in 2001 as a member of the Tampa Bay Mutiny but has been involved in the game ever since. Previous to that, Trittschuh had played in Major League Soccer for the Colorado Rapids from 1996 to 1999.
"After I retired in 2003, I have stayed active in the game," he said. "I was assistant coach for the Colorado Rapids for four years coaching the reserve team to the MLS reserve title in 2006."
Trittschuh left Prague in 1991 after then-US coach Bora Milutinovic set up a residency camp in California to train American players fulltime ahead of the 1994 World Cup. Trittschuh had also played indoor soccer – for the St. Louis Steamers, St. Louis Ambush and Tampa Bay Terror – before Major League Soccer was launched in 1996.
"There was some transition because when I joined the Steamers (in 1988) I came straight from a summer playing with the National Team," he said.  "Playing indoors I just needed to play quicker and think quicker. There was a little adjustment but after concentrating on indoors for the season it became second nature. I thought it helped my outdoor career playing and thinking quicker."
In 1988, Trittschuh also played for the US team that competed at the Seoul Olympics – a roster he said that served as the precursor for the squad that qualified for the World Cup two years later.
"If you tell Americans that are not soccer people that you played in the Olympics and the World Cup, most would be more impressed with the Olympics. It was a great experience for all of us and helped the National Team to grow," he said.  "There were a group of 15 players that started in 1987 under Lothar Osiander as coach that qualified for the Olympics and then qualified for the 1990 World Cup under coach Bob Gansler. That group of players did a lot for soccer in this country."
Trittschuh currently serves as technical director of the Denver-based youth club Colorado Storm.
"I will probably stay involved with the game in some capacity for the rest of my life so I can give back to the game that has given me some great experiences," he said.
Clemente Lisi is a New York-based writer. Contact him at: CAL4477@yahoo.com. Follow him on Twitter at: http://twitter.com/ClementeLisi
More from Clemente Lisi: