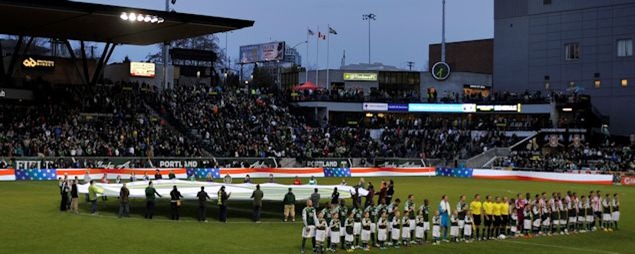 In the battle of teams loaded with designated players, the New York Red Bulls are the unlikely vanguard so far in Major League Soccer this season.  With a slate of Saturday games, they were the ones scoring four goals in a 4-1 win over Columbus at Crew Stadium.  And once again it was value for money, with Thierry Henry scoring twice after two straight MLS Player of the Week performances. Kenny Cooper also had two goals, opening the scoring in the 3rd minute and doubling the lead ten minutes later.  Henry made it 3-0 in the 40th.  Columbus spoiled Ryan Meara's shutout attempt a minute from time when Chad Marshall scored, and it was Henry again for the Red Bulls in stoppage time.
Elsewhere on Saturday, Montreal beat Toronto 2-1 at Olympic Stadium.  The Impact took the lead in the 18th minute when Sinisa Ubiparipovic scored.  Toronto's Logan Emory was sent off in the 65th, with Montreal making it 2-0 in the 81st with an Andrew Wenger goal.  Toronto ruined the shutout when Danny Koevermans scored two minutes from time. 
You can't call it an upset anymore, with the best team in MLS Sporting KC knocking off the LA Galaxy 1-0 at home.  Kei Kamara scored in the 40th minute.  San Jose once again relied on Chris Wondolowski.  He scored twice in a comeback 3-1 win over Vancouver.  The Earthquakes trailed from the 49th minute when Sebastian Le Toux scored.  Wondolowski equalized in the 68th minute. Alan Gordon put San Jose up for good in the 72nd with Wondolowski scoring again six minutes later. 
DC drew Seattle 0-0 at RFK Stadium.  Real Salt Lake shutout Colorado 2-0, with goals from Alvaro Saborio (20th) and Fabian Espindola (57th).  Chivas USA came from behind to beat Portland 2-1 on the road.  Kris Boyd put Portland up in the 16th.  Alejandro Moreno equalized for Chivas USA in the 48th with Nick LaBrocca scoring the winner in the 82nd. 
What Did We Learn?
1. The Eastern Conference is no joke.  It's taken for granted that the stronger teams are in the West, but so far this season that's on paper and not in the standings.  What does the West need to do to reassert its dominance?  Win a few games, especially the head-to-head matchups.  With Week 5 starting midweek, RSL and Dallas did just that.  But what looked like a trend turned into trouble when Sporting beat LA and there wasn't a winner between DC and Seattle.  Slight advantage West, but still nowhere near what most of us expected.
2. Anybody want to critique the Red Bulls?  In their 'how ya like me now?' moment, Thierry Henry is now the most lethal offensive threat in the League.  His club might trail Kansas City by six points with both on five games played, but no one else in the League should be looking forward to be playing either of them. 
3. Colorado is the only team in the Western Conference not to drop points at home, but that doesn't mean as much when they can't win away.  Their loss to Salt Lake has them 1-2-0 on the road so far this season. 
Top Five
1. Sporting Kansas City: Believe it or not, they're pulling away five weeks in.  That's especially true in the East, where they have a six-point lead over New York. Of note is Houston, who along with Chicago have only played three games.
2. San Jose: Still winning, still relying on Wondolowski. 
3. Real Salt Lake: Two games in Week 5 have them top of the Western Conference, but it's on six games played.  Congratulations on racking up 15 pointes, but Sporting did the same on five games played. 
4. New York: Second-place in the East and separated from Sporting by two Western Conference clubs.  Did we really mean it when we put the East vs West difference as our #1 thing we learned this week?  Yes, because Houston and their 'no home games until the stadium is completed' schedule looms large just like KC did last season.  There are at least three Eastern Conference contenders right now.
5. Houston: Why a team that had a bye week?  There was enough shakeup in the middle of the table in both conferences to remind us that Houston has done more with less.  More points with less games.
The 2012 Season So Far: