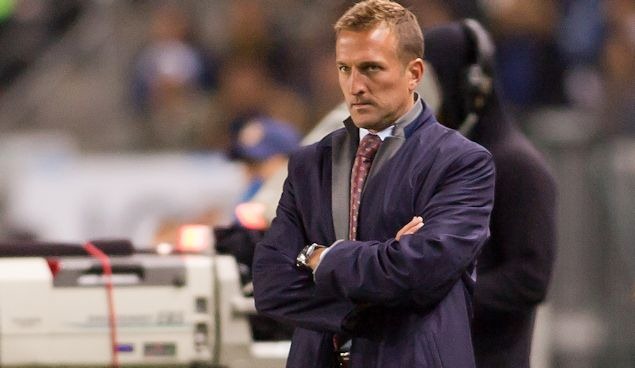 By Jason Davis – WASHINGTON, DC (Apr 11, 2012) US Soccer Players — It's awfully early in the season for a "battle for supremacy", but this is sports, and such things come with the territory. Two teams who have managed to separate themselves early on and a schedule that keeps them separated fro the rest of the regular season.  There's a strong temptation to draw conclusions. Big conclusions. Concrete, conclusionary conclusions. Even if they're specious and undoubtedly premature.
So when Real Salt Lake steams into Livestrong Sporting Park on Saturday to take on perfect Sporting Kansas City, all of Major League Soccer will be watching. Figuratively speaking, of course. The outcome will lead to grand proclamations about the title credentials of the winner, while the loser must forge ahead and "rebound" from the setback.
Couching those broad statements in the realities of the moment—that's it's barely over a month into the season, that neither team is likely to play at this level throughout the entire course of year—ruins the narrative. Better to charge forward and declare whichever team comes out on top the champion of this small portion of the MLS schedule because it's not in our nature to sit back and let things play out.
Whether it's the perennially good RSL that comes out on top, or Sporting and their new brand of sexy soccer that carries that day (or if there's a draw, for that matter), the chances that the same two teams are the best this League has to offer come playoff time are relatively small. It's a simple matter of attrition, plus the usual international absences, combined with the typical swoon almost every MLS team faces at some point during their campaign. Form, especially here, is fleeting.
Get your fill of the apparent best MLS has to offer, because they won't play again in the regular season. If we're lucky enough for them to meet in the playoffs, it won't be until the MLS Cup Final. Then, there will be no denying it's the biggest game of the year.
Real Salt Lake, aside from a blip against Chivas USA at home, is a darling of the League again. Overshadowed in the preseason, Jason Kreis's team has a "told you so" edge to it. We knew RSL would be good, but we didn't know they'd outpace everyone in the Western Conference so emphatically. Freed of the burden of continental competition, Real Salt Lake doesn't face the same hangover they struggled through in 2011. Unburdened by the hype LA garnered, RSL entered 2012 with just one goal in mind. So far, so good. 
Sporting Kansas City is trading on its fortress of a stadium and its high-octane style to charge out to first place in the Eastern Conference. Sporting actually was the favorite in the preseason, with only New York an obvious potential challenger. Peter Vermes has navigated the possible letdown – something LA couldn't avoid – to bring his team to this point and the big battle with West-leading RSL. SKC's five wins in five matches is the League's best start to a season since the PK shootout tiebreaker was abolished.
What that means over many months is the MLS version of an open question.  We know there's a chance that we're seeing a final preview, thus the interest.  But it's a slight chance. 
The difficulty inherent in running the MLS gauntlet is part of what makes top-of-the-table regular seasons clashes like Saturday's special. It's early (apologies for the refrain) so the crowning of one team or the other as clear and obvious favorites is ridiculous. Enjoy it for what it is. A potentially exciting game between the two teams that are not only leading the respective conferences, but who are finding success through two of the the best-defined identities in League.
When RSL and Sporting hit the field, we know exactly what it is they're trying to do, how they're trying to do it, and what it should look like if they succeed. That combination of styles should make for a fascinating 90 minutes.
Give me a betting choice of Real Salt Lake and/or Sporting Kansas City or the field in the MLS Cup Final, and I'm taking the field. Not because RSL and Sporting aren't good enough to get there, but because MLS ensures they'll have a hard time keeping up their current pace and will face additional obstacles in the playoffs. The winning team Saturday won't necessarily improve their chances of winning a championship, at least not beyond whatever small increase another three points provides.
Saturday at Livestrong Sporting Park isn't about crowning the best team in MLS, because it doesn't really matter right now and it won't for many weeks. Mostly, it's about two teams off to fantastic starts coming together at the perfect time, just far enough into the season that we have the evidence to know they're good, but not so far that the grind of the season has worn off their shine. That's worth talking about, even if we don't get an answer to the question just about everybody is already asking.
Jason Davis is the founder of MatchFitUSA.com. Contact him: matchfitusa@gmail.com. Follow him on Twitter: http://twitter.com/davisjsn.
More From Jason Davis: