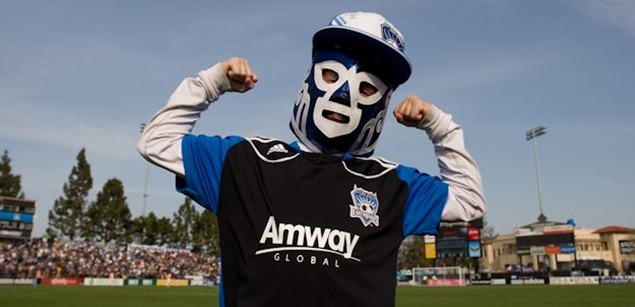 By Jason Davis – WASHINGTON, DC (Apr 25, 2012) US Soccer Players — A funny thing happened on the way to crowning Sporting Kansas City Major League Soccer's best team. Funny as in surprising, because while we were all lining up to sing the praises of Peter Vermes's team with its overwhelming athleticism (see how fast they are?) and defensive intensity (keep an eye out for SKC-brand turnovers coming soon to a store near you), an unassuming team out west has been quietly building an impressive resume of its own.
Maybe you missed it, because, quite frankly, there's not much obviously sexy about MLS's second-best team.  On points, anyway, because there's not quite enough evidence to deduce whether or not they might be the best team, period.
Frank Yallop's San Jose Earthquakes aren't exactly workmanlike, under-the-radar, gritty, or any of the million other sports clichés that get trotted out when a team appears to be better than we thought they'd be.  Or, if you feel like needlessly minimizing the Quakes and their 5-1-1 start, slightly better than we thought they'd be while others in their conference that were supposed to be good haven't fully lived up to expectations.  But they aren't at the top of the profile charts either.
The Quakes biggest star is a late-blooming goal scorer (a prolific late-blooming goal scorer, but still) with a total of six National Team caps. Their first choice center forward is best known as a maddening bother of a player who is either borderline dirty or effectively crafty, depending your perspective, and who has 18 career goals. The Earthquakes have the last remaining MLS original at fullback, use a Toronto FC cast-off in midfield (which actually might be a plus considering TFC's recent success choosing talent), and count an on-loan Englishman as one of their biggest "names."
They don't play a unique style, like Sporting with their 4-3-3 or RSL with their MLS-ian tika-taka. They've had the same head coach for the last five years, a former MLS player who fits snugly into a decidedly un-exciting category best labeled as "known quantities." The Quakes play to the smallest (possible) crowds in MLS thanks to their ill-fitting stadium, won't be opening a new building for at least another season or two, and get none of the national attention that the likes of LA and Seattle receive, with their gigantic stars and gargantuan crowds.
Maybe you can be forgiven for not paying close enough attention so far.
Your excuses, however, are running out. Sitting atop the Western Conference with 16 points through seven games, the Quakes have earned the right to be called one of the League's best. Sporting's season-opening run is more impressive on sheer numbers – seven wins in a row before losing their first of the season in Portland – but San Jose's schedule has been slightly tougher. The Quakes have already beaten the second, third, and fourth place teams in their conference, breaking Vancouver's record shutout streak and comprehensively defeating Real Salt Lake along the way. They went to New York and survived a nasty game that ended with two Quakes out injured, then followed it up with that win over RSL.
But it wouldn't be right to talk about San Jose as a contender for best team in MLS without taking stock of their immediate future. Working against the Quakes is their utter reliance on goal-machine Wondolowski.  Of the 13 goals they've scored this season, Wondolowski has eight of them.
That's enough for him to share the League lead with Thierry Henry, but it also indicates just how dependent the Quakes are on him for their scoring punch. Five other players have a goal each. If at any point San Jose is forced to go without Wondolowski for a stretch of games (through injury or otherwise), they'll need others to step up in his absence. Until someone proves they can do it, or a threat to compliment Wondolowski emerges from the pack, the Earthquakes will be regarded as a one-man show.
It's unfair, because the Quakes have several players contributing mightily to the cause. Sporting sprinted out to an early MLS lead thanks to the talents of an entrenched first eleven. Peter Vermes's wisdom in trotting out the same team week in and week out is bound to be questioned come the second half of the year, but for now, it makes sense to collect every point possible while his team is still fresh. Frank Yallop, on the other hand, is navigating the Earthquakes schedule with much more flexibility. San Jose has used 16 different starters (a couple of them stepping in due to injury), revealing a bit more depth than their Eastern Conference competition for League's best team.
Looking ahead, San Jose will have every chance to catch Sporting on points. Thanks to MLS scheduling quirks, the Quakes will play six games in the same span that Kansas City will play three before the two clubs meet – in what could be the next "battle for supremacy" – on May 28th at Livestrong Sporting Park.
So there goes San Jose, a team with none of the trappings thought of as "new" MLS, quietly (as quietly as a first place team can, anyway) building their resume for League's best. The Earthquakes won't wow you with big names or insane effort. They don't have a fancy new building that elicits "oohs" and "ahhs" from TV broadcasters. Their best player is the latest in a line of American MLS goal-scorers (see: Kreis, Jason and Twellman, Taylor) lauded for their natural ability to put the ball in the net during League play, but underappreciated otherwise. The Quakes suffer from a deficit of respect because the like of LA and Seattle have underwhelmed so far.
Current "best team" title holders Sporting Kansas City came into the season with a the winds of hype in their sails. San Jose was afforded no such love, at least not as a potential contender for first place in the West. The Quakes missed the playoffs last year.
That's not an excuse to not have an eye on them at this point. First place speaks for itself. We all should be paying attention by now.  As odd as it sounds, there's a real argument that the San Jose Earthquakes are the best team in Major League Soccer.
Jason Davis is the founder of MatchFitUSA.com. Contact him: matchfitusa@gmail.com. Follow him on Twitter: http://twitter.com/davisjsn.
More From Jason Davis: