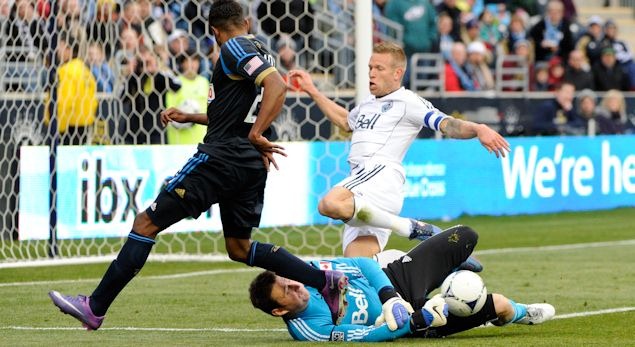 By Clemente Lisi – NEW YORK, NY (April 16, 2012) US Soccer Players — A Canadian team has never made the MLS playoffs.  Toronto FC recently made headlines by reaching the semifinals of the CONCACAF Champions League, but success at the MLS level remains, for the time being, elusive.  The Montreal Impact, in its first year in the League, is already suffering from the expansion blues and it seems like a longshot that they'll make the postseason.  Even at this early stage of the season, that leaves the Vancouver Whitecaps as the only strong contender for ending Canada's playoff absence.
Although the team has been erratic over the past few weeks, there is noticeable improvement. The Whitecaps went 6-18-10 last year in its first year in Major League Soccer.  In its first five games this season, the Whitecaps are 2-1-2.  Though Major League Soccer is a streaky league for most teams, Vancouver looks like a club that won't have a problem bettering last season's win total sooner than later. 
"We are definitely doing better than last season," admitted goalkeeper Joe Cannon, who opened the season with a league-record shutout streak of 422 minutes.  "We have a lot of potential.  We can do a lot better."
Vancouver can certainly improve.  Even with offensive additions such as Sebastien Le Toux and midfielder Davide Chiumento in the lineup, Vancouver has struggled to score goals.  Le Toux has a team-leading two goals, while Chiumento has none.  Goal poacher Eric Hassli also has no goals, but has contributed two assists.  Making matters worse was a scrimmage match last week between the Whitecaps reserves and the University of Washington that ended 0-0.  Even though Le Toux and Chiumento were brought in at halftime, Vancouver wasn't able to score.
Another striker, Maltese international Etienne Barbara, who has been sidelined with a sports hernia, could likely return to the lineup in a few weeks.  That would give the team yet another option up top.  Barbara, last year's NASL MVP, has never played at the MLS level.  So far, the team has done better than expected because it has benefitted from Cannon's great performances in nets and a stingy backline, anchored by National Team defender Jay De Merit, which continues to be one of the best in the League.
The club also features players from 17 different nations and a locker room where seven different languages are spoken – the most of any MLS team.  Despite this Tower of Babel that calls BC Place home, the players are communicating with one another better than ever before and look to have finally hit their stride as a team.
"Generally it's more of a team approach this year," said Marc Weber, who covers the Whitecaps for the daily newspaper The Province. "They're not looking to two or three guys to spark them. Just for everyone to do his job, and (Cannon) to make a big save now and then. I think the improved back four and adding Jun Marques Davidson in a holding role, he's been excellent, have combined with Cannon's strong start to get the team off on the right foot."
Although the Whitecaps have looked strong defensively, its 3-1 loss to the San Jose Earthquakes two weeks ago triggered alarm bells after giving up three goals in a span of 10 minutes.  After the game, Vancouver coach Martin Rennie admitted, "The roof kind of caved in and that's really not like us."
It hasn't been like Vancouver to give up any goals, let alone three in one game.  The Whitecaps opened the season with a 2-0 win at home over the Montreal Impact on March 10th, then followed that up with a 1-0 victory over Chivas USA and two scoreless games against DC United and the Philadelphia Union.  Following a bye week, the Whitecaps will test itself Wednesday when it hosts Kansas City, who are 6-0 and the only undefeated team in the League.
The Scottish-born Rennie, who previously coached the minor-league Carolina RailHawks, helped rebuild the 'Caps during the offseason, bringing in several new players to bulk up the lineup.  He made a series of key offseason moves, including bringing in Barbara, Davidson, Brad Knighton, and Matt Watson – four players he'd previously coached with the RailHawks.  In February, Rennie helped the Whitecaps sign its Middlesbrough midfielder Barry Robson, who will join the team at the conclusion of the Championship season.
Rennie has turned out to be a master motivator, able to energize the dressing room in a way no coach has in MLS in a long time.  He said losing a game may actually help the team.  Weber agreed, saying Rennie has instilled a winning mentality into a team that got knocked around a lot last year.
"I wouldn't say they're playing far better than last season," he said. "I'd say their performances have been far more professional and consistent. They are more organized, less risky and have been tough to break down – minus 10 minutes in San Jose – and they've managed to conjure enough offence for now, though they'll need more sooner than later."
Clemente Lisi is a New York-based writer. Contact him at: CAL4477@yahoo.com. Follow him on Twitter at:http://twitter.com/ClementeLisi
More from Clemente Lisi: