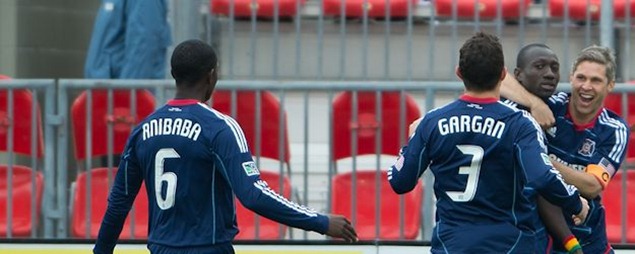 By Dario Camacho – MIAMI, FL (Apr 27, 2012) US Soccer Players — If there was an iconic image during the Chicago vs Toronto game over the weekend, it was Aron Winter and his coaching staff's reaction just 25 seconds into the match.  A set of grown men looking in abject horror and shock as Dominic Oduro slotted the ball past a sliding Milos Kocic.  Winter sat, stone cold, blood seemingly draining from his face all the while a fellow coach a few seats down clutched, with furled fists, his face in agony. 
As NBC Sports commentator Arlo White put it when the ball crossed the goal line, "it's a nightmare start for Toronto."
Juxtapose that comment to the entire 2012 season, and it fits nicely within the confines of the Eastern Conference standings.  Toronto FC sits 0-6-0, lonely at the bottom without points, and now Winter and company are in the hot seat.  His pursuit of "total football" so far has under delivered.  It seemed by the end of last season Toronto had turned over a new maple leaf, only aided by their CONCACAF Champions League run.  That already feels like ages ago.  The defensive woes that marred their play in 2011 have returned. 
The same thing could be said of New York.  A team so loaded with talent can definitely score.  The Red Bulls tied Sporting KC for second in total goals last year.  Just like clockwork, they're leading the League this season with 17.  Yet, they've already allowed 14 goals, most due to poor marking and a knack for consistently being unable to clear the ball within their 18 under pressure. 
For both these teams, the problem is the defense.  How they turn things around will mostly be executed through personnel changes in the backline.  Both Winter and Red Bulls coach Hans Backe, already feeling the pinch of injuries in their defensive lines, will need to tinker diligently to address the issues at hand.  Left unanswered is what either of them will do when they have the opportunity to make major changes when the transfer window reopens this summer. 
Toronto, Promises, And Total Football
It's quite easy to explain Toronto's recent troubles.  Aron Winter ran his defense through Torsten Frings.  When Frings picked up a hamstring injury, Toronto's defense immediately became suspect.   
With a makeshift backline while the likes of Frings, Adrian Cann, and Miguel Aceval sat out matches due to injuries, Toronto struggled giving up frivolous goals through missed clearances and an inability to manage counter attacks and set pieces.  What Winter can do in this situation is on the minds of the TFC faithful. 
Even in the midst of one of the worst starts in MLS history (one more loss and they'll tie Kansas City's gruesome run last season at 0-7-0), Winter remains optimistic saying, ""We're going to make the playoffs."  That might mean changes in tactics, away from Winter's preferred 4-3-3.  Although, Winter isn't changing his tune, it's that total football concept that could be his undoing.  This is a fan base that's tired of turnover and the promises that come with it each and every time changes are made.  Managing expectations becomes critical. 
One of Winter's jobs is to win enough time to show his system can work.  But, of course, that requires winning games. 
Just Clear The Ball Already
One theme in New York's loss to DC United was the consistency in how the Red Bulls failed to clear the ball out of their 18 yard box.  It was infuriating.  Frustrating.  The sort of thing you normally see at lower levels of the game. 
All of DC's goals came from New York turnovers, mistakes, and simply being outmuscled for the ball.  How Dwayne De Rosario pushed off Lade to win the ball within the 18-yard box, or how Pontius held off Holgersson for his first wonder strike showed a lack of toughness that DC exploited all night.  For all New York's offensive power, the defensive muscle atrophied without its usual set of preferred defenders. 
That missing strength was the result of the absence of three starters due to injury (Teemu Tainio, Wilman Conde, and Roy Miller) as well as the suspension of Rafa Marquez.  Tainio and Marquez as a disruptive defensive pairing in the midfield might have done better to quell both of Pontius single effort goals.  And for a show of strength, a battle ax like Wilman Conde would have won most of the physical sorties that Lade lost to De Rosario. 
In New York, the biggest problem isn't a set system implemented by a coach, but rather the lack of fitness that cripples good teams without the depth to plug the holes.  It's unsustainable, and in many cases brings down the foundation.  For New York, the sort of run they need will have to be won through better defensive efforts.  Given their current backline – and it took another hit with the injury to Stephen Keel – the players called into service might  do well to work on the basics of positional play.  Well, that and toughen up.
For both Toronto and New York, the biggest lesson that they have to relearn before the week is simple.  Clear the ball.  It's the difference between falling behind and putting themselves in the position to win games. 
Dario Camacho made the move from regular commentator as Pesmerga7 to columnist.  He writes weekly for US Soccer Players. Follow him on twitter at DarCam7.
More from Dario Camacho: