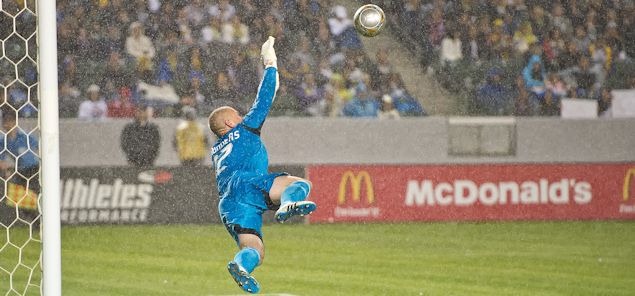 By Jason Davis – WASHINGTON, DC (Apr 4, 2012) US Soccer Players — Allow me to present the current resumes of two different Major League Soccer teams:
Team A: Four games played with three losses and one draw, for a total of one point in the League. Scored two goals in four matches and have a -4 goal differential. Currently in eighth place.
Team B: One win out of five games played in all competitions. A -3 goal differential, with a total of ten goals conceded. Currently tied for last place.
Team A was expected to be a playoff team in 2012, after making the postseason in 2011. Their fan base comes from a city known for being particularly rabid and particularly demanding when it comes to sports. When their teams win, they're generally happy, no matter what it takes to get there. Lose, especially if the losing comes with decisions that seem questionable, and the boos will rain down in a deluge of disapproval.
Team B was the prohibitive favorite to win a championship, a points title, and all of the spoils those honors bring with them. It's a high-price squad with high-priced expectations, a clear pre-season choice for best team in a League that typically confounds attempts to identify the most superior side. With the money invested and the talent on the roster, simply failing to win a championship would be a disappointment. Bringing up the rear in their conference is nothing short of a disaster.
In both cases, the men in charge of these teams made—or didn't make—moves directly related to their on-field performance. Both head coaches are responsible for personnel in addition to their duties on game day. If things are bad, it's of their making. The buck stops with them and no one else. By all rights, both should be facing serious pressure from fans and ownership. Their jobs should be in jeopardy.
But neither head coach, Peter Nowak in the case of Team A and Bruce Arena with Team B, are in any real danger of losing their jobs. In fact, their seats are hardly warm. Yes, it's early, and yes, there's the playoff safety net with five teams in each conference making the postseason, but it seems strange that neither coach is really facing much legitimate pressure. Fans can moan and boo (as they have Nowak), but it doesn't mean much.
Nowak enjoys the full support of an ownership group still in its infancy in Philadelphia. He has free reign to build the team as he sees fit, up to and including trading away the club's best player. In the last few weeks, he's had a run-in with team captain Danny Califf and lashed out at the media over questions about Sebastien Le Toux's return to PPL Park.
In LA, Arena's team is flailing for consistency. Without 2011 Defender of the Year Omar Gonzalez in the lineup, the Galaxy is a sieve, shipping goals to opponents at an astonishing clip. While Arena can't be blamed for Gonzalez being on the sidelines, he should take criticism for failing to find an adequate replacement. Instead, be it hubris or poor scouting, his team has been neutered by the problems at the back. Now, after a 3-1 loss at home to the Revolution, reports of locker room drama have surfaced.
Of course, Arena has credit in his pocket from last year's regular season and MLS Cup titles. The Beckham era finally yielded a championship, even if it required further spending on the likes of Robbie Keane. The question, one even Galaxy fans lamenting the team's poor form are loathe to ask, is how much time 2011 buys Arena in 2012.
Nowak took the Union to the playoffs in their second year of existence. That achievement might have been more impressive had MLS not admitted more than half the league into the tournament in 2011.
Both Nowak and Arena have an air of the untouchable about them. Arena because he saved the Galaxy from the disaster that was David Beckham's first two years in MLS, and Nowak because of the Union's nascent status. Neither club seems willing to blow up established programs, despite thus far failing to meet expectations. Nowak and Arena are atypical for MLS in that they have total control.  Does that make them too powerful to fire? Does the prospect of having to fill what are usually two jobs in an MLS organization make their bosses trigger shy?
Should both Nowak and Arena be given the benefit of the doubt based on last year's success? The MLS bar so low – just making the playoffs is typically enough – that both would appear to have plenty of time to recover. Change for the sake of change might be the way of the rest of the soccer world, but rarely in MLS. If there's even a little hope that the season can be salvaged, the default position is to stay the course.
If this was Mexico, or England, or any number of countries, Arena and Nowak would be on the chopping block. Public sentiment would matter much more. MLS fans, generally speaking and certainly in these two cased, seemed conditioned to think like ownership. There's ire, but it's not the kind that includes a call for heads to roll.
There's an argument that MLS gets this right.  The rash hiring and firing of coaches can be among the most detrimental moves made by any sports franchise. Stability matters, if only because a cogent plan needs time to be realized. Short of massive spending (not LA Galaxy-style spending, which is still miniscule in relation to much of the world), building a winning roster takes time.
One has to wonder where the threshold might be, and how much coaches should benefit from Major League Soccer's unique variables. At some point – maybe not now, and maybe not a month from now, but eventually – those variables morph into things that look a lot like excuses.  Even in MLS, there eventually needs to be an answer. 
Jason Davis is the founder of MatchFitUSA.com. Contact him: matchfitusa@gmail.com. Follow him on Twitter: http://twitter.com/davisjsn.
More From Jason Davis: