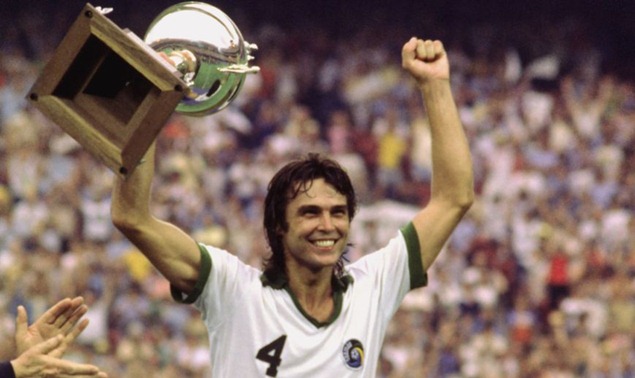 By Clemente Lisi – NEW YORK, NY (April 9, 2012) US Soccer Players – Werner Roth played for the famed New York Cosmos for much of the 1970's, an eight-year span that was highlighted by the team winning the 1977 Soccer Bowl.
"Where to start," Roth mused when asked about the Cosmos.  "The players, the international travel, the adventures are all memorable – especially my roommate of three years Franz Beckenbauer – that culminated in our 1977 championship in Pele's final season."
Born in the former Yugoslavia in what is now Serbia, Roth moved to this country as a child and went on to be one of the North American Soccer League's biggest stars. A defender, Roth also played for the United States National Team after gaining American citizenship. He went on to earn 15 caps for his adopted country. For his accomplishments, Roth, who captained that 1977 Cosmos team to the title, was inducted into the National Soccer Hall of Fame in 1989.
"We didn't have many resources and little time to prepare," Roth said of the National Team program of the early 1970s. "So we lost everywhere and had few wins and little progress to show for our effort."
A place where Roth saw rewards for his efforts was the Cosmos. With Warner Communications pumping millions into the team, Roth and his teammates were able to benefit immensely.  Roth, now 63, enjoyed unprecedented success and global recognition with the Cosmos and recalled that playing on the same team as Pele and the late Giorgio Chinaglia made for fireworks on and off the field.
"Pele, the ultimate humble player, and Giorgio, the ultimate egotistical scoring machine," he said. "It mostly meshed, occasionally jammed, but when it worked it was a thing of beauty."
For all their success on the field, what also sticks out in Roth's mind is some of the off-the-field antics he and his Cosmos teammates were involved in at the time. Roth said Franz Beckenbauer, and even Pele, loved to play pranks on teammates.
"After three years, I did get to hate the way he brushed his teeth," Roth recalled. "Franz went from intellectual to clown as it suited him."
Roth said Beckenbauer kept "the stoic professional front" when it suited him, but once "stuffed large dead grasshoppers into his teammates' socks" before a game against Dallas in 1977.
Beckenbauer liked to pull pranks even before big games. Ahead of a playoff game, Roth said Beckenbauer convinced Pele's bodyguard Pedro Garay "to handcuff me as I was getting a pregame massage.  Luckily, Pedro only got one hand cuffed before he remembered that he forgot the keys to the cuffs at the hotel."  Roth said he was freed right before the start of the game.
Roth said Pele also liked to pull a prank. He recalled that Pele once placed a small shark in a bathtub in a Seattle hotel that "startled teammates."
Roth also appeared in the 1981 movie Victory, with Pele, Sylvester Stallone, and a cast of internationally recognizable players.   Roth played German soccer team captain Baumann, and said he entertained an acting career "for a minute or two." These days, Roth lives in Los Angeles with his wife and runs a soccer marketing company called Futbol Academia.
"What I really want to do, of course, is direct," he said when asked about his Hollywood ambitions.
Joking aside, Roth said he gets the impression that the original NASL had at least one advantage over  the modern-day Major League Soccer.
"The old NASL of my day was lots of fun and adventure – people with football passion and characters," he said. "The current MLS seems more work than play, but seems to have a future."
Despite its great past, Roth doesn't appear to be bullish on a Cosmos revival at MLS level. 
"Perhaps they should just stay in our memory banks," he said.
Clemente Lisi is a New York-based writer. Contact him at: CAL4477@yahoo.com. Follow him on Twitter at:http://twitter.com/ClementeLisi
More from Clemente Lisi: