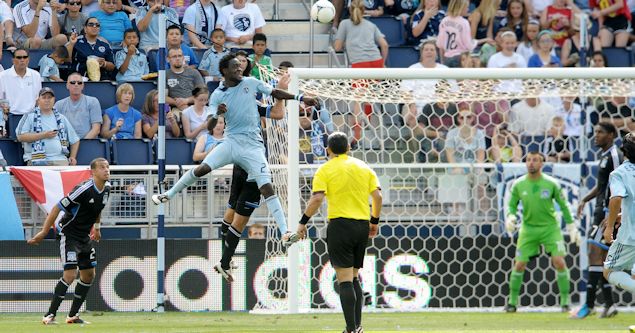 In retrospect, Major League Soccer's choice to go head-to-head with the US National Team wasn't the best idea.  The National Team gave a national audience an entertaining 5-1 win, including a glory goal by Michael Bradley and a Landon Donovan hat-trick.  MLS… well, let's just say it was business as usual in the land of strange parity. 
If there was a highlight game from Week 12, it might have been Toronto actually winning a League game.  The end of their dubious run of losses came at home against Philadelphia.  The ever quotable Danny Koevermans was the difference, scoring in the 88th minute for the 1-0 win.  Surprising no one after his 'worst team in the world' comment, Koevermans was left out of the post-game quote sheet.  Instead, let's hear from coach Aron Winter. 
"The most important thing is that after those very good games you play the confidence is growing from everybody," Winter said following confirmation that he thinks he's coaching a playoff team. "Now we are getting a break. Everybody can relax, train well, and we can prepare ourselves very well for the next game against Kansas City, that is very important. But we will be taking it game by game."
Also taking it game-by-game is every other team in the League, but we'll start with Houston continuing to impress at home with a 2-1 win over the LA Galaxy.  Without Donovan and Robbie Keane, LA went ahead through an Edson Buddle goal in the 10th minute.  They provided their own equalizer in the 38th with an own goal, and Houston helped themselves to three points when Andre Hainault scored in the 57th.  In Columbus, the Crew beat the Fire 2-1.  Columbus took a 2-0 lead with goals from Eddie Gaven (9th) and Emilio Renteria (43rd).  Austin Berry cut that lead in half in the 72nd, but Chicago couldn't come up with the equalizer. 
At RFK, DC United beat New England 3-2.  United led from the 15th minute when Brandon McDonald scored, doubling that through Dejan Jakovic in the 46th.  New England answered back when Saer Sene scored two minutes later and was level through AJ Soares in the 50th.  That's three goals in four minutes, for those keeping score at home.  DC took the win when Maicon Santos scored in the 61st minute.  It was the same 3-2 score line at Rio Tinto, with Salt Lake beating FC Dallas and we even had goals grouped together.  This time, all the action took place in the second-half with RSL taking the lead from an Alvaro Saborio goal in the 59th minute.  Dallas equalized through Matt Hedges in the 75th, and Salt Lake was back in front when Saborio scored a minute later.  Dallas got a second equalizer in the 85th with Blas Perez doing the honors.  That setup what's become a trend this season, the stoppage time goal.  In this case, it was the stoppage time winner with Nat Borchers scoring in the 93rd. 
Hey look, it's another 3-2 score line and another home team winning.  This time it's Colorado beating Montreal. The Impact was up on the road 14 minutes in courtesy of Patrice Bernier.  Jeff Larentowicz equalized four minutes later and Drew Moor had the Rapids in the lead in the 39th minute.  Andrew Wenger equalized for Montreal in the 48th, and things looked grim for our Dick's Sporting Goods Park heroes when Tyrone Marshall was sent off in the 61st minute.  Nothing says MLS action like a shorthanded goal, and it was Jaime Castrillon scoring for Colorado in the 83rd minute. 
Rain delays were the story in Portland, with the Timbers and Vancouver riding the storm out for a 1-1 draw.  Kris Boyd got Portland on the board in the 67th minute and Darren Mattocks equalized in the 84th.  Chivas USA and Seattle also finished 1-1 minus the storm and the lazy use of an REO Speedwagon song title.  Ah the '70's, when a band could call itself REO Speedwagon and nobody laughed.  Or at least nobody laughed who wasn't already laughing cause, you know, it was the 70's.   Meanwhile, back at the soccer game Juan Agudelo returned from National Team camp and scored for his new club in the 57th minute.  The four-minute gap in goals might be turning into a trend, because it took Seattle just that long for David Estrada to equalize. 
Sunday's game took us to a sold out LIVESTRONG Sporting Park in Kansas City, Kansas where Sporting KC beat San Jose 2-1.  CJ Sapong (5th) and Kei Kamara (39th) had the goals for KC, with San Jose's Simon Dawkins pulling one back in the 72nd minute. 
What Did We Learn?
1. Scheduling games for the same time as the National Team is silly. 
2. Remember last week when we talked about DC being able to take three points off of teams yearning for mid-table respectability?  Well, that.  Three wins in a row wouldn't you know, and a very happy… well, not quite.  Here's DC United and US National Team alum Ben Olsen's entry for the post-game quote Hall of Fame:  "It's strange because I feel unfulfilled. I think our team feels unfulfilled, but it's nice to feel unfulfilled and have three points in the back. I prefer to look at this as a three-game homestretch that we've had, and how we've performed over that span, and that's been very good."
3. Can we all just admit that third uniforms in MLS are a bad idea and look away?  To put that into easy to understand terms, what was Houston wearing?  If it's bad enough that one of our writers sent out a 'you won't believe this' distress call to the rest of us on Saturday… ok, that's not unusual.  We don't have to go all UniWatch to realize that it's hard enough to get the primary jerseys right in this League.
Top Five
1. DC: Yes, the same DC we keep referring to as playing over their heads.  It's hard to argue with points in the standings, even if they've played two more games than New York.
2. Salt Lake: RSL beat Dallas, so the logic goes they should keep the top spot.  After all, winning is what counts.  Yet we dropped them even though they lead the League in points and have played one game less than mighty DC.  Hey, these things happen. 
3. New York: New York also suffers after drawing with Chivas USA midweek and sitting out the weekend. 
4. San Jose: Three out of six points in what turned out to be a tough week for our friends in the north (of California).  That's a reference to a seminal British TV show that few Americans have ever heard of.  Moving on….
5. Kansas City: Sporting wins, so they stop their slide out of the top five.  How does that work when we're dropping teams in the standings when they won?  Because Kansas City is still above the morass of mid-table mediocrity that so many MLS teams call home. Remember that week when we didn't even pick a fifth place club, the choices were so indistinguishable? Well, trust us.  We did.