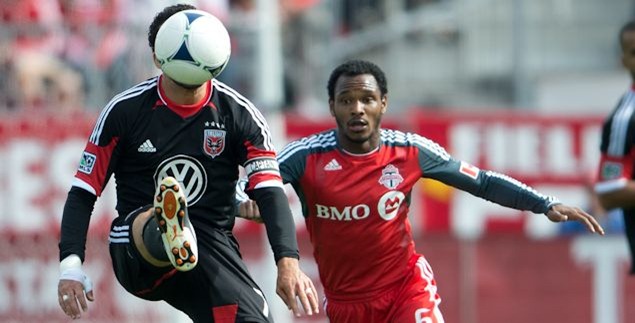 Who would've thought that San Jose losing would be the story nine weeks into the season, but they did and it is.  The Earthquakes couldn't come up with an equalizer against Vancouver at BC Place, falling 2-1 to a late goal like they'd usually score.  It was the usual for San Jose to start, taking the lead 15 minutes in through Chris Wondolowski.  Gershon Koffie equalized for the Whitecaps in the 40th minute with Eric Hassli scoring the winner four minutes into stoppage time.
"I'm disappointed we lost on a goal in the last minute of the game," San Jose coach Frank Yallop said. "That's not like the way we've played this year. We have been very strong mentally late in games. We've done a good job of making sure we don't concede late, but tonight was different."
The late goal winner started the night before, when Chivas USA dropped their third game in a row and sixth overall in a 2-1 home loss to Chicago.  In front of 14,652 fans at the Home Depot Center, Juan Pablo Angel put the home side up in the 23rd minute.  The Fire answered two minutes later when Austin Berry scored.  That setup another stoppage time decider, with Marco Pappa scoring in the 93rd minute for the win. 
Returning to Saturday's action, DC shutout Toronto 2-0 on the road.  Chris Pontius and Hamdi Salihi scored the goals.  Seattle beat Philadelphia 1-0 at CenturyLink Field with Fredy Montero setting up Mauro Rosales in the 63rd minute for the game's only goal.  In what was expected to be a marquee showdown when the TV schedules were drawn up, New York beat LA 1-0 at the HDC.  Joel Lindpere scored the goal in the 19th minute.  Montreal shutout Sporting 2-0 at Livestrong Park.  Felipe Martins and Patrice Bernier were the goal scorers. 
Real Salt Lake beat New England 2-1 at home with all three goals scored before the team traded red cards.  Blake Brettschneider opened the scoring for the Revs in the 22nd minute with Alvaro Saborio equalizing in the 33rd.  Saborio scored again in the 55th.  RSL's Will Johnson made an early exit four minutes later and New England's Fernando Cardenas followed in the 81st minute.  Portland and Columbus played out a scoreless draw to finish the Saturday schedule. Sunday's game saw Colorado quickly recover from a midweek loss, beating Dallas 2-0.  Dallas went down a man when Daniel Hernandez was sent off in the 34th.  Two minutes later, Blas Perez was red carded.  Playing 11-v-9, Colorado finally got a goal through Jamie Castrillon in the 61st minute.  Martin Rivero finished off the scoring in the 74th.
What Did We Learn?
1. Toronto really is that bad.  Something has to happen and happen quickly or this is a team that will spend the rest of the season struggling for mid-table respectability.  Since the table in question is the Eastern Conference, that means trying not to finish lower than Montreal. 
2. Speaking of Montreal, they interrupted Kansas City's construction efforts on building a Salt Lake-esque home field advantage.  It's hard to play up Livestrong Park when you've dropped a game to a expansion team. Even more so when they pitched the shutout at your place.
3. DC United should be filling a gift basket and sending it Dario Camacho's way.  Our man's designated players in DC story outlined what Branko Boskovic and Hamdi Salihi could bring to the club with both receiving limited time so far this season.  Salihi was once again part of a pricy bench when the game started, but he subbed on and scored DC's second goal. 
Top Five
1. Salt Lake: Forces of attrition at work, since we're not just lining up the top five teams in a hypothetical single table.  Sporting and San Jose lost, RSL didn't.  We adjust accordingly. 
2. San Jose: Hey, they beat arguably the hottest team in the Eastern Conference and then almost split the points with Vancouver.  Yeah, yeah… almost doesn't count.  Well, it sort of counts here, and it's enough to move them ahead of Sporting. 
3. Kansas City: A loss to an expansion team drops Sporting out of the top spot, even though they still have the best record in Major League Soccer.  A two-goal shutout loss to an expansion team has them third this week. 
4. Seattle: There's a case they deserve higher.  As they start making up the games played difference that still has them three games and two games behind the teams in front of them, the Sounders are winning.  A six-point week in MLS is a very big deal. 
5. DC: Show of hands for those that really think DC is one of the best teams in the Eastern Conference on paper.  Anybody that isn't a regular at RFK Stadium's Lot 8 and knows how tough parking is on a Sunday at Eastern Market?  Here's the thing, there's no good reason to play up DC right now… other than those points in the standings.  They split this week, giving us a loss that seemed expected against San Jose and a shutout win over Toronto that might have flattered United.  Hey, they're winning enough of the games they play and for now that means a place in our table.