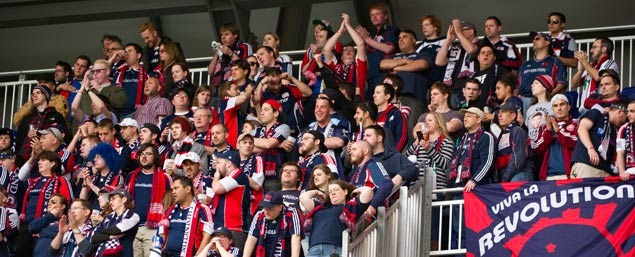 By Clemente Lisi – NEW YORK, NY (May 1, 2012) US Soccer Players -- The New England Revolution is a team in transition. The reality is the Revs, once perennial MLS Cup contenders, have been in a rebuilding phase for several seasons now, but are finally doing it in earnest this year under Jay Heaps. Rebuilding, of course, doesn't come without a price. It may mean losing lots of games. It may also mean that a playoff berth is not entirely out of the realm of possibility.
Although it may still be early in the season, the Revs are in the midst of an eight-day, three-game swing that will test both its physical fitness and mental determination. It's also an opportunity to show the rest of Major League Soccer that the team has entered a new era.
"We've done a ton of work," Heaps said. "Am I happy until this point? Yes. Are we finished? No. I think it's going to be a progression. We have to try and get stronger."
Heaps is one of several former MLS stars who have been appointed to coach their former clubs after retiring as players. Ben Olsen has coached DC United since August 2010 and Chivas USA has had Robin Fraser at the helm since 2011. Both have had some mixed results. DC United has improved under Olsen, while Chivas USA continues to struggle on Fraser's watch. As for Heaps, two months into the season and the jury is still out.
To date, the team's biggest victory came at the end of March, a 3-1 road win over the Los Angeles Galaxy. The game typified the possession game Heaps has focused on since preseason. After the LA match, Heaps told reporters, "We wanted to keep the ball as long as we could at times and then take our chances and that's what we did."
Against the Galaxy, the Revolution only had the ball 45% of the time, but it was what it did with that time that made the biggest difference. The Revs won 51% of all 50/50 balls and posted a passing accuracy of 77%. This past Saturday afternoon, against an injury-ridden New York at Red Bull Arena, Heaps played his typical 4-4-2 but the outcome was a 1-0 loss following a Thierry Henry goal after seven minutes. The loss put the Revs at 2-5-0.
"We started off poorly," Heaps said. "We attacked, but we couldn't put the ball in the goal."
Against the Red Bulls, the Revs had a strong second half, but could not score. That's been the problem this season, scoring only five times in seven games. Remember, three of those goals were scored in that win against the Galaxy. That has New England in 9th-place with a -4 goal differential, trying to reverse a three-game losing streak. Even with their current form, fans and pundits alike are cautiously optimistic about the Revs possibly making the playoffs.
"I think it's definitely within the realm of possibility that this team makes the playoffs," said Fran Harrington, president of the Midnight Riders fan group. "Our depth is better than in recent years – though it could still improve – and that will definitely help us down the stretch. Plus, some of the other teams (in the East) look really bad."
Under Heaps, Harrington said he has seen "a definite visible change of style."
"I'm liking it. Some of the passing we saw during the LA game was something I haven't seen from a Revs team in quite a while," he added. "I'm looking forward to seeing what he can do over the course of the season."
Harrington, who traveled to New York with 170 supporters in tow to watch the Revs, said having a former player like Heaps, a fan favorite in his playing days, as coach is a plus. Heaps played with the Revolution from 2001 to 2009.
"There are still a lot of guys playing (in the League) that Jay has faced off against many times," he said. "Off the field, Jay's knowledge of the internal working of the Revs must be a plus, too. I imagine it's a lot easier working with people you've known for quite a few years."
Although veterans like Shalrie Joseph and Benny Feilhaber have been fundamental, young players like Lee Nguyen and Kelyn Rowe have changed the way the team has performed this year. Those are just two of the new faces on this team. If the Revs roster looks considerably different compared to 2011 it's because the team was very busy this past winter. Revolution General Manager Mike Burns said this past offseason "was the busiest" since the team's first season in 1996. The Revs signed 11 new players – something Burns called "an awful lot" – because the team wanted to dramatically improve this season.
"We weren't good enough on the field (last year) so we owed it to the fans to put out a better team," Burns said. "Some big changes were made to make this team better."
It is too early to tell whether those roster changes will mean improved results on the field over the course of the next few months. For now, the Revs are taking it one week at a time. In a week where the team plays Colorado, and Real Salt Lake, they have no choice.
Clemente Lisi is a New York-based writer. Contact him at: CAL4477@yahoo.com. Follow him on Twitter at: http://twitter.com/ClementeLisi
More from Clemente Lisi: