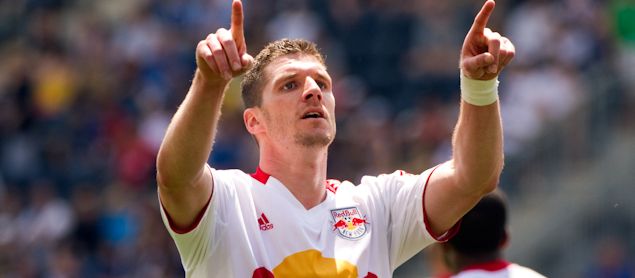 By Tony Edwards – San Jose, CA (May 15, 2012) US Soccer Players — In Tuesday's column, Tony looks at San Jose's tactical choices, the hottest teams in Major League Soccer, and asks what's with Houston playing on a Tuesday night.
Is it already a little bit of a case of the bloom off the rose in San Jose?
Sunday's draw with Chivas highlighted the impact injuries have taken on the Earthquakes. With Shea Salinas and Martin Chavez hurt, Frank Yallop tried playing central midfielders Rafa Baca and Sean Dawkins wide, hoping the overlapping runs of fullbacks Steven Beitashour and Ramiro Corrales would provide width.
What ended up happening was Baca and Dawkins kept pinching in.  Without a true holding midfielder (Khari Stephenson started in place of Sam Cronin), the Quakes kept getting in each others' way in midfield, leading to a lot of possession, but not leading to many actual opportunities.  Perhaps more than any other team, San Jose is limping towards, and desperately needs, their June break.
Who are the two hottest teams in MLS?
The Sounders and Red Bulls both have 12 points from their last five games. We'll give it to New York, because they won this past weekend. The Red Bulls' next two games are Montreal away and Chivas USA at home, while Seattle finishes out May at Vancouver, home against Columbus, and away to Chivas.
For all of their struggles, the Red Bulls are showing organization and taking advantage of any breaks, like Freddy Adu's red card this weekend. Is it a recipe for season-long success? It might be enough in the Eastern Conference, where somehow the Red Bulls have emerged as Kansas City's main rival.
How much does a domestic beer cost at the Dynamo's new stadium?
Eight dollars and fifty cents. That's certainly big time pricing, but the most important line in the column by Houston Chronicle writer Jerome Solomon comes about five paragraphs in, that "Major League Soccer is a minor league sport, but the 17-year-old league is getting there."
Before dismissing a remark from one of the top columnists in Houston media, think about what he's really saying.  There are a lot of established markets where the soccer beat barely exists anymore, and a lot of markets without a local team where MLS is an afterthought.  'Minor league' might be a bit harsh, but there's certainly a counterpoint to the League's attempts to slot MLS in as one of the four major sports. 
By the way, it's worth asking why MLS thought it was a good idea to schedule another Houston home game three days after the grand opening.  Why not have some time for the reviews to settle and the Dynamo to fix whatever needs to be fixed?  Add to that the oddity of a Tuesday night MLS game, and it really does beg the question as to why MLS thought this was the smart play.
What percentage of games in the English Premier League were won by visiting teams?
Almost 31%. Sounds good, right? A more balanced league, any team can win on any given game day, good times, right? Not so much, as Michael Cox points out. What it really means is that Manchester City, Manchester United, Arsenal, and Tottenham won more of their away games than in previous years. This statistic points out that the EPL is becoming less, not more, competitive.
How'd the season end for Michael Bradley's Chievo Verona?
A more than respectable 10th-place, with Bradley playing more minutes for the club than any other field player. He finished with a goal and an assist. What does 10th-place mean in the wider scope of the 2011-12 season?  Chievo were a dozen points out of the final European slot and 13 points above the relegation zone.
More Questions: