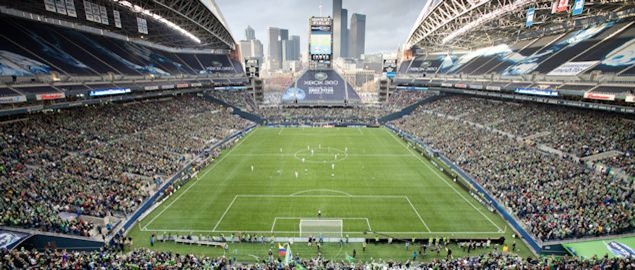 In this edition of the Roundtable, Justin Shaffer, Jason Davis, Dario Camacho, and Tony Edwards debate the midweek MLS games, including the relative merits of DC United, what happens when well-known players don't make road trips, and the ongoing playing surface debate.
Justin Shaffer: I was at Wednesday's Sounders-Galaxy game and, admittedly, it was quite annoying not to get Beckham and Keane tonight, especially after going to the Red Bulls game last year and not getting to see some Thierry Henry or Rafa Marquez.
It works out since we got to see the Sounders finally beat LA and Montero's fantastic goal from 35-yards out.
Jason Davis:  Is who the other team trots out still generally a concern for Sounders fans? I had the sense that of all markets, Seattle was well past caring if the opponent played their best lineup.
Shaffer: Seattle does fine drawing fans regardless of the opponent (at least within League play), but I know the more casual fans hope to see the superstars. In my case last night, I took my brother who has zero name recognition with the league's players, but knows who Donovan and Beckham are and was interested in seeing them. As he sat down, the guy sitting behind me was excitedly telling his wife that LA had Beckham (I had to tell him that Beckham didn't make the trip).
Tony Edwards: But that's been an issue for as long as MLS has been around. Claudio Reyna retired one week before the Red Bulls were due to come out [to San Jose]; Carlos Valderrama (seemingly) rarely appeared at Spartan Stadium; Hristo Stoichkhov should have sat out the game he played against San Jose, where he spent most of the time complaining; Khodadad Azizi never showed up when his team was scheduled to play in San Jose…wait, he played for the Earthquakes?
Shaffer: I think some casual fans buy single game tickets hoping to see those guys. Each team has to manage their roster, so I don't blame Arena for resting those guys. It was just unfortunate not to get to see them play. Compounding the issue is that the Sounders made Los Angeles part of their four-game package of special games this year where they hoped to fill the stadium (Portland, Vancouver, and the Chelsea friendly are the other three games).
In mid-week action, Seattle defeated the Galaxy 2-0 in Seattle, San Jose scored five at home against DC United, and New England got a much needed victory against Colorado.
Edwards: Speaking of selling tickets, wouldn't you rather have 5-3 than, say, any Houston trying to grind out a win on a Brad Davis set piece?
Shaffer: I'll take high scoring games, but what was glaring there was how poor DC's defense was. In fairness, they had Perry Kitchen and then Robbie Russell playing in central defense next to Brandon McDonald. Olson even said after the game that, as much as he likes those Kitchen and Russell, neither are really central defenders. It was also surprising to see San Jose's defense give up three goals. I'd definitely take it over that scoreless draw that Toronto and Montreal put up last night. Wait, a team failed to score on Toronto?!?
Edwards: For all of the Quakes' polite comments about DC being a "good side" and an "Eastern Conference contender," give me a break. I think DC will qualify for the playoffs, but if De Rosario gets hurt, forget it.
Shaffer: They also have Najar and Pontius. DeLeon has looked great so far. But I agree that De Rosario makes that attack go and losing him would be crushing. How long till Hamid gets his gig back? Willis didn't look impressive at all.
Dario Camacho: If De Rosario goes down I think having Boskovic is a safety net. He isn't a De Rosario type, but he has good distribution. He won't run through the middle like De Rosario and thus that midfield would have to be better  utilized by Cruz and Santos to cover the ground that De Rosario does.
Still, I think if they stay healthy and play that run-n-gun style that gives them attacking such an attacking flair, they could end up second in the East. New York doesn't do it for me just because they rely so heavily on Henry, now injured, and Houston is a toss up, but they'll make the playoffs. 
The Best Surface Money Can Buy?
Edwards: Speaking of health, in the sense of avoiding injuries, and holding players back, did Los Angeles specifically hold Beckham and Keane off the turf?
Camacho: I hate turf fields. I play on one twice a week, and when it rains it destroys the ambition of long passes. You just play to the feet otherwise that ball will skid across the turf like skipping a rock on the surface of a lake. Grass is the only way to play, and I wish MLS adhered to FIFA regulations regarding international competitions. Stick to grass and everything will be better.
Edwards: Like the grass at the San Siro? Or that grass they put on top of the turf for exhibition games? I'm just saying, sometimes turf is a better option.
Davis: I suppose that a soccer fan, you want to see the best players possible, but it was put to me that Seattle having turf is "cheating" the league and Sounders fans out of something. Do you feel that's the case Justin?
Shaffer: The turf is a more complex topic. I am, like Dario, a "grass snob." There were at least three balls at the Seattle game that I said, "on grass that would've been perfect." The ball just doesn't play the same and I think it robs the fans of more attractive soccer and, to me, that's what the fans get cheated on.
Edwards: With all the wear-and-tear, and maintenance expense, is grass a realistic option in Seattle? The stadium the Sounders play in is used year-around, and once gridiron starts, you'll have the Sounders and Seahawks playing on it.
Shaffer: They just replaced the surface this past off-season and grass wasn't going to be an option this go-around anyway because the Washington Husky football team is also playing at CenturyLink this season while Husky Stadium is being renovated.
The Sounders recently came out and said that grass will never happen at CenturyLink because the way the stadium was built won't allow enough sunlight to reach the field. I know there are some people who feel that by some year in the future, every team in MLS will have their own, dedicated soccer-specific stadium, but I don't see that happening here unless Paul Allen pays for it himself. There's no real appetite for spending tax payer dollars on yet another stadium for a team that already has a sufficient home. CenturyLink is, and will continue to be, the team's home for the foreseeable future, so the turf issue isn't going away.