Jason Davis wonders what it will take to get Toronto winning, and what it means for MLS that the 'worst team in the world' could still end up in contention.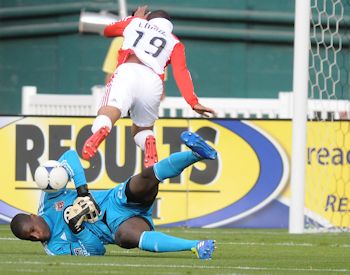 By Jason Davis – WASHINGTON, DC (May 23, 2012) US Soccer Players — Losing begets losing. For all the careful preparation, sometimes the game just isn't going to go your way. Sometimes, more often than we'd like, it's not even about who's better.
It stretches belief that Toronto FC has just run into bad luck nine times this season.  That's because they haven't. TFC has been bad for much of the time, but there's certainly an element of misfortune in their record-setting futility. Things have gotten so bad that Dutch forward Danny Koevermans, one of the Reds expensive signings in 2011, declared the team as "the worst in the world." Nine defeats out of nine will break the spirit of even the most ardent competitor, so while Koevermans being hyperbolic about the state of things, we can't accuse him of sarcasm.
But a cursory check of leagues around the globes reveals he might just be right, at least when it comes to first division sides.  A natural, but depressing, follow-up to an angst-ridden throwaway comment from a player with an Eredivisie title on his resume. No other team, from England to South America and anywhere else you're likely to look has started a season with nine losses. 
Whatever the reasons for Toronto's inability to put a mediocre team on the field (because that's all it takes to be respectable in MLS, mediocrity), the club is now at the stage of resigned despondency.
Like the unfortunate swimmer washed out to sea, eventually the will to fight against the powerful tides is sapped by the futility of the effort. Losing causes more losing, no matter what tactical changes are made, who is in the lineup, or how well things go during the week in training. Once that first opponent's goal slips past the keeper, the desire to push on melts into the grass.
Losing, to flip the cliché, is a habit. Once losing becomes part of the week-to-week experience, it seeps into every nook and crevice and makes everything numb. Losing becomes a state of being.
First, you lose because you're not good enough. Then, when you might be good enough to win, you lose because you've come to expect to lose. The cycle perpetuates itself.
Adrian Cann, speaking ahead of Toronto's Canadian Championship showdown with Vancouver on Wednesday, expressed just feeling in the TFC camp. "After 5 games not winning, 6, 7, 8, 9, it becomes habit. Everyone becomes complacent. Another loss? Oh well, add it to the tally."
Of course, these men are proud professionals, and they wouldn't be paid to play the game if they didn't have an extreme competitive drive. They'll keep trying. Eventually, they'll catch a break or two. At some point, even a poor performance might bring a point or three. For the time being, however, nothing they're doing is working.  It's that frustration that's the largest hurdle to clear on the way to a turnaround.
Toronto FC has very real, easily identifiable problems on the field. Their defense is a sieve, and while most will point to their center backs as the main culprit, weaknesses in other areas are putting undue pressure on their back line. Players meant to be effective on the ball, turning MLS-average TFC into something more dynamic and proactive in attack, have either underwhelmed or proven ill-equipped to bring their abilities to bear in this League. That reality has exacerbated other weaknesses. Nothing TFC has tried, through five plus years of setting out a plan, overhauling because it became absolutely necessary, then trying to take the advisable long view when they did, has worked.
For Toronto, this is nothing new.  What is it about the club that has turned them into perpetual losers in the mold of the Cleveland Browns of the National Football League?  It would be ridiculous to believe nothing will work, and it's shocking simply from a statistical perspective that TFC hasn't chanced upon the elusive playoff mediocrity.
The common factor through it all is the Toronto's ownership group, Maple Leaf Sports & Entertainment. Fault lies with them, because every choice they've made in the management of the team has failed to turn around a listing ship. Like Randy Lerner in Cleveland and Donald Sterling with the Clippers, MLSE has always made exactly the wrong choice at exactly the wrong time. They gave Johnston too much rope, allowing him to stay on as GM after moving want away John Carver into the head coach position. They brought in a hard-nosed Preki when a softer touch might have been required. They turned the direction of the club over to Winter and to dreams of playing Ajax-ian soccer without a full appreciation for how difficult that transition might be. If anything, MLSE is guilty, at least when it comes to this latest regime, of overplaying their hand.
All of that, of course, is clear only due to hindsight. No one could foresee year after year of unfulfilled expectations. TFC had a committed owner, a large fan base, a dedicated stadium, and all the makings of a perennial MLS contender. Those other moribund franchises in the other North American leagues have many of those same things, or at least have the opportunity to achieve occasional success through the parity built in to their leagues. TFC has that too, and yet, here they are, the perennial whipping boys of MLS, with no end to the pain in sight.
Any reasonable bit of confidence there might have been that Toronto could at least rise to the level of average is gone. Toronto FC is what it is, until proven otherwise.
That's no mean feat. In fact, it's one of the more remarkable things to happen as the League has grown and changed over the last five years. While the likes of RSL and Colorado have captured MLS titles and Sporting Kansas City revamped to create an exciting product after years of floundering, TFC has solidified their place among North America's most depressingly downtrodden franchises. Another few years of this, and they'll be talking about a curse.
Much is made about the ability of MLS teams to turn things around quickly thanks to the salary cap and other competitive controls. Teams have done it before, and they'll undoubtedly do it again. TFC is defying that truth, on a grand scale.
Are they the worst team in the world? Probably not. But what they are is Major League Soccer's predominant, verifiable, long-suffering franchise. The Browns surely welcome the company.
---
Jason Davis is the founder of MatchFitUSA.com. Contact him: matchfitusa@gmail.com. Follow him on Twitter: http://twitter.com/davisjsn.
More From Jason Davis: