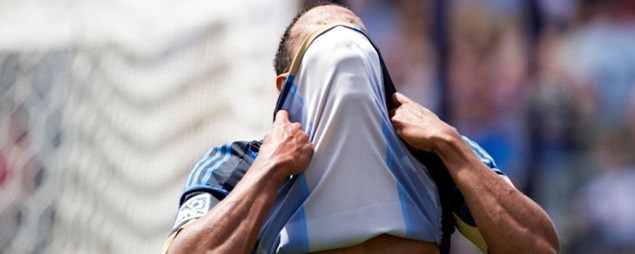 You would've had to actively not been paying attention to avoid the build-up to this week's big story.  Houston officially opened their new stadium, and they did it with a 1-0 shutout of DC United.  Brad Davis's 67th minute goal created an opening for another Eastern Conference team, with New York passing DC and KC in the standings. 
"I just wanted a goal and to win the game," Houston coach Dominic Kinnear said. "It's not often that you open a stadium with a sold-out crowd and you want to make sure you take advantage of the opportunity and to give the fans what they are coming here for. They want to see the home team win and the score is the last thing they will remember."
As for that New York game, they beat Philadelphia 3-2 at PPL Park on Sunday.  Joel Lindpere opened the scoring in the 17th minute with Philadelphia equalizing through Lionard Pajoy in the 31st.  Freddy Adu picked up an assist on the Pajoy goal, only to be sent off in the 43rd minute for diving.  Pajoy scored again in the 46th to give the Union the lead.  Markus Holgersson equalized for the Red Bulls in the 68th with Kenny Cooper scoring the winner ten minutes later.  The win means New York is now 1st in the East. 
In Montreal on Saturday, the Impact had an announced crowd of 60,860 for a 1-1 draw with LA.  Davy Arnaud got Montreal's goal in the 8th minute, with David Beckham equalizing from a free kick in the 62nd.  New England got a 4-1 win over Vancouver at Gillette Stadium.  Vancouver actually led early, with Eric Hassli scoring in the 5th minute.  Lee Nguyen had the Revs level within a minute, and it was 3-1 with goals from Saer Sene (24th) and Shalrie Joseph (33rd) by halftime.  Nguyen finished off the scoring in the 72nd. 
Columbus beat Dallas 2-1, with Dallas taking the lead on the road when Fabian Castillo scored in the 22nd minute.  Dallas's Zach Loyd was red carded in the 63rd minute.  Justin Meram's 67th minute goal had the Crew level and Sebastian Miranda scored their winner in the 72nd.  At Toyota Park, Chicago beat Eastern Conference leaders Sporting Kansas City 2-1.  Bobby Convey put Sporting up a goal in the 31st minute, with Sebastian Grazzini equalizing in the 61st.  KC's Roger Espinoza was sent off a minute later, with Dominic Oduro scoring the winner in the 81st minute.  Real Salt Lake shutout Seattle 1-0 at CenturyLink Field with Fabian Espindola scoring in the 51st minute. Sunday night's game between San Jose and Chivas USA ended 1-1 with Chivas USA's Jose Correa opening the scoring in the 4th minute and Alan Gordon equalizing in the 88th.
What Did We Learn?
1. We overplayed Sporting's early run.  The problem with current event punditry is everyone will quickly forget how much hype was built around Sporting Kansas City's win streak.  Now that Sporting is in a fight to keep their two-point lead in the Eastern Conference, teams that were already being tagged as suspect are in contention.  That means reevaluating New York without their star player available. 
2. People still show up for Beckham.  Montreal might be late to the party, but they demonstrated in full what LA's midfielder means to this League.
3. The unbalanced schedule makes it impossible to get a sense of who is the best team in the League.  Real Salt Lake have 26 points, San Jose are at 22, and Sporting has 21.  Yet RSL has played three more games than the Quakes and Kansas City.  Normally, when someone mentions the schedule issue it's followed by 'creating a schedule is hard.'  No, it isn't.
Top Five
1. Salt Lake: The schedule issue aside, Salt Lake is playing the best soccer in MLS right now.
2. San Jose: Though they probably shouldn't have been chasing a game against Chivas USA, this is still a quality team refusing not to lose.  It's also worth noting that Chivas USA scored with their only shot on target and San Jose put six of their 24 shots on goal.
3. Seattle: Up a spot even though they lost… and at home.  Fortunately for their standing in our table, they lost to that team we're arguing plays the best soccer in this League.  Some losses are explainable, even shutouts at home. After all, they shutout Dallas 2-0 on the road earlier in the week to take three points from six. 
4. New York: Does anyone want to argue that there's a team in the Eastern Conference that's on better form than the Red Bulls?
5. Kansas City: This is the third slip in a row.  Last week, it was an expansion team.  This week it was a Chicago team with its own problems.  If Sporting is going to lose points in-Conference to bad teams, they're going to fall in this ranking and eventually the real one.