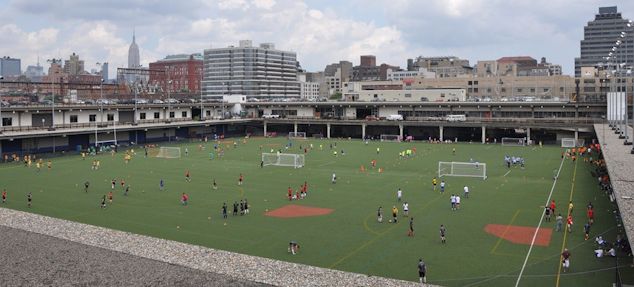 "What is popular is not always right. What is right is not always popular." Francesco Totti.
By Cesar Diaz – NEW YORK, NY (Jun 4, 2012) US Soccer Players — For the past few years, Major League Soccer commissioner Don Garber has openly signaled his intentions for a second New York club. He also said that in order for a second club to exist there must be a stadium plan. In addition, that stadium should be within the five boroughs. 
Manhattan and Queens are the preferred candidates for a New York club that actually plays in New York. With the belief that a true NYC team would raise the League's profile along with revenue, MLS has dedicated staff and resources to find a stadium site and get a deal in place before bringing in an investor-operator.  It's normally the other way around in MLS, stressing the importance of a New York team to the people running the League. 
While this may appear possible, how realistic is it?
The league has repeatedly stated there are several ownerships interested in becoming the second New York MLS franchise. Considering the rumored $100 million ownership fee combined with a stadium plan, this new ownership will likely be required to invest considerably more just to get the team to the point of hiring a coach and putting together a squad.
All of this work happens in the shadow of the team 12 miles to the west in Harrison, New Jersey.  The New York Red Bulls have a tough time playing to capacity at Red Bull Arena.  Their public opinion is to welcome a NYC team since it would create a local derby and a higher level of interest.  We already have a same-stadium example of that in MLS, and it doesn't equally distribute support.  Even our LA example is telling, with the Los Angeles Galaxy also not a regular sellout. 
Then there's the local sports history.  The New York Jets wanted to relocate from North Jersey to Manhattan in a plan that would've put a National Football League stadium on the city's west side.  Instead, they share a new stadium with the Giants next to where the old one once stood.    The Jets were working with a plot of land on the river that's a rail yard.  MLS's new point of interest is also on the west side, further south at Pier 40. Were the stadium plan to go through, it would be built on top of the pier.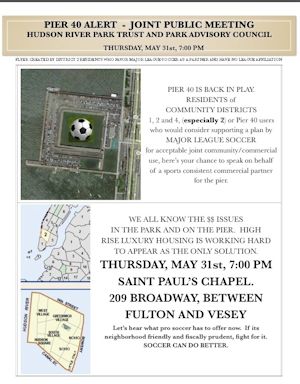 As exciting as that sounds for fans of interesting stadium design, how realistic is this project?  To get a better idea, I attended the Hudson River Park Trust Advisory Council Public Meeting last Thursday.
For those of you who are not familiar with the Hudson River Park Trust (HRPT), it's a trust created in 1998 with the purpose of developing a five-mile park along the Hudson from Battery Park City to Hell's Kitchen.  Now in 2012, it's only 70% complete. The cost of finishing the entire park area which includes Pier 54, Gansevoort, and Pier 97 is at an estimated $235 million. Just to be clear, the money is not expected to come from the rental facilities.
Even with all pitches, running/bike paths and other recreational activities such as boating, the Hudson River Park is financially strapped. One critical factor that was neglected when the trust was created was the future repairs and maintenance they would have to make over time.
For Pier 40 alone, the total cost of repair has been estimated to be in the ballpark figure of $120 – $125 millions. The money would go towards the eroding piers, the parking area and facility repairs such as the ceiling. On top of that, revenue from parking has been dropping steadily in recent years.
With about $25 million dollars in the HRPT reserve funds, there's taking of amending the act in order to address the unanticipated expenses. Obviously, amending the act will impact the residents who live in the area.
As public hearings go, this one went as expected.  A presentation was interrupted by several individuals who wanted to voice their displeasure against New York's possible pipeline initiative, a different issue entirely.  One of the presenters pointed out that Major League Soccer has stated it would pay to repair Pier 40, so it's worth considering what that adds to the tab of stadium construction.  It was also reported that MLS has submitted a proposal that can't be considered under the current HRPT regulations.  Thus the need for the amendment.
Following the presentation, the public had their say. Some are against amending the act while others argued for the sentimental value of Pier 40. Some suggested that the pier should be condemned, while one person made the case for asking New York University to move its campus to the pier site. Of course, there were people who continued to express their anger over fracking and pipelines.
What I found comical was the hissing some would make when others offered their opinions. For a group of people who obviously believe in the right of free speech and the democratic process, I was amazed by the little respect they showed while fellow citizens made their comments in two-minute blocks.
So what I did I learn from all this? Pier 40 has significant issues that would need considerable clout to overcome. Amending the HRPT act to make the stadium possible, repairing the site, and then building with a new owner in place are all significant hurdles, if not obstacles. 
While the location of Pier 40 sounds nice, is it worth it? I don't think so.  The problem with repairs is that more repairs become uncovered. As a result, the costs of repairs and security will increase while the projected finish date gets revised.  That assumes overcoming the regulatory issues in the first place.  Right now, Pier 40 seems like an exercise in regulatory and civic frustration for any interested group, including a pro sports league trying to build a soccer stadium.
---
Cesar Diaz is a freelance writer for several online soccer publications. If there's a soccer topic you believe needs to be written about, please feel free to contact him. Easily approachable, you may contact him at CDiazNYC@gmail.com and @CesarDiazNYC.
More from Cesar Diaz: