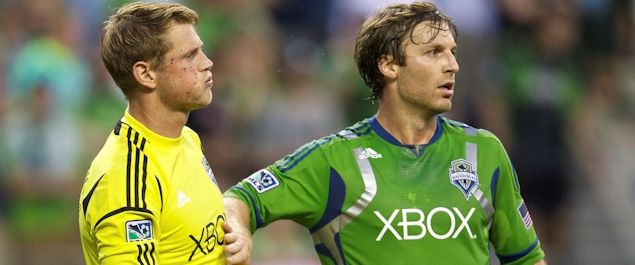 We'll start with the big reveal during halftime of Sunday's Chicago – LA game.  Your 2012 MLS All-Star First XI (as voted by the fans) are: Jimmy Nielsen, Steven Beitashour, Aurelien Collin, Jay DeMerit, Heath Pearce, David Beckham, Dwayne De Rosario, Landon Donovan, Graham Zusi, Thierry Henry, and Chris Wondolowski.  As always, MLS has to ruin the fun by reminding us the coach of the All-Star Team can pick whoever he wants for the actual roster, meaning the fun resumes on July 15th with the 18-man roster announcement and the two commissioner picks. 
Meanwhile, on the field, the Galaxy shutout Chicago 2-0 with both goals scored by Robbie Keane (28th and 78th).  Also on Sunday, Philadelphia shutout Toronto 3-0.  Gabriel Gomez opened the scoring in the 34th minute with Freddy Adu doubling the lead two minutes later.  Antione Hoppenot scored the third goal in the 78th minute.  New England continued the Sunday trend with their 2-0 shutout of New York.  Lee Nguyen scored in the 24th with Jerry Bengtson adding the second in the 84th minute.  14,373 showed up to watch the game at Gillette Stadium.  Finishing off the Sunday scores, Montreal beat Columbus 2-1 at Saputo Stadium.  Columbus took the lead through Milovan Mirosevic's 64th minute opener.  Zarek Valentin equalized for the Impact in the 78th with Patrice Bernier scoring the winner in the 89th minute. 
On Saturday, three games ended scoreless: Sporting – Houston, Dallas – San Jose, and Chivas USA – Vancouver.  Only San Jose offered us the decency of an excuse, with Ramiro Corrales sent off in the 80th minute.  In a Saturday game with goals, Real Salt Lake shutout Portland 3-0 in front of 16,444 at Rio Tinto Stadium.  Alvario Saborio scored all three goals, so don't act surprised when he's named Player of the Week on Monday.  Portland's Diego Chara was called for a handball in the box and sent off in the 74th minute, with Saborio getting his third goal from the penalty spot.
"The first goal was like 'Oh, finally!' because we try hard and today it was good," Saborio said. "Soccer won tonight."
Seattle beat Colorado 2-1 at home to close out the Saturday schedule.  Alvaro Fernandez (52nd) and Eddie Johnson (64th) had Seattle up two when Omar Cummings pulled a goal back in the 79th minute.  Steve Zakuani subbed on for Seattle in the 86th minute.
What Did We Learn?
1. Scoreless games come in bunches, and apparently so do shutouts.  We got three 0-0's on Saturday and four shutouts over the weekend.  We can add two more goose eggs from Tuesday and Wednesday to bring our grand total for the week to five games with no goals. 
2. The Sounders sent a message to the rest of the Western Conference when Steve Zakuani subbed on late in Saturday's win over  Colorado.  It's a simple refrain, that the Seattle in practice just took a step closer toward the Seattle in theory.  That's the team that was a popular preseason pick. 
3. For Toronto coach Paul Mariner, there was an obvious reason for the loss to Philadelphia.  "Seven games in 23 days 5 on the road [playing] the same players is a tall order."  Indeed, and too much is made about all teams suffering courtesy of Major League Soccer's inability to put together a reasonable schedule.  If your team is already in trouble, Mariner's scenario is never going to help. 
Top Five
1. DC: They benefit from not playing.
2. Seattle: How does a team go from out of the Five to 2nd in a single week?  Well, it requires teams squandering opportunities all over the place.  Seattle didn't take full advantage, but they also didn't pull a San Jose.
3. Kansas City:  Really, Sporting's back?  As the helpful press release told us, they're now our Eastern Conference leaders.  It's by goal difference with them level on points with DC.  Imagine had they taken all six points over the week instead of four.
4. San Jose: Sorry Quakes, but you slid on the field and in the rankings.  A single point from six available.
5. Chicago: Why not New York?  Because Chicago was shutout 2-0 by a better team.