By Cesar Diaz – NEW YORK, NY (July 10, 2012) US Soccer Players — Anyone who reads When Saturday Comes (WSC), Britain's leading independent football magazine is aware of the publication's quality of articles as well as art work. Long before blogs became a norm, WSC mission since 1986 was to connect with passionate and serious football supporters.
With the support and contributions from their readers, soccer writers as well as award-winning authors, WSC has been able to provide a serious and entertaining view of soccer in an effort to maintain their fan base. For the past few months, I've interacted with WSC illustrator Tim Bradford via emails and Skype.
Tim is a funny person to talk to, and it's not surprising that he's also one of the top people creatively covering soccer. One of the better moments during our conversations was when his five and nine-year-old sons came in looking for him. They wanted to go outside, but when they found out I was from the United States the attention shifted towards me.  Well, at least temporarily. 
If you're a fan of Doctor Who, he reminds me of the Fifth Doctor because underneath his humor and charm lies an individual who is extremely knowledgeable and compassionate for the sport he's been following his entire life. His view of soccer is infectious because he's not looking at the game from an analytical perspective; he's seeing is from an artistic view.
"In football, there have been occasions when beauty doesn't triumph," Bradford told me.  "Take for example the 1982 Brazil National Team. What a beautiful team that is flawed forever. Even though they failed to win the World Cup, players like Zico and Socrates are legends. Days before Socrates passed away, I created a piece of my interpretation of Brazil's '82 team. To be honest, I am so close with this portrait that I have no intention of selling it."
When I asked him about the Finsbury Park Institute of Football Art, his attempt at organizing what he does with an appropriately lofty title his reply was simple and direct. "It's not actually in Finsbury Park and it isn't really an institute, at least not yet. It's just that the acronym (FPIFA) looks remarkably similar to that for FIFA. What I'm hoping is that people might be looking for the FIFA website in order to make a hosting bid for the World Cup and end up buying one of my football art paintings or prints instead."
Originally trained as a writer, Bradford began illustrating for WSC comes in 1990. "As an artist, I have no formal training, I'm simply a folk artist," he said. "My style is basic with limited color and my drawing instincts are primal. I enjoy using bright colors because I'm painting from my memories and the colors add vibrant to the emotions I felt at that time.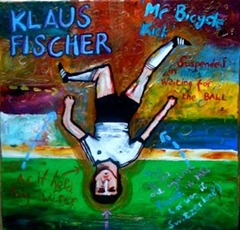 Two of his favorite players were Millwall's Barry Kitchener and West Germany's striker Klaus Fischer. He loved how Kitchener was a creative defender and enjoyed Fischer's bicycle kicks. He also has an affinity for the Argentina and Brazil teams of the 70's and 80's because ,along with their style of play, the players had personalities that spoke to their passion for the game and their country.
As someone who pulls the best from soccer's past to create his art, what did Bradford make of the recently concluded Euro 2012?
"I've enjoyed the tournament," he said.  "Italy's performance against Germany was the standout for me. Pirlo has been magnificent."
One of the great things about covering anything with the help of the internet is very little is off limits. Even When Saturday Comes, a throwback to the print era of fanzines, has a vibrant online community and makes connections between fans from all over.  The quality of the publication and its longevity gives it a position that is unusual in the instantly updated era of soccer coverage.  By the nature of his work, Bradford has to take the long view.  Art takes time and commitment, and that's one of the things that makes it such a pleasure to speak with him. 
Following the conclusion of Euro 2012, I've continued to chat with Bradford. In a profession that at times can be so cutthroat and cold, it's nice to write that I've found a friend in Tim Bradford. Despite the differences in our cultures and countries/clubs we support, we both love soccer and that's enough.  What Bradford expresses through his art is something most of us instantly relate too, that something extra that makes soccer so special. 
"Football is more than a sport to me," he said expressing a sentiment many of us feel. "Football has filled that spiritual connection in my life.  It connects popular cultures and all classes of citizens worldwide. So when Saturday comes, it's more than just a game, it's an event that have a place in my memory and heart."
To see more of Tim Bradford's artwork, please go to http://www.timbradfordart.co.uk and http://www.wsc.co.uk/.
---
Cesar Diaz is a freelance writer for several online soccer publications. If there's a soccer topic you believe needs to be written about, please feel free to contact him. Easily approachable, you may contact him at CDiazNYC@gmail.com and @CesarDiazNYC.
More from Cesar Diaz: