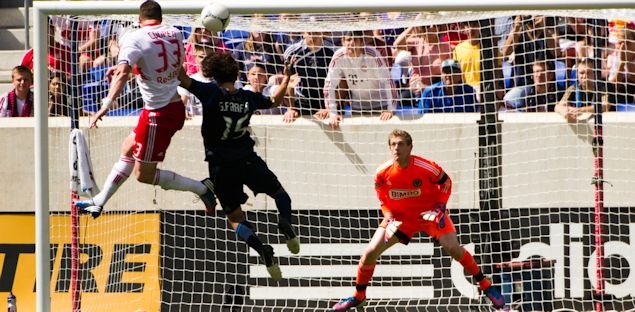 By Jason Davis – WASHINGTON, DC (July 19, 2012) US Soccer Players — Here's a snapshot, taken just before Everton released the news that Tim Cahill will be leaving them to join Major League Soccer as a member of New York's ambitious franchise:
The New York Red Bulls are leading the Eastern Conference on 38 points. They've scored 37 goals, second only to the San Jose Earthquakes across MLS. Their biggest star, Thierry Henry, is having a stellar year, benefiting from the arrival of intermittent US international Kenny Cooper. Between them, Henry and Cooper have 23 goals, a staggering total that outstrips every preseason projection.
Sebastian Le Toux is now in the mix, having arrived via trade with the Vancouver Whitecaps. Though the Red Bulls are assured of nothing yet, and have managed it all without a classic midfield playmaker, the offense does not show any sign of being their eventual Achilles heel.
Meanwhile, New York's defense is a game of musical chairs where the contestants all limp or are disqualified–and then reinstated–at random and unpredictable intervals. The potential is there, and in stretches this season the Red Bulls have done a passable job of keeping the other team off the scoreboard. Yet, between injuries and suspensions, continuity has been nonexistent. What is Hans Backe's best foursome at the back? Frankly, it's hard to say.
Though New York has yet to comment on Cahill "or any other non-New York player," one would assume Cahill's current club Everton are onto something.  That, and the New York Post has already reported he's in New Jersey with quotes from his new teammates indicating he's part of their team.  So here comes Cahill, an attacking player known for his heading ability and affinity for corner flag boxing, giving the Red Bulls exactly… what they already have.
Instead of help in defense, or a midfielder to provide their forward trio of Henry, Cooper, and Le Toux, with quality passes to be turned into (yet) more goals, the Red Bulls chose to sign a player very much like two of that trio. Henry's tendency to drop into midfield means New York does not always want for a playmaking midfielder.  Le Toux's versatility means he's not limited to a playing as a dedicated forward. Cooper turned himself into a target, but there's the feeling that he's not perfectly suited to the role.
What the Red Bulls have now with Cahill on board, is a glut of players with the same tendencies. Or, if we can imagine a world in which Hans Backe does not play all of Henry, Cooper, Le Toux, and Cahill at the same time, they have unheard of attacking depth.
In Major League Soccer, depth is rarely more than a mirage. "Depth" as we might frame it, is usually a few MLS-experienced bodies on the bench ready to step in when the higher-paid star is gassed after three games in nine days, or the team needs fresh legs late in a tight contest. Never do those players rate much higher than "mildly notable" MLS names. The Red Bulls now have something much more than that, with two of the League's top goal-scorers in a rotation that now includes a former MLS MVP candidate and a midfielder with an excellent goal-scoring record in one of the world's best leagues.
The addition of Cahill means someone must sit, however, whether it be one of those attacking players or, perhaps just as likely, another midfielder or a defender. Because of the limited number of midfield spots, the form of players like Dax McCarty and Markus Holgersson, and the lack of success with Rafa Marquez in the defensive line, a designated player might be the odd man out.
It's not as simple as 'slide Rafa into a centerback position.' Doing so means sitting down one of Holgerrson or Wilman Conde, both of whom are likely better defenders than Marquez at this point in his career. Marquez's tendency to switch off makes him a liability in the middle of the Red Bull back line.
Marquez's stint with the Red Bulls hasn't been smooth, but it's difficult to fathom an MLS team paying a player as much as New York pays Marquez and not including him in their first choice team. If Hans Backe does something unprecedented and relegates Marquez to the bench despite his massive (by MLS standards) salary and marquee name, the Red Bulls will be at their current possible best.
Should Backe caves to the idea that Marquez is an automatic starter whether he deserves it or not, the addition of Cahill won't be nearly as transformative as it could be. Attempting to fit Marquez somewhere into the midfield is a non-starter; while his passing abilities are unquestioned, there is simply no room for him, one of Henry/Cahill/Le Toux, and the needed midfield endeavor of Dax McCarty. Marquez is the least attractive option because he does not do to the work of McCarty, and he will not make late runs like Cahill or Le Toux.
Tim Cahill probably isn't plug-and-play, however. Remember that the Aussie has hardly touched a ball in an official setting since the end of Everton's Premier League campaign. The issue of where to play him, and who gets pushed out by his absence, may not become a critical one for a month, possibly more.
The question of where Cahill fits has no easy answer. There's no doubting that his signing makes the Red Bulls "better", though in what form that better quality manifests itself is hard to identify. The Red Bull attack should be even more potent, with another adept option in play that will not only provide service for Cooper, Le Toux, and Henry, but has the skillset to convert the service he receives himself into goals.
Goals: The last thing New York seemed to need at this point in their season, but the thing for which they reached out during the MLS transfer window. Maybe it was down to opportunity, and Cahill's being available at a reasonable price (by New York standards if not MLS's) came as a pleasant surprise that the Red Bulls could not pass up.
Cahill's talent is obvious, even if hasn't been at the top of his game recently. For a club dead set on winning their first real trophy of any kind, grabbing Tim Cahill, even if the attacking cupboards are already stocked (and recently re-stocked), is the act of intelligent desperation.
---
Jason Davis is the founder of MatchFitUSA.com. Contact him: matchfitusa@gmail.com. Follow him on Twitter: http://twitter.com/davisjsn.
More From Jason Davis: