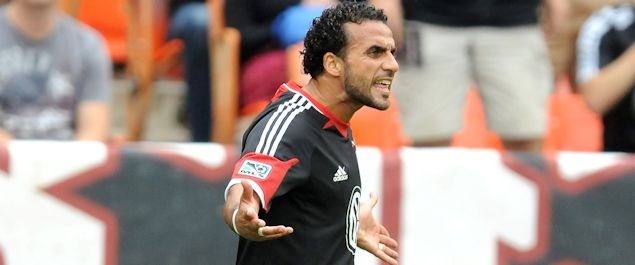 By Tony Edwards - San Jose, CA (Aug 28, 2012) US Soccer Players – In Tuesday's column, Tony looks at unexpected ways Montreal is leading the League, salutes Dwayne DeRosario, and suggests DC United's executives might know better than to complain about the scheduling.
While Montreal might rue dropped points earlier in the season in terms of playoff qualification, what three races are they easily winning this season?
While Marsch's team needs to keep up their stellar recent play, and get some help, to qualify for the playoffs, Montreal leads the League in penalty kick attempts, penalty kick goals, and times flagged for offsides. The Impact have taken, and made, all 9 of their penalty kicks. San Jose is second, with six attempts. Montreal has been caught offside 91 times this season, with Columbus second with 79.
Dwayne De Rosario's next goal will be his 100th in League play. Who could be the next to join him at this plateau?
De Ro will be the 7th player to reach 100 goals. On the active in MLS list, Edson Buddle has 92 goals, 9 more than Houston's Brian Ching, followed by Juan Pablo Angel with 72.
It wasn't that DC United was second best on Saturday night to Montreal, it was the scheduling, right DC?
"This is very poor scheduling," United president Kevin Payne told the Washington Post. The League "needs to pay more attention to the competitive aspects."
Thanks for that, but it's not as if the League office acts unilaterally in determining the number of games and where they fit on the calendar.  This is a League run by a board of governors made up of the individual teams.  They made a collective decision that impacts all of them, and these are the pragmatic results.  Some weeks will be rougher than others, but it's the same for all involved.  It's not enough of an excuse for getting shutout by an expansion team.
How many MLS teams does Canada have the capacity to support, according to a new economic report
by the Conference Board of Canada?
Three, which also suggests Major League Baseball should consider returning Montreal's "beloved Expos" to active status. The report cites Edmonton, Ottawa, and Calgary as being able to support MLS franchises by the year 2035.  Another NHL team in the Toronto-Hamilton area, seems to be a reasonable idea, if you've got a billion dollars, according to the report.
Vancouver didn't just give up Sebastien LeToux for half a season of Dane Richards, did they?
Oh no, they also received allocation money Whitecaps head coach Martin Rennie said.  It was announced over the weekend that Richards had signed a contract with Burnley FC in the English Championship (Second Division), one step below the Premiership.
"When we traded for Dane we received allocation money which is a valuable asset in our league," Rennie said.
And MLS wonders why casual fans sometimes have a difficult time getting behind local teams. Here you have a team fighting to make the playoffs, dealing with a late-season slump, and what you got for a popular striker, essentially, was a promise that maybe sometime in the future you'll sign somebody else. The quotes should have been about how much they'll miss Richards and how they wish him good luck in the next stage of his career, not about allocation money. As someone much smarter than me once put it, people don't root for an economic plan.
---
Tony Edwards is a soccer writer from the Bay Area.
More Questions: