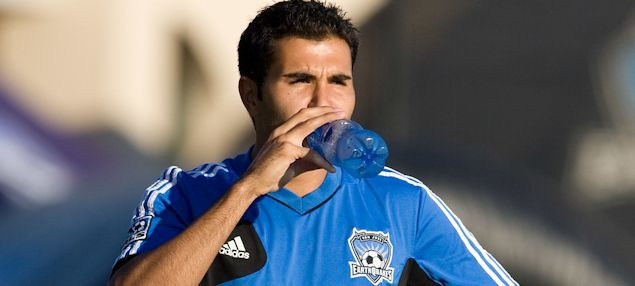 By Tony Edwards – San Jose, CA (Aug 14, 2012) US Soccer Players — In Tuesday's column, Tony looks at where to expect the play to develop if you're playing the Earthquakes and considers a couple of teams making late-season runs.
During the San Jose – Seattle game on Saturday night from which direction did almost all of San Jose's attacks originate?
The right side, staffed as it was most of the night by midfielder Martin Chavez and newly called-up US National Team player Stephen Beitashour. Simon Dawkins, playing on the left, consistently tucked in to the center.  That accomplished the trifecta of getting in the way of central midfielder Rafael Baca, limiting both Dawkins and Baca's dribbling and passing options, and allowing Seattle to attack up their right side, as fullback Justin Morrow was forced to stay at home to protect vulnerable space.
One of the great things about soccer is that while Dawkins was not effective on the night, he scored the Quakes first goal in the 71st minute from a scramble in the box, keeping his shot low, and leaving Seattle goalkeeper Michael Gspurning no chance.
Buck Shaw's purposely narrow field does not encourage sparkling play from either team, but it does encourage using the space wisely and spreading the field. San Jose came away with three points, but with perhaps more questions about what is the team's best lineup.
Who has more assists: Landon Donovan or the Portland Timbers?
The Timbers, but only by two, 13 to 11.
While that's a reflection of how poorly the season has gone for Portland, MLS' greatest player is having another amazing season, with 9 goals and 11 assists (he leads the League after Sunday's four-assist game). Donovan, who has played 21 games for the Galaxy this season, has already played almost as many minutes this season as he played in all of 2011 for the Galaxy. He looks set to top his personal best of 25 games played (each season of 2007-2009).
An American is going to win the European Golden Boot this season, right?
Unlikely, unless something happens to both Lionel Messi and Cristiano Ronaldo, but Jozy Altidore started his season with two goals against Ajax over the weekend. He scored them two minutes apart in AZ's 2-2 draw against last season's Dutch champions.
Has FC Dallas moved up because they are finding form or because the non-playoff teams in the Western Conference aren't taking advantage of slim opportunities?
Mostly the latter, as Dallas is 3-2-3 since July. Admittedly, those 12 points they picked up almost doubled their season total (which is now 26). A full 10 points behind Los Angeles for the fifth playoff spot, Dallas might be this year's candidate for 'nice run at the end of the season giving false hope for 2013.' See San Jose at the end of their first year back or Toronto almost any year.
It's been 10 League games since John Hackworth took over in Philadelphia, so how have the Union fared?
Five wins and five losses in MLS play. Considering the team was 2-7-2 under Peter Nowak, by comparison Hackworth is making a convincing case to stay in charge next season.
---
Tony Edwards is a soccer writer from the Bay Area.
More Questions: