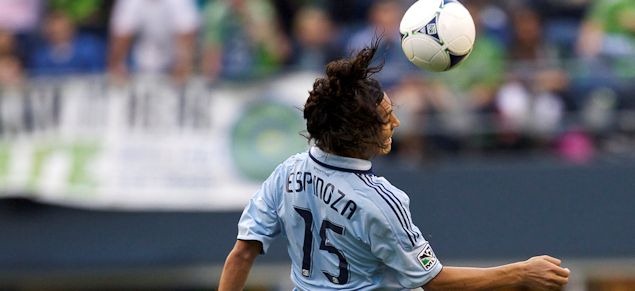 By Jason Davis – WASHINGTON, DC (Aug 8, 2012) US Soccer Players — If the debate that circles around the games is any indication, the Men's Olympic soccer tournament is not held in the highest regard. Not quite youth tournament, and not a full exhibition of the participating nations' soccer prowess, no one really knows how to properly frame the competition. The best that can be done is to simply sit back and watch, taking each game as it comes, then parsing the good and the bad within a quadrennial event that has no easy comparisons elsewhere in the sport.
It's within that context that Sporting Kansas City's bulldog of a midfielder, Roger Espinoza, put on a stellar display of his talents during Honduras's surprising run to the quarterfinals. The Catrachos drew with eventual semifinalists Japan, beat Spain in the most shocking upset of the tournament, and played toe-to-toe with co-favorite Brazil in the quarter-finals before bowing out in a five-goal thriller.
Despite the loss, the game against Brazil in particular was Espinoza's shining moment. The Sporting man covered immense ground, broke up countless Brazilian attacks, and set up and scored goals in a truncated performance that earned him a standing ovation from the crowd.
In that way not unique to soccer, a star was born.
Espinoza isn't likely to become a household name outside of his home country any time soon. His fame only ticked slightly upward in the nation where he plays his club soccer. Still, the brightness of his game was unmistakably intensified by his work in the Olympic tournament.
That performance against an international backdrop means a new audience became aware of Espinoza's existence. A few in that audience run football clubs in Europe, where the race to find new talent is never ending and inclined towards knee-jerk reactions. A "new" player making waves against the most talented group in the Olympic tournament is catnip for clubs moving quickly toward another season. Per various sources, Espinoza is already the subject of keen interest from teams across England and the Continent.
For Sporting Kansas City, and by extension MLS, this creates a conundrum. Espinoza's value is never likely to be higher than it is right now, at least not in a window that does not include the next World Cup.
Honduras's participation in Brazil 2014 is hardly a certainty, and Espinoza will be 27 years old when that tournament comes around. Right now, he's 25, playing some of the best soccer of his life, has multiple foreign suitors, and—most crucially from a business perspective—is on the final year of his MLS contract. The obvious thing to do is to sell him now, when he'll fetch the biggest price.
Ask MLS fans and observers what they think of Roger Espinoza, and you'll probably get a range of opinions. Most will say he's a fine player, capable of being among the top echelon of MLS defensive midfielders when he's on his game. Some will point out his proclivity for dangerous play, a trait that earns him too many cards and suspensions. Almost all, except perhaps in Kansas City where he's most appreciated, would agree selling him makes sense.
Right now, Roger Espinoza's isn't in anyone's best XI. He's not a star, not in a transcendent sense. He's not an American international, whose presence in MLS adds to the League's cache. Selling him, if the market is prepared to return an amount large by MLS standard, is a no-brainer.
…except perhaps in Kansas City. Sporting's bid to return to the playoffs and finish what they started in 2011 is heavily dependent on Roger Espinoza's disruptive play and transitional passing. If the League sells him abroad to a team in Spain or England, Sporting could sputter to the finish line without such a crucial cog. Neither that club, nor any in MLS for that matter, is capable of replacing an entrenched starter in a position like Espinoza's at the drop of a hat. Now that the MLS transfer window has closed, it's only possible to fill the hole he'd leave behind with a free agent (from a shallow pool) or by waiting until after the season.
The rub is that Sporting's decision isn't just about trade-off of allocation dollars for an integral player in the midst of a contending season. If the club hangs onto Espinoza and makes him a bona fide offer at season's end, they'll retain his MLS rights even if he leaves for Europe in the offseason. Letting Espinoza's contract lapse and getting nothing for him now could mean his eventual return down the road. Enough former MLSers have gone to Europe only to come back that it's not as strange a scenario as it might sound.
The wrinkle, as always, is Major League Soccer's role in whatever negotiations surround Espinoza. It's difficult to imagine MLS wouldn't want to cash in on the Honduran's sudden popularity, not only because of the financial return, but because selling him on might mean more kudos for the League as a developer of talent.
Despite his international allegiance, Espinoza is an American soccer product in almost every way. He arrived in the States at 12, played high school and college soccer, and joined the then-Wizards through the SuperDraft in 2008. He became the player he is today – the player that won the crowd in Newcastle and drove Honduras into the last eight at the Olympics – while playing in American environs. Selling him to the highest bidder won't just add to the League's coffers and Sporting's salary cap maneuverability, it will plant another MLS flag in a bigger, richer league in where the world's best club soccer is played.
The price offered matter, but it's not as large a concern when Espinoza can walk for nothing in a few short months.
In the end, the question of whether or not to sell Espinoza comes down to a very simple question for Peter Vermes and his bosses: Can Sporting Kansas City win an MLS Cup without Roger Espinoza? It's the same answer for another question: "Should we sell Roger Espinoza?" This is Sporting's player, Sporting's season, and Sporting's decision. Is it the money, or the improved chance to bring the club's first trophy under the new name to their new building?
Roger Espinoza went away to Britain, played in four matches, and returns a hot commodity. Even if no one knows quite what to make of the Olympic Men's Football tournament, it still holds the power to turn a relative unknown (at least in Europe) into a player everyone wants to buy. Now it's up to Sporting and MLS to decide if Roger Espinoza is also a player everyone wants to sell.
---
Jason Davis is the founder of MatchFitUSA.com. Contact him: matchfitusa@gmail.com. Follow him on Twitter: http://twitter.com/davisjsn.
More From Jason Davis: