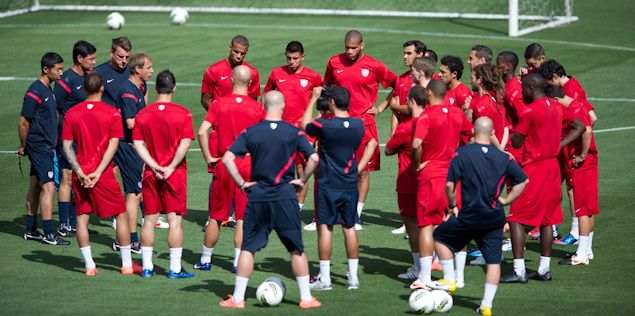 By Jason Davis – WASHINGTON, DC (Aug 22, 2012) US Soccer Players — Among the many duties of the serious American soccer fan – right along with advocating for the perpetual shakeup of the youth ranks, pondering the wisdom of switches to any number of European-styles competitive formats, and bemoaning the predominance of fast and physical players – is the near-obsessive tracking of how Americans are doing in the far flung leagues of the world. Whether Major League Soccer is in or out of season, an unceasing spotlight beams across the oceans from these shores scanning the club-rich lands of Europe, South America and (occasionally) Asia for men with connections to the Land of the Free.
For the longest time, American soccer fans gained some measure of self-worth from the exploits of players in Europe and elsewhere, regardless of level or profile. A two-goal outing by a former college second-team All American in a Central European league was enough for a tick mark in the box labeled "Yanks can play, too." A good shift in defense in Norway or Denmark was hardly headline stuff, but it was added to the pile of evidence nonetheless. Maybe having guys plying their trade overseas wasn't more important than having a thriving domestic league, but it certainly felt like a crucial part of American soccer's growth.
We hunted for the goals, but we paid attention to all of it.  No matter the player, no matter the league, no matter how obscure the club.
Except for keepers. They mattered a little less. We already knew American could produce goalkeepers. Isn't that why the 90s happened? "So-and-so had a shutout in the Championship? That's nice, but tell me about this winger who scored a goal in the Finnish third division."
Just this past weekend, Americans accounted for nine goals in leagues across Europe. This haul included a pair from Jozy Altidore in Holland, a hat trick by former MLSer Matt Taylor in the German Cup against giant club Werder Bremen, an overhead kick performed by Alejandro Bedoya in Sweden, a late equalizer from Clarence Goodson, a winner by Michael Parkhurst, and a screamer from Conor O'Brien of Danish club SønderjyskE, a name that leaves my brain stunned at the thought of attempting to pronounce it.
That was, and to a large extent still is, the essence of following Americans abroad. Exposing yourself to second-tier leagues with unpronounceable clubs simply because one name on the roster shared your nationality. It's the ultimate expression of American soccer's inferiority complex, even as it makes perfect sense as a way to track the progress of the USA's rise within the world's game.
Underlying the lists, compiled by writers and bloggers for an expectant American soccer public as a matter of habit, was the hope that somewhere out there was a player or two who might one day help the National Team. Again, MLS was fine as a place for Americans to play and grow, but the nagging sense was that real transcendent talent played somewhere else, somewhere exotic. We checked and rechecked from week to week not so much to review what we already knew was happening with American players in visible European leagues in England and Germany (players we had already seen play for the National Team), but to identify that diamond lurking under the proverbial rough.
At some nebulous point in the not-too-distant past–and maybe this happened collectively over a long timeline—American soccer shunted the need to obsessively track Americans abroad into a healthier space within the psyche. If we haven't already reached critical mass, it's just around the corner.
Websites whose raison d'être is to find and track American players abroad report as many as 400 such players are out there making a living playing the game in foreign leagues. At some point, we'll lose the ability to parse out what's "important" and what's not, at least below the most prestigious leagues. At some point, Americans playing abroad will become a large enough population that keeping tabs on all of them becomes impossible.
When Americans playing abroad were rare, each and every one seemed worthy of intense attention and speculation. Memories of John Harkes in England, Eric Wynalda in Germany, and Alexi Lalas in Italy are still vibrant and meaningful because those players were blazing trails and doing things no one else was doing. In the world of YouTube, goals can now be seen immediately after they're scored, usually within minutes or hours. Highlight culture gives rise to facile analysis and poorly informed hype, turning players toiling in places we're not usually attuned to into imagined stars of the future. That phenomenon made the "Americans abroad" roundup into a tantalizing evoker of dreams too often untethered to reality.
The need for validation is still there, and every American who makes a mark in a league other than MLS serves to feed that need. But with Americans showing well in a glut of competitions and more popping up every year, the need is no longer as pressing. Satiation isn't here, not yet, but neither is the legitimacy of America's role in the global soccer ecosystem turning on what a few players do in a few disparate leagues on a week-to-week basis.
There will be few weeks like this last one, with so many Americans getting on the score sheet across the full breadth of northern Europe. That's okay, because it's enough that those players—and many, many more—are there and capable of reproducing their heroics. Following their exploits, when doing so doesn't carry the same emotional baggage it did five or ten years goal, is now just a part of the larger experience.
Because it's habit, and because it still makes us feel warm and fuzzy about the growing influence of Americans in the world of soccer, we'll continue to check the Americans abroad roundups every Monday morning.  And then we'll move on, with hardly a second thought (unless there are goals…  we have to watch the goal) to whether said roundup means anything. These days, we're pretty comfortable in the knowledge that Yanks can play too, even the ones not allowed to use their hands.
---
Jason Davis is the founder of MatchFitUSA.com. Contact him: matchfitusa@gmail.com. Follow him on Twitter: http://twitter.com/davisjsn.
More From Jason Davis: