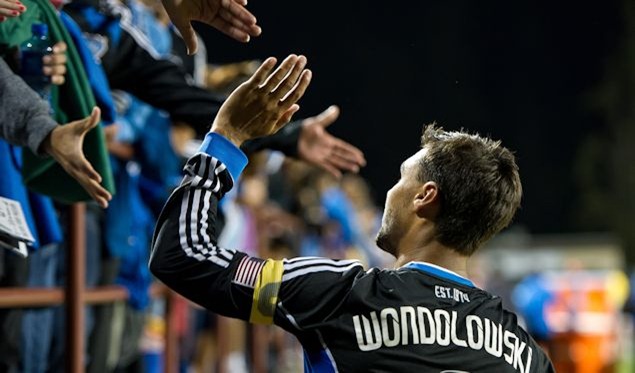 By Zac Lee Rigg – LOS ANGELES, CA (Aug 10, 2012) US Soccer Players — Sketched in tattoo ink across Chris Wondolowski's ribcage are the words "Bau Daigh." Pronounced Bowe Dye, it's the name of one of his ancestors, a Kiowa chief. It means "Warrior coming over the hill."
It's fitting. When someone is charging a hill, before he crests, he's briefly invisible to those perched at the top. Wondolowski thrives on hiding from defenders – over shoulders, behind picks, coming late and unannounced into the box – until it's too late.
In the MLS All-Star Game, John Terry, one of the best defenders in the world, tried to clear a cross but only managed to pass it right to where Wondolowski was standing in the box, apparently unnoticed. Wondo dutifully exploited the turnover to score the first goal of the game. A preview for an NBC MLS36 profile of Wondolowski shows Terry approaching the San Jose Earthquakes marksman at halftime. "Your movement is incredible," the Chelsea captain said.
Half Native American on his mom's side, if Wondolowski played in snow, he might not leave any footprints. The current leading scorer in the 2012 MLS season took the league by surprise as well.
Out of unheralded Chico State University, he joined MLS in the fourth round of the 2005 Supplemental Draft. Curiously, that late round also supplied Jeff Larentowicz, Dan Kennedy and Dan Gargan. All four are steady starters in the league and three of them are All-Stars. In his first five seasons, Wondo scored seven goals.
He began with San Jose and moved with the club to Houston, all the while lighting up the reserve league without cracking the starting lineup consistently. In 2005-2008 he scored 34 goals in 46 reserve appearances. Then, in 2009, the Dynamo shipped him and a conditional draft pick which became Steve Beitashour back to San Jose in a trade for Cam Weaver. Weaver has scored 10 goals in the three years since. Dominic Kinnear doesn't get much wrong, but it's fair to say that particular trade didn't flatter Houston.
Back in the Bay Area, Wondo grabbed his first real starting chance. Three goals in 14 appearances (eight starts) in 2009 only hinted at his capabilities. The next year he won the MLS Golden Boot with 18 goals, dragging the Earthquakes into the playoffs on the back of a scorching run of form which saw him score 10 goals in the last eight games.
If analysts thought the season was a glitch, that defenders would learn to pay attention to where Wondolowski was creeping in the box, they were mistaken. Deployed as a right winger or even a central midfielder as Frank Yallop tinkered with his system, Wondolowski scored 16 goals in 2011. This year he has 17 in 21 games, or 0.81 goals every 90 minutes. Only teammate Alan Gordon has a better striker rate of anyone with over 100 minutes of playing time.
At his current scoring clip, with 11 matches left, the 29-year-old has a good shot at overcoming Roy Lassiter's 27-goal haul, which has stood as a regular season-high since MLS' inaugural season in 1996.
The 6-foot, 165 pound forward is finally earning compensation more aligned with his numbers as well. He'll collect $300,000 this year, just below the Designated Player threshold and nearly 10 times what he was earning when traded back to San Jose. For the first several years back in the Bay Area, Wondolowski coached a youth team on the side to earn extra cash. He and his wife lived with his aunt, only moving out last November.
On the MLS landscape, Wondolowski is here to stay.
With the US National Team struggling for a consistent goal scorer, Wondolowski has earned eight caps. Thus far he hasn't scored an international goal. It's unclear if he's found his level or if he's storming that hill, just out of sight as he crests.
---
Zac Lee Rigg is a Senior Editor of Goal.com.