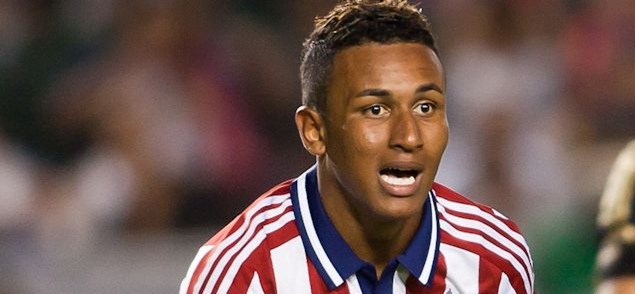 By Zac Lee Rigg – LOS ANGELES, CA (Sep 28, 2012) US Soccer Players — Juan Agudelo ducked behind and around a series of yellow plastic defenders, latching onto a ball threaded through by Chivas USA assistant coach Greg Vanney. One touch to steady himself, one touch to lift the ball over the reserve goalkeeper, his bare calves flexing to scoop the shot. Except his studs hit the grass wrong, and the ball limped into the arms of the goalkeeper.
Robin Fraser sat on a soccer ball at half, next to a crouching Carlos Llamosa. A clutch of players stayed after training Thursday for extra shooting practice, punctuating the extended session not with bulging nets but with curses in English and Spanish. It's been a frustrating season.
Agudelo wiped some grass off his sweaty forehead and went again. And again. And again, until all his teammates had trickled off the Home Depot Center training field. Then he meandered over to the halfway line and sat with Fraser for a quarter of an hour, chatting, "about how the season is going and just telling me how my development has been."
So, 19-year-old Agudelo, how's your development been?
"It's good," he said. "We were discussing the things we need to improve on and things like that. But [Fraser] feels like he's happy with my development right now."
Agudelo broke through as a 17-year-old at the tail end of the 2010 season. He did enough in his two playoff starts to convince Bob Bradley to call him up to the full US National Team. In a friendly against South Africa in November, he scored on his debut.
An athletic 6-foot-1, the Colombian-born forward seemed to be in the ideal situation, learning from Thierry Henry and cracking the international scene. He scored in a 1-1 draw with Argentina and was prematurely labeled the future of the US forward line.
However, chances dried up on both squads. After usurping a starting role in the 2011 Gold Cup, Agudelo became a substitute in the first handful of games under Jurgen Klinsmann and then missed out on the recent rosters.
In New York, Agudelo made only five appearances in the first half of the season, finding himself firmly behind Henry and the white-hot Kenny Cooper. Hans Backe preferred a touch of experience up front. In fairness, Agudelo still had a propensity to run into dead ends or make questionable decisions. His game intelligence hadn't caught up to his ample natural ability or physical gifts. Needing game experience, he asked for a trade away from home (he had lived with his parents his first year as a professional) and ended up at Chivas USA in May.
Back in a steady rotation of playing, Agudelo describes himself as "real happy." His mohawk is dyed reddish blond and his frame has bulked up. He's featured frequently on the wings and is encouraged to run at defenders. And he's a fan of the sunshine.
"I like it a lot," he said of Los Angeles. "Definitely liking it more than I thought I was going to like it. I'm enjoying my time here."
Agudelo has scored twice and assisted three in his 15 appearances (12 starts). US National Team fitness coach Masa Sakihana frequently checks up on him, asking about his physical state and stamina. Just the playing time will serve him well, according to Dan Kennedy.
"He's young, he's a big strong kid. He's having the opportunity to play and train everyday with pros. He's going to be ahead of the curve," Kennedy said. "He's 19. He's been a pro for three years nearly.  That should give him a massive competitive advantage."
But the offensive output has dried up of late. Chivas USA hasn't won in nine games, hasn't scored in over three, and props up the Western Conference. "The last six weeks or so have been pretty tough on us," Kennedy said. "We're disappointed, definitely, without a doubt."
The Goats' run of 352 minutes without a goal is the second-longest streak in MLS this season.
"It's something that we think about," Agudelo said. "There's no pressure. It doesn't matter whether our defenders or midfielders or forwards score. We just think we've got to get the ball in the net because that's how we win games."
Any secret tactical plans to crack this scoring slump? "By trying to shoot the ball, get it, create some chances," he said. "That's all."
Agudelo says the team is still focused on this season, despite the fact that the wrong results could mathematically eliminate the Goats from postseason contention by this weekend. Up next is Real Salt Lake, one of the three teams already qualified for the playoffs.
"We're going to try to play with a lot of pride," Agudelo says.
---
Zac Lee Rigg is a Senior Editor of Goal.com.
More from Zac Lee Rigg: