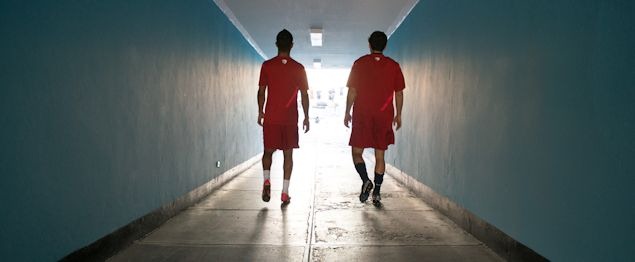 By J Hutcherson – WASHINGTON, DC (Sep 7, 2012) US Soccer Players – I'll start by running through a few of the clichés.  Away qualifiers are tricky. Away stadiums for any of the established teams in CONCACAF are usually tough to play in.  Ties are almost as good as a win on the road.  And so on, and so forth.  Meanwhile, here are the five things I'm looking for from tonight's Jamaica – USA World Cup Qualifier (8pm ET – beIN Sport). 
The Point of Attack
Against Mexico, we saw the USA rely on a defender to run onto a ball in the box and finish off the sequence that led to the game's only goal.  That's usually a surprise at any level.  Though it speaks highly of awareness in a pressure situation, it's also not the kind of things any coach plans for during the run of play.  In a qualifying situation, we should expect to see more of a structure to the attack with defined roles.  What that means for the forwards is a very good question. 
The Forwards
The expectations for Jozy Altidore and Terrence Boyd are high.  Both are supposed to play big, both in terms of their size and in terms of creating opportunities.  Both are also expected to turn club output into international output.  In other words, the expectation is goals from the likeliest sources.  That's not always the case for US forwards, especially with the kind of midfields the United States can field.  Still, this is a moment for the obvious attackers.  Altidore and Boyd with the ball at their feet are among the best in CONCACAF.  Add in Clint Dempsey playing just behind the forwards like he did so successfully with Fulham, and this has the potential to be the best attack in the region.
Dempsey
Where an in-shape Clint Dempsey plays has become one of the stories in the Klinsmann era.  For months, it was what happens when Dempsey and Landon Donovan were on the field together.  Now, it's about Dempsey's game and how Klinsmann uses it.  We know what Dempsey does best.  There's enough highlights of him in a free role with Fulham, letting the forwards pressure the defense and then Dempsey picks his shot.  If that works in the Premier League, it should work in CONCACAF.  Why we haven't seen enough of it is a combination of Dempsey's availability and the setup.  Dempsey's role isn't free with one forward.  It's not the same when he's one of the forwards in a two-forward setup.  It requires the pressure of a proven strike partnership more than capable of scoring.  Dempsey's game adds complexity, something normally lacking in CONCACAF play even for the best teams. 
The Pick-a-Player Offense
CONCACAF might as well file the trademark papers for teams that target one defender and try to route every attack through him.  We've seen it at Under-23 level and full National Team level from a variety of teams.  Regional championships have been decided on whether or not it works.  There's stubbornness to this style of play that speaks to its obviousness.  If you think you've found a weakness, it only has to be exploited once to decide the game.  Though a win tends to wipe the memory of quality of play, this isn't an offense that speaks to what a team does best.  As designed, its intention is to exploit what the opposition does worst.  The only way to combat it is to show it doesn't work over 90 minutes.  The USA is in a position to do that, forcing the opponent switch its point of attack and then switch it again.  That makes for better soccer.
Group Play in the Group Stage
Here's where all those clichés I started with pile onto each other and offer a convenient excuse for any team playing away.  Instead of a team playing its game to its strengths, the run of play devolves into 1v1 and slips end up counting more than passes.  The US has shown in the past that they're a team capable of making the ball do the work.  It's basic soccer that a cutting passing game takes defenders out of the play and creates space.  Though there's no doubt that becomes harder as the level of the opponent increases in front of a hostile crowd in tough conditions, it's still an expected part of a good team's game.
---
J Hutcherson has been writing about soccer since 1999 and has worked as the general manager of the US National Soccer Team Players Association since 2002.  Contact him at jhutcherson@usnstpa.com.
More from J Hutcherson: