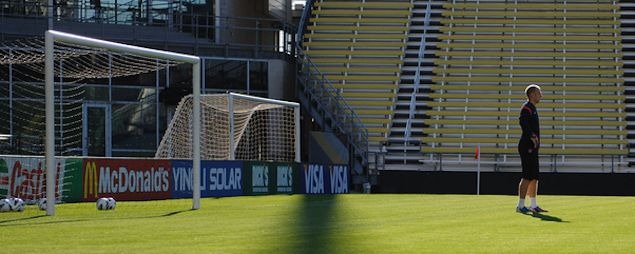 By J Hutcherson – WASHINGTON, DC (Sep 11, 2012) US Soccer Players – CONCACAF's Group A could become complicated at the end of the night. If things go as the United States expects, we'll have three teams separated by goal difference. That will take a quick statement of purpose against a team that beat the USA just a few days ago. Jamaica looms large, showing up ideas that the US tried to put into practice over 90 minutes in Kingston. With that in mind, here's what I'm looking for later tonight in Columbus.
Midfield Coherency
It's been awhile since we've seen the lack of connections between the midfield and the defense and the attack that was on display over large portions of the game in Jamaica. That might've been circumstantial. Overlapping assignments, an opponent not playing as expected, and the speed of play can catch up with any team. For the United States, it produced a lack of cohesion with the midfield turning from an advantage to a trouble spot. The US midfield corps is arguably the strongest in CONCACAF, and it's a deserved reputation. Now we see that it can also be a liability, with the midfield providing its own disruption at the expense of any flow. Without that, the US played the kind of stop/start style that rarely benefits a team at any level. Credit Jamaica for the game they played, but part of this was US tactics not working.
The Defensive Midfielder
Jurgen Klinsmann is not the first US National Team coach who seems like he can't help himself when it comes to utilizing defensive-minded midfielders. His predecessor was fond of using two defensive midfielders in games where it was arguable if one was even necessary. Instead of establishing a version of the US that was all-out attack, taking advantage of the weaknesses of overmatched opponents, we got a hesitant team calculating the risk/reward on chances. That hasn't changed for the better under Klinsmann. There's still too much expected of the defensive midfield and too many players committed to the cause. When that doesn't work, it produces an incoherent set of assignments that give the opposition an unnecessary advantage. Every team gives up advantages, no matter how slight. The trick is making sure you're not creating opportunities for the opponent that gives nothing in return. Too much stress on the link between the midfield and the defenders doesn't do much in terms of return. It's really that simple.
The Point Of Attack
This was an issue for both teams in Kingston. After that first minute, the US attack had trouble pressing, creating second and third looks, and basically moving the game to Jamaica's defensive third. One corner kick for the USA over 90 minutes tells that story. Jamaica had three and capitalized and two free kicks in what every announcer in the world would describe as 'a dangerous area,' but they also weren't pushing their attack. Two US shots on goal to Jamaica's four, with both teams unable to really get anything going in the box or from distance. Yes, it's that dangerous shot from distance that normally helps to destabilize a defense that can no longer simply trust in man marking the box. Soccer's version of basketball's dagger, the long-range effort that says a defense isn't seeing every angle.
Veterans
Klinsmann is doing exactly as expected by returning to his veteran defenders in comments he made leading up to the second game against Jamaica. Why not, considering the level of experience available. A combination of coaching prerogative and injury meant absences in Jamaica that didn't make the US a stronger side. Correcting that is an obvious step, with the addition of increasing the threat of the defense triggering the offense. The lack of wing play in the first Jamaica qualifier loomed large among commentators during and after the game, but on its own, that didn't have to be a problem. If a team chooses to play constrained, that's a tactical decision with its own set of pluses and minuses. So is playing wide, but returning the expected US defense to service creates that width simply by having those players involved.
---
J Hutcherson has been writing about soccer since 1999 and has worked as the general manager of the US National Soccer Team Players Association since 2002. Contact him at jhutcherson@usnstpa.com.
More from J Hutcherson: