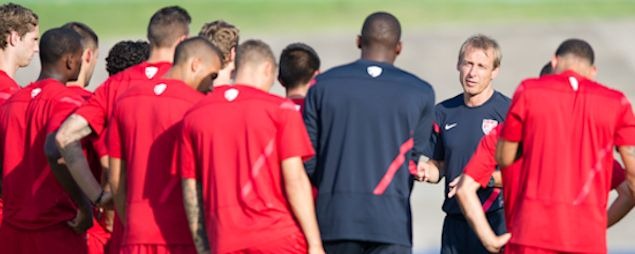 By Charles Boehm – KINGSTON, JAMAICA (Sep 9, 2012) US Soccer Players — The office of the President of the United States has a well-documented tendency to speed up the aging process. Those who enter the White House tend to exit with more wrinkles, more gray hair, and a bone-weariness that moderates their subsequent career choices.
The position of head coach of the US National Team certainly hasn't reached that level of intensity yet. However, as the team's stature grows and fans become more demanding, matters are slowly but surely moving in that direction.
Friday night's 2-1 World Cup Qualifying loss to Jamaica in this hard-edged, industrial capital has presented Jurgen Klinsmann with the first full-fledged "gut check" of his 13 months in charge of the Yanks.  Small but subtle signs of the growing stakes could be seen on his face, both in the run-up to the game and its aftermath.
So far, we've seen a sunny, composed Klinsmann, an eternal optimist always focused on the big picture and the way forward. The Jamaica setback revealed glimpses of a steely competitive bedrock underneath the "Grinsmann" persona.  This may yet dramatically change the character of the qualifying cycle, perhaps galvanizing this team in a way that his mellow side cannot.
Normally open, communicative, and media-savvy since taking the post last summer, Klinsmann dropped into the traditional coach's shell of caution on arrival in Jamaica.  He kept his lineup choices very close to the vest and closed most of the US training session at the National Stadium on Thursday. I was told (having been expelled from the field area along with the rest of the print media about 15 minutes into practice) that Jamaican TV crews who tried to calibrate their cameras during the session were immediately given a loud earful, as the National Team staff left nothing to chance.  Granted, Theodore "Tappa" Whitmore and the rest of the Reggae Boyz staff behaved similarly, but this was new for Klinsmann's squad.
The US pulled no real tactical rabbits out of the hat. Klinsmann made only a couple of eyebrow-raising personnel changes as the starting 11 ran out in the defensive-minded shape most stateside pundits had been expecting, with three defensive midfield types in the same engine room.
When that approach did not work, Klinsmann had to field a series of questions from members of a triumphant Jamaican media who reminded their US counterparts that journalistic detachment is a North American quirk when it comes to World Cup qualifying. Wayne Walker of CVM TV asserted that Jamaica "bossed the entire football game" in a question, prompting Klinsmann to draw just a bit of blood with his response, even as he kept a game smile on his face.
"Well, that is your opinion," said Klinsmann, who later showed a bit more peevishness when veteran US reporter Ives Galarcep asked him if the loss was his responsibility. "It starts 0-0 on Tuesday night and we will try everything to turn it around. So I'm going to be curious what your comments are after that game on Tuesday night."
Tactics have been a mixed bag in the Klinsmann era, with his real strength seemingly lying in the realm of his players' minds and not the chalkboard. He's hammered away at what he sees as shortcomings in terms of motivation and mentality, urging his charges to step up in more ways than one.
"We're trying to become more consistent. Becoming more consistent means you have to take every game seriously," he told reporters on Thursday. "You have to call in every game, everything you have, and not just kind of calculating things through – playing maybe Brazil is a special day but maybe playing another team is a not so special day. So we're trying to tell the players that it's not that case. Every game, you represent your country. We don't want to see roller coasters any more. We want to see a good game followed by a good game.
"Try to be consistent in everything you do, on the field and off the field. So we have many of these conversations and I think the players, they are getting it more and more. We encourage them, but at the end of the day, it's their career, it's what they want to achieve in their lives, and their career is short: 10, 15 years and that's it."
Unfortunately, consistency has yet to become a hallmark of this US squad. As Grantland's Brian Phillips astutely noted three months ago, "we seem to be stuck in a weird elevator-like contraption, one in which the ceiling keeps rising while the floor stays in the same damn place."
Klinsmann arranged for "motivational minister" Donnie Moore to speak to the team during pregame preparations in Miami, a presentation that included phonebook ripping, can crushing, and the like. On some important levels, it is working.  Klinsmann's nurturing approach seems to have resuscitated Brek Shea's career and helped Clarence Goodson, Kyle Beckerman, and Geoff Cameron grow comfortable at international level.
"He definitely gives you that belief and that excitement and for games like this, especially the last two games I've been a part of, the Mexico game and the Italy game, we did things that hadn't been done in a long time," Shea told me on Thursday.
"He makes you believe. You come in thinking, 'Well, we're playing Italy in Italy,' but over the couple of days we were there, he really said, 'We're going to win.' He doesn't really give you any other choice but to think that. So I think it's a great mentality that he has, and it definitely spreads throughout the team."
If your coaching reputation is built on the psychological side of the game, observers are going to expect a better response when your team is pegged back in a crucial match on a mediocre pitch in a deafening stadium.  It's a setting which routinely greets visiting teams in CONCACAF play.
"We weren't nearly as resilient as we probably should've been," said goalkeeper Tim Howard after the game. "I think we let the referee kind of get under our skin a little bit, the crowd was jeering, but that all seems like normal stuff that you have to deal with, and we just didn't deal with it…. 1-1, it shouldn't rattle us away from home. We're good enough to deal with that, but we didn't."
So the confidence game continues. Home games against Jamaica and Guatemala and a road trip to Antigua and Barbuda are unlikely to test the Yanks' collective psyche to this extent.  The Hexagonal stage, should it be attained in the end, certainly will.
---
Charles Boehm is a Washington, DC-based writer and the editor of The Soccer Wire. Contact him at:cboehm@thesoccerwire.com. Follow him on Twitter at: http://twitter.com/cboehm.
More from Charles Boehm: