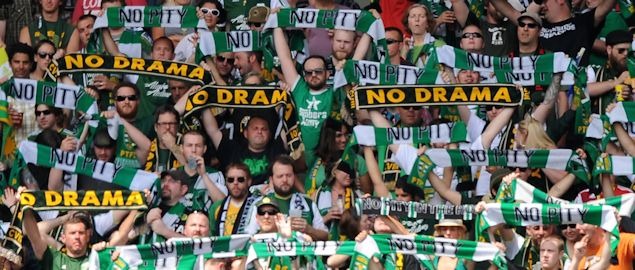 By Tony Edwards – San Jose, CA (Sep 13, 2012) US Soccer Players — In Thursday's column, Tony looks forward to League play starting up again, with a look at broadcast schedules, a recent trade, and jersey sales.
What channel is Saturday's Portland versus Seattle on?
That would be the National Broadcasting Company (NBC). Not the NBC Sports Network, but the home of 30 Rock and Community.  MLS in a network slot (3:30pm ET) is a big deal with a significant risk/reward.  Do as expected by the network, and it's confirmation of their decision to spend on soccer.  Do better, and it's a triumph.  Do as MLS normally does on the big network stage and we'll be asking an obvious question with an equally obvious answer.
What is one of the best attributes of newly acquired midfielder Wells Thompson, according to Fire head coach Frank Klopas?
His attitude and desire to be a regular contributor, Klopas told the Chicago Sun-Times after the trade for a 2013 or 2014 conditional draft pick. While Thompson is not guaranteed to start, Klopas likes that Wells wants to play.  Wells made that clear when asking to be traded from the Rapids, and there's opportunity with the Fire.  He made his debut in Wednesday night's win over Toronto, subbing on in the 63rd minute. 
How many League games are scheduled between last night (Wednesday 9/12) and next Wednesday (9/19)?
We'll accept 'too many,' but the technical answer is thirteen. That doesn't include CONCACAF Champions League games. Not to pile on, but scheduling games a night after World Cup qualifying serves no one's best interests. Adding in weeknight games after school has started isn't a good idea either. 
MLS held a conference in Columbus on Thursday focused on business and best practices among their clubs.  Yet, it's the League that continues to make decisions that cause unnecessary difficulties.  The schedule has loomed large in 2012, causing many markets to have to start-stop with game promotion when their team goes from playing a glut of dates at home to a long inactive or road swing.  Getting the basics right is as important as anything else in branding this league effectively in all its markets.  Not every city is Portland, where people will choose to show up in numbers for a reserve game.
On the other hand, will there be more competition for next week's Castrol Index Top 20?
While we're pleased US National Team forward Eddie Johnson was named top Castrol Index performer for his two goals last weekend, there were only four League games last week, so you have seven Rapids in the top twenty.  Johnson was also the Player of the Week, an obvious choice when he was the one scoring goals in a week where the data set was limited. 
The League released a list of its
top selling player jerseys
this week. Without any accompanying figures, what does this list really tell us?
Not much. Are we really supposed to believe that more people are buying 2012 David Beckham jerseys than 2012 Fredy Montero jerseys? Are any of these jerseys sold or shipped to people who live outside an MLS market? What's the difference between how many Beckhams are sold and how many Wondolowskis? MLS/Adidas don't have to release any figures, but it's like Amazon telling us they've sold more Kindles this quarter than last quarter.  We need more than just the statement for this to have much in the way of meaning.  We need numbers. 
---
Tony Edwards is a soccer writer from the Bay Area.
More Questions: